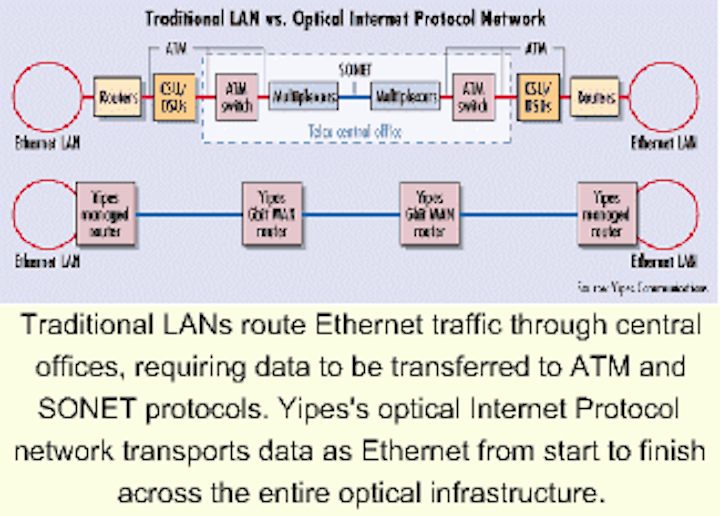 BY ROBERT PEASE
APPLICATIONS
Three Philadelphia college campuses recently elected to trade their traditional ATM connectivity for the benefits of fiber-optic technology to increase their existing bandwidth and accommodate soaring Internet popularity. Students and faculty at Bryn Mawr, Haverford, and Swarthmore colleges will now enjoy a high-speed Internet on-ramp as well as LAN interconnectivity.
The 10-Mbit/sec LAN-to-LAN connections between campuses will enable the increased sharing of online educational resources, such as a combined electronic library catalog and electronic course materials. Meanwhile, 10-Mbit/sec Internet access ramps for each college will provide a significant boost in available bandwidth.
Yipes Communications Inc. (San Francisco) will supply the new services. Yipes, a year-old privately held startup that has raised about $91 million in financing, has extended its optical Internet Protocol (IP) network into more than 12 markets, including Philadelphia. In each market, a giant, redundant regional ring is fashioned along several diverse routes using multiple dark-fiber providers. The regional rings are then connected nationally via Yipes's wide-area- networking (WAN) products. The Yipes network offers fully scalable bandwidth on demand, from 1 Mbit/sec up to 1 Gbit/sec in 1 Mbit/sec increments, to enable customers to pay only for the capacity they need.
The three colleges connect to the Philadelphia regional network by running singlemode fiber to each building. The fiber-optic pipe connects directly to each LAN using normal Internet connectivity provided by their in-place Ethernet networks.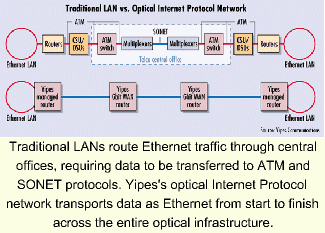 Traditional LANs route Ethernet traffic through central offices, requiring data to be transferred to ATM and SONET protocols. Yipes's optical Internet Protocol network transports data as Ethernet from start to finish across the entire optical infrastructure.
"The business case revolves around simplicity," says Ron Young, co-founder and vice president of marketing and business development at Yipes. "Anyone who has a LAN already uses Ethernet and can directly connect to our regional networks. In the case of the wide area network, the colleges previously connected to each other through an ATM network. That's the only part of the connection that was replaced."
Bryn Mawr, Haverford, and Swarthmore turned to optical networking as a means to cope with rapidly rising demand for Internet and multimedia services by students, faculty, and staff. For example, Swarthmore hosts one of the premier Websites for French and Francophone resources, known as ClicNet, and Bryn Mawr is host to Serendip, a popular site that explores topics such as the brain, genes, behavior, and science education.
In addition, the colleges are now able to share academic resources, starting with library materials, more easily. The colleges are jointly evaluating online course management systems that combine electronic course materials, class discussions, submission of term papers, and access to grades, course descriptions, and syllabi.
"We anticipate lots of distance education between the campuses," says Mark Dumic, manager of networking and telecommunications at Swarthmore. "Students and faculty will use our private network to access content on all three campuses, enlarging their overall educational resources. This flatter, simpler network has the potential to be more reliable with less latency, since there are so many fewer layers to worry about."
Young points out several advantages the colleges enjoy by switching to the optical IP network. First, they tripled the Internet access bandwidth in their network for less than 80% of the previous cost. The three colleges previously shared a 10-Mbit/sec connection to the Internet. Yipes added about 20 Mbits/sec to their existing access infrastructure by offering 10-Mbit/sec Internet access to each school. Secondly, although the colleges decided not to increase the current 10 Mbit/sec LAN interconnections, the cost of those connections was reduced considerably.
Yipes pins its market strategy on providing similar benefits to a range of clients. According to Paul Smith, founding senior technical consultant for Yipes's eastern region, the company basically provides an Ethernet service, so the handoff to the customer is Ethernet. The customer gets ease-of-use capabilities and doesn't have to worry about translating traffic from Ethernet on the LAN to another protocol, such as frame relay or ATM, and back to Ethernet at the receiving end.
"We take Ethernet traffic from their LAN and keep it Ethernet across our metropolitan area network," says Smith, "and it comes out the other end onto their Ethernet network as Ethernet."
The benefits of this approach, according to Yipes executives, can take more than one form. "Generally speaking, our customers can either double their bandwidth and pay less than they currently pay, decrease costs considerably for the bandwidth they currently have, or do both, as in the case of these three colleges," says Young. "What we provide is a new kind of connectivity that replaces the ATM and SONET infrastructure that's out there right now. This new disruptive technology is ideal for transporting data and, ultimately, voice-over-IP and other applications. It doesn't go through the phone company's central office at all. It doesn't go near them. That central office was designed with telephone traffic in mind and has very chunky levels of service."
Yipes's network plan is to build-out nationally to increase its geographical footprint. By the end of this year, the company plans to be in 20 markets, growing to 50 by the end of 2001. The plan's second stage will increase the number of services provided. Currently, three services are offered on Yipes's optical IP network.
"The first is a MAN product that is a giant LAN extension across a large region, such as Philadelphia, Boston, and other large markets," says Young. "We put a big ring into the region and spur out to customers in customer-dense areas. Our second service is high-speed Internet connectivity or access. These products share the same features, in that they are smoothly scalable in small, granular 1-Mbit/sec increments up to 1 Gbit/sec. This enables the customer to buy what he wants and is also fast provisioning. We recently introduced our third product, the wide area network, which connects the different regions together. This network is growing very quickly. We will follow these services with several others, such as voice-over-IP, over the next few months."
College campuses are solid customers for the services and products offered by Yipes, says Young, but there is a wide range of potential customers who want optical Internet connectivity. Small and large business, educational communities, medical communities, and even some residential customers are seeing the benefits of switching to a fiber-optic infrastructure for more efficient Internet services. The appeal of scalable bandwidth-on-demand and the promise of added services, such as voice, streaming media, storage area networks, and other growing applications is prompting users to take a good look at what optical connectivity has to offer.
"We're simply putting bandwidth and flexibility into the hands of people," says Young. "It's much like the way PCs put computing into the hands of people. Today, customers want better control of their networks-paying only for the bandwidth they need."