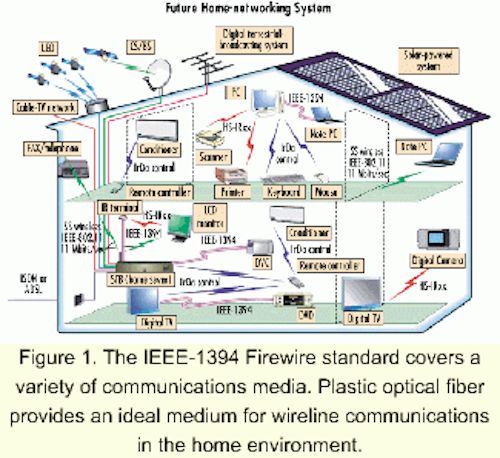 Plastic optical fiber promises to extend the premises network well beyond its current boundaries.
Ted Inoue
ArchTech Co. Ltd.
Along with the personal computer and the Internet, the use of personal communications systems has spread all over the world, signaling a new era of premises networking that will someday allow seamless communication wherever you are and whenever you want it without delay.
The roots of this extended "premises network" can be seen today. When you are in your office, you can sit down in front of a PC and phone with a fax machine on the next table. In the home, you may have similar options as well with the right small-office/home-office networking technology. In your car, you can use a handy cell phone. (Of course, in Japan you are not allowed to use this handy phone during your drive unless you have a hands-free talk system-so it may not be so "handy" after all). On aircraft, you can access the Internet if you are aboard a late-model airplane and have a business-class ticket on an international flight.
But today, each of these "premises" may require a different networking technology and, in some cases, a different interface device. Only when premises networking reaches its true potential will users not have to worry about "what to do" for each situation. Instead, they'll just plug in a worldwide standard connector (perhaps based on IEEE-1394) to their laptop PC or even just say, "Start," in a smart car and have everything.
In such a world, the "premises network" will be whatever network is around you. When you move, the network will move; when you sit, it will envelop you again to provide unlimited access to everywhere at anytime. Since such a premises network will require digital high-speed interconnection systems in the office, home, automobile, and airplane, expect plastic optical fiber (POF) to become a mainstream medium that replaces current copper wiring.
Almost all local area networks (LANs) today are based on copper, a material that struggles to support the bandwidth requirements of multimedia and Internet technologies. To meet the stringent performance requirements of Asynchronous Transfer Mode (ATM) communications, for example, copper networks require expensive electronics to preserve signal strength and integrity. In addition, copper is vulnerable to electromagnetic interference and can be easily tapped, making it a poor choice for secure environments.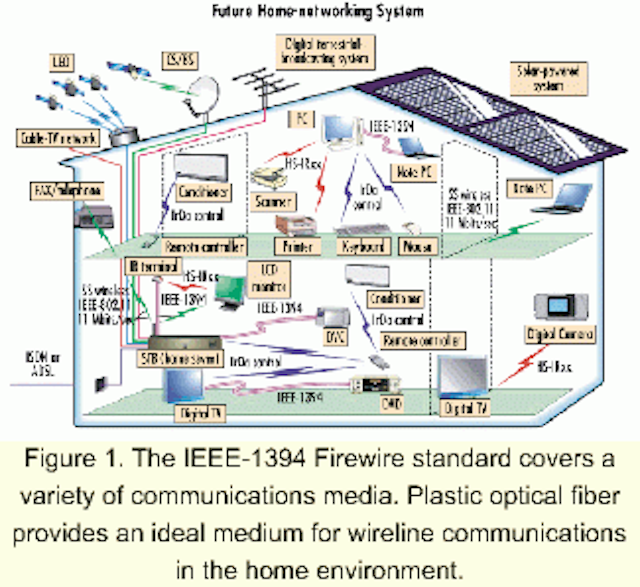 Figure 1. The IEEE-1394 Firewire standard covers a variety of communications media. Plastic optical fiber provides an ideal medium for wireline communications in the home environment.
Despite some improvements, antiquated wire-based technology is accepted because there has been no economical alternative. For example, there is virtually no glass optical fiber (GOF) to the desktop because of its high cost of connectivity. Fortunately, recent technical innovations have made POF attractive for LAN applications. For example, PMMA core POF with 120-dB/km transmission losses at 650 nm and less than 70 dB/km at 570 nm is commercially available today. Moreover, light-emitting diodes with high power and rapid response have appeared. Thus, POF offers 400-Mbit/sec data rates to 100 m.
The physical characteristics of POF meet the same challenges as those for copper and glass. With its ability to endure the temperature limits of -40° to +85°C, POF can operate in nearly all networking environments. It can also withstand a bend radius of 25 mm with no break or damage to the fiber. This robust strength allows POF to be installed and pulled easily through plenums and walls.
Although POF is inferior to GOF in its transmission loss, it has many advantages such as flexibility, bending durability, and greater ease of processing and handling. Thus, while POF pricing is on par with that of copper, it is much lower than GOF on the basis of total-system installed cost. The cost of the POF cable itself doesn't vary a great deal from that of GOF. The cost savings come in the connectorization and installation and the savings in time and labor.
Plastic's larger-core diameter-980 microns versus 62.5 microns for GOF-allows it to be more easily connectorized. A routine glass-fiber termination could range from 5 to 20 min, depending on the application; 2-min terminations by unskilled laborers are possible with POF, due in large part to its favorable critical alignment of 100 microns and the fact that it does not require epoxy. Generally with POF, you would chop the fiber off, probably with a razor blade, and insert it into a connector. Some end finishing would ensure that the fiber is flush with the connector, including a few passes with polishing paper. Once you have that connection properly terminated, that's basically it.
One of the turning points that has opened other doors to the POF market is the maturation of the 1394 FireWire standard, originally ratified by the Institute of Electrical and Electronics Engineers (IEEE) in December 1995. Officially named "IEEE-1394 1995 Standard for a High Performance Serial Bus," the standard gets its nickname from its forerunner, Apple Computer's original FireWire design. In 1994, more than a year before IEEE ratified the final standard, PC and consumer-electronics manufacturers formed the 1394 Trade Association to accelerate adoption of the bus. Since 1995, a revision in the form of 1394a has been released, and a 1394b standard will be finalized in 2000.
FireWire, the IEEE-1394 interface for connecting digital electronics, is now appearing in consumer products such as digital camcorders and PCs and is already identified with leading-edge digital video and multimedia applications. It allows users to connect digital imaging, digital video, and audio/ video components together with each device recognizing each other, unlike computer peripheral networks such as SCSI and USB.
Because IEEE-1394 handles both isochronous and asynchronous data along with wide bandwidth (up to 400 Mbits/sec) without requiring a central hub, it allows 1394-equipped components to be connected in almost any arrangement. In a 1394-enabled home-theater system, for example, powered rear surround speakers can be connected in series (one speaker to the other, and then one cable running back to the main system) instead of the homerun arrangement used now, and audio/video components can be daisy-chained instead of centrally connected to a receiver. The 1394 standard makes overall system design and connectivity much simpler by replacing the traditional maze of crossconnected audio/video cables with a single, immensely powerful cable connecting one component to the next.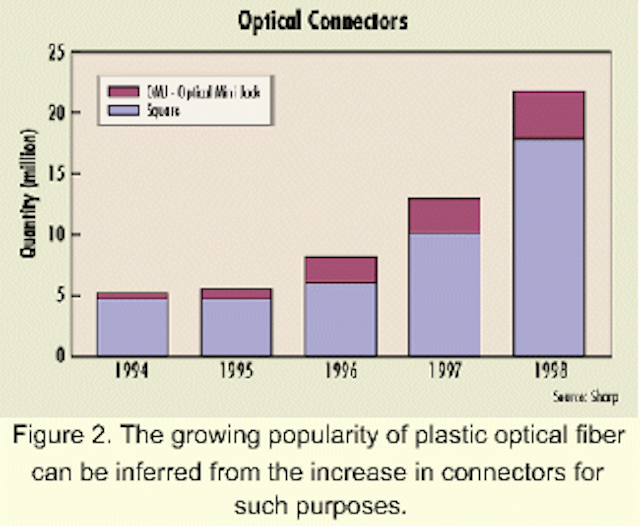 Figure 2. The growing popularity of plastic optical fiber can be inferred from the increase in connectors for such purposes.
The cable-connected virtual bus supports data rates of 100, 200, and 400 Mbits/sec. Due to the high speed, the distance between each node or hop should not exceed 4.5 m and the maximum number of hops in a chain is 16, for a maximum end-to-end distance of 72 m. Cable distance between each node is limited primarily by signal attenuation. POF exceeds the distance limit of 4.5 m and could be used up to 50 m.
At the 2000 Winter Consumer Electronics Show, the overriding message was that most future digital networks will be based on IEEE-1394 technology, and companies expressing solidarity with the emerging format ranged from the leading consumer hardware players such as Sony and Panasonic to software giant Microsoft. The showcase 1394 Technology Pavilion was created by the 1394 Trade Association. More than two dozen participants exhibited 1394-equipped products in the pavilion. Next to the 1394 Technology Pavilion, Digital Harmony displayed a complete 1394 software and hardware solution that is manufacturer-neutral and provides both compliance with industry standards and compliance between each manufacturer. Digital Harmony has demonstrated a POF network as a more than 4.5-m solution for room-to-room connection as well as Leviton at its own booth of future home-patch panel systems.
Many companies directly involved in the high-end custom installation and system-integration market for such applications expect that fiber's future will be plastic, since it is much more installer-friendly and cost-effective. Plastic can easily support digital-video speeds and bandwidth and is compatible with the skill set and mindset of CEDIA (Custom Electronics Design and Installation Association)-type installers, the group which has a strong hold on the early-adopter consumer market, estimated at nearly $5 billion this year.
In the automotive industry, cars are being fitted with computerized sensor systems using POF as a lightweight, durable networking medium to interconnect computers, navigational equipment, and even facsimile machines. General Motors, partnered with Boston Optical Fiber, is leading the automotive industry in the development of onboard POF networks such as the IVHS (Intelligent Vehicle Highway Systems). This computerized network will aid automobile performance and overall efficiency. Mercedes Benz also has recognized the potential of this medium and introduced a POF premium audio-distribution system in 1998.
Another effort along these lines is the D2B project. D2B is the result of an extensive development program that aims to realize an automotive communications and information network. The D2B optical network is based on distributed devices such as head units, CD players, speech-control units, telephones, and Internet-access units. The D2B enables complex and distributed functions, minimizes electromagnetic-interference problems, decreases weight and cost, and achieves a high data rate of up to several megabits per second. Daimler-Chrysler recognized the potential of this medium and introduced a POF premium audio-distribution system (D2B) in 1998.
D2B optical network is a synchronous bus with a ring structure in which two devices each build an optical point-to-point link to the ring. The head unit serves as a network master and each D2B device is equipped with a network transceiver chip that serves the physical layer. The optical cabling to interconnect all network devices inside the car consists of POF.
The introduction of the D2B optical network represents the first step toward enhancing the capability of automotive multimedia applications. The integration of World Wide Web services with automotive network devices such as intelligent traffic guidance is the start of an evolution that promises both technological challenges and new solutions.
MOST (media oriented systems transport) will be the next automotive optical-network system for use in 25-Mbit/sec applications while D2B is useful in applications less than 5 Mbits/sec. IEEE-1394 is being considered by many companies for future high-speed automotive networks and POF is the most suitable medium.
Meanwhile, in-flight video entertainment is estimated to reach new levels as POF is integrated into airplanes. In this approach, airlines will be able to offer passengers their choice of amusement-from movies and video games to catalog shopping and Internet access.
POF is emerging as the next standard for LAN cabling installations by network managers, installers, and integrators. The installation or labor factor of POF is less expensive than either copper or glass. Plastic fiber's versatility and ruggedness are also attracting increased usage as a high-bandwidth, low-cost, fiber-optic replacement for outdated copper cabling.
Meanwhile, starting this year, the homes of tomorrow will need optical fiber to fully network the next wave of consumer-electronics technologies and products. Within the next two years, expect interest in POF to rapidly expand into the mainstream as a tool for specialists in low-voltage installations like security, automation, and whole-house audio/video systems as well as for electrical contractors. Both types of installers service the high-volume building market, which will require a series of new products for POF-based home networking, from residential Fibre Channel and hub devices to retrofit kits.
Many companies are already providing POF component accessories such as connectors, transceivers, fiber, interface cards, and hubs. They include Mitsubishi-Rayon, Toray, Asahi-Chemical, Hewlett-Packard, Panasonic, Toshiba, AMP, NEC, Sharp, Motorola, Honeywell, Adaptec, Molex, BOF, Sumitomo-Electric, Leviton, and Sony.
These companies are working together to set POF standards for fiber-to-the-desk and fiber-to-the-home applications. They are also working closely with important standards-setting groups such as the ATM Forum, International Electrotechnical Commission (IEC), EIA/TIA, NEMI, VESA, and IEEE-1394 standards committees. The Japan Industry Standard (JIS) started to standardize POF specifications as early as 1986, as did the IEC. In May 1997, POF was recognized and approved by the ATM Forum as a viable medium for use in 155-Mbit/sec ATM horizontal links to 50 m. Today, IEEE-1394.b is in final voting of a specification that includes a POF solution of 250 Mbits/sec over 50 m.
POF offers a viable solution to short-haul (100 m or less) data-transfer applications such as local area networks, in which inadequate bandwidth is a fundamental weakness. POF promises to provide the infrastructure that will enable the realization of the "anywhere at any time" premises network.
Ted Inoue is president of ArchTech Co. Ltd. (Tokyo, Japan). He is also the organizer of the POF Trade Association.