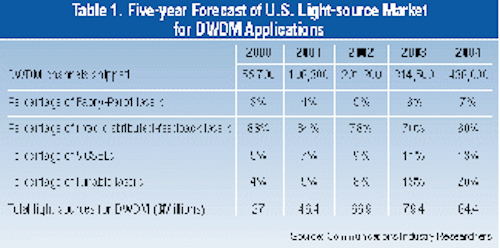 The rise in optical networking and more components per fiber mean boom years for component vendors.
C. David Chaffee
Communications Industry Researchers
As most of the fiber-optic world knows by now, optical components are in short supply as manufacturers attempt to keep up with the demand for higher-bandwidth systems. Not surprisingly, studies conducted by Communications Industries Researchers (CIR) for our new report, "Optical Components Market: 2000-2004," indicate that optical-component sales are seeing a higher growth rate than optical fiber, and DWDM components are selling at a higher growth rate than other kinds of optical components.
Generally speaking, we found that optical components are growing at more than twice the rate of optical fiber and its accessories. Reasons include: the staying power of optical fiber is far greater; the spread of optical communications closer to the end user means more component-dense networking; new optical-component technologies such as DWDM allow for more components to be used over the same fiber; there are more components vendors to select from; and more technology changes are coming on the optical-component side.
Let's look at these factors for the growth of component sales more closely. Singlemode fiber that was in the ground 15 years ago is still operating. Conversely, optical transceivers 15 years ago were pre-SONET standard and operating at data rates of 405 Mbits/sec, less than an OC-3 and not in conformance with SONET standards. Thus, while standard singlemode fiber can handle terabits of information, optical-component technology has had to grow to get to the higher bandwidth levels required today. Also, once fiber is in the ground, it is much more of a chore to replace it than to replace the electronics at each end.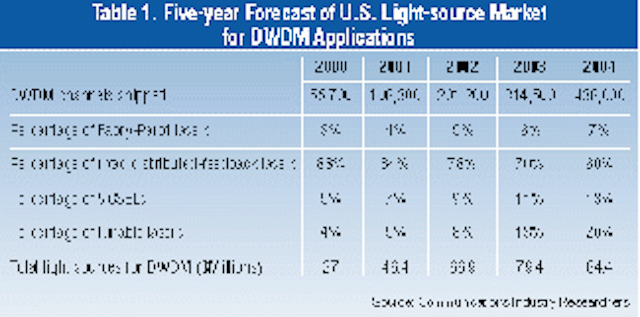 Trends in the deployment of optical communications technology have also changed. Traditional fiber-optic systems were mainly used in long-haul networks, and the initial race in the U.S. regarding optical communications was to lay fiber coast to coast. Lately, however, there has been far more emphasis on closer-in fiber-optic systems, with buildings and campuses now being wired with fiber more frequently. Whereas the long-distance networks use electronics only every 20 miles or so, component use is far denser the closer we get to the end user. While fiber also has to get to these places, the ratio of components to fiber increases as more things feed into the fiber at closer distances. The ultimate extrapolations of this will be fiber-to-the-desk and -home.
But long-haul networks are not immune to increases in component density. For example, optical-networking equipment such as DWDM and optical amplifiers weren't real options in the 1980s. The refinement of these technologies has enabled engineers to fill an optical fiber with many more signals and begin to fulfill founder Charles Kao's promise of fiber being "a zero-cost to the infinite-bandwidth medium."

In addition, these engineers have populated the network with components to fill not only the C-band but increasingly the L-band, as well. This has had the effect of increasing the number of components per fiber. Whereas traditionally a fiber-optic system was populated with one laser and one receiver to one fiber, or two if the system was bidirectional, there are now multiple lasers and detectors as well as associated equipment such as filters and gratings. The upshot, of course, is that there are simply more components per fiber, suggesting that a corresponding revenue growth is also occurring.
This growth has created an explosion of new fiber-optic companies, including a large number of optical-component companies. Some, such as Yafo Networks, which makes dispersion-compensation modules for 10-Gbit/sec and 40-Gbit/sec systems, would not have been viable only a few short years ago.
This explosion has greatly increased the total number of fiber-optic suppliers. There are more than 100, including the major vendors such as Lucent Microelectronics, Nortel Optoelectronics, Alcatel, and JDS Uniphase. This allows for a greater selection of products-and more product development-than does the field of optical fiber, which is dominated by Corning and Lucent Technologies. These companies have an extremely strong patent position. While other vendors can enter this field (and they are), the opportunity is at nowhere near the level of optical components.
While we do not want to diminish the importance of optical-fiber breakthroughs such as Corning's LEAF fiber and Lucent's AllWave fiber, CIR believes the technology breakthroughs on the optical-component side will be far more profound. Optical switches will have a profound impact on networking and will lead in our opinion to the first true optical networks somewhere down the road. They also most likely will lead to some new optical components that will better groom traffic.
We believe there will be a pull to make networking systems more optical, and this means components that also have those characteristics. This will only happen when the economics, not just the technology, makes sense. But, in CIR's opinion, it will happen, as the photon ultimately is the most economically sensible means to send data.
CIR finds that DWDM growth will continue to be extraordinary as channel counts rise and wavelength-centric equipment becomes the norm and leads us in the direction of the all-optical network (see Table 1). Because of the overpowering impact of this trend, we believe that DWDM multiplexers, demultiplexers, interleavers, processors, wavelength lockers, and dispersion compensators will all reach high growth rates.
What about the workhorses-DWDM fixed-wavelength transmitters? We believe they will have high-end growth for the first three years but then will be affected by tunable lasers. The initial impact of tunable lasers will be on sparing, and this will have an effect on the number of fixed-wavelength lasers made.
The counter-argument is that such a trend might make sense in the C-band, but what about the opening of the L-band, which should provide an entirely new opportunity for DWDM transceivers? CIR believes that this market will be serviced far more rapidly by tunable lasers than was the C-band. CIR believes this will limit the growth of this market for DWDM transceivers.
We need to be cautious here, as this trend will not happen overnight, and there is always a lag in these matters from the time the first tunable lasers become commercially available to the time when they have a real market impact. However, in this instance, we believe the impact will be relatively quick. Systems providers and carriers are clamoring for these tools. They are expected to be priced at the cost of about one wavelength-specific laser. We believe the impact will be profound and will influence the last two years of this report (2003-2004), even though the demand for more channels will continue to increase.
Based on the preceding argument, it should come as no surprise that CIR believes that tunable lasers will also represent high-end market growth. In fact, we believe tunable lasers will be an elite category that will more than double each year of the forecast period. The demand for these products, because they almost instantaneously will bring networking costs down, can and will be insatiable.
As a corollary to this, we believe that swept-wavelength laser systems will also grow at the high-end rate. These are valuable tools that are in sync with the wavelength-centric network of the future.
There are two other types of transmitters that CIR believes fall into this high-end growth category. These include lasers/LEDs used in fiber-optic LANs and pumped lasers (combining erbium-doped and Raman).
Regarding the first, CIR believes that Gigabit Ethernet and 10-Gigabit Ethernet growth will be explosive over this five-year period and that these LANs will extend into the broader access and metro networks in a limited manner. In fact, we believe that Gigabit Ethernet will be a major source of close-in optical networking and will give passive optical networks and other architectures a run for their money. Coupled with this is Fibre Channel, which factors into greater storage-area-networking growth.
Pump lasers will continue to be enormously hot because of their required use in optical amplifiers. The market will continue to expand as all-optical networking continues to become a reality and carriers need signals boosted on a wavelength-by-wavelength basis.
The CIR report notes that "fiber Bragg gratings have become the stuff of the wavelength-managed network." That means they will grow along with the wavelength-centric network and at rates that will be at the high end of the market.
The difficulty in attempting to ascertain what that market might be is that a lot of companies make Bragg gratings for themselves. These are still very much a customized product, and the way wavelengths are managed within a particular system often says something about the vendor selling the system in the first place.
Make no mistake-gratings are a very hot optical component that will continue to grow at exorbitant rates as the balance of fiber-optic networking continues to shift in the direction of DWDM and away from SONET.
Optical amplifiers are critical to the growth of the DWDM network, and it is for that reason we believe these products will continue at or above the median for the growth of fiber-optic components over our five-year period.
In the past five years, that growth has been even higher. But as critical mass has built up, growth has slowed somewhat. Still, the industry remains in a demand-driven mode, a state we believe will continue for at least the next five years.
CIR also believes the industry will become more automated than it has been. Innovative companies will figure out how to reduce the labor for making optical amplifiers. At this point, the process is too labor-intensive to reach the margins that these products could provide. With the number of vendors coming into this field, automation continues to be a key consideration.
Another concern that optical-amplifier makers will have is whether they have the necessary subcomponents. This particularly has been a concern of Corning's, as the major manufacturer of Corning's pump lasers, SDL, has announced it is becoming part of JDS Uniphase. However, we believe that federal regulations, and Corning's internal efforts to ramp up its Lasertron pump operations, will be successful in keeping the flow going and that the company will not lose sales due to a shortage of components.
In general terms, SONET/SDH products are not growing as rapidly as DWDM-oriented products (see Table 2). There are two main reasons for this. Most importantly, the network is becoming DWDM-centric and moving away from being SONET-centric. Therefore, DWDM-oriented products are growing more rapidly. Secondly, the established base of DWDM products is not as great as the base of SONET products. The market is not as mature, and therefore the percentage growth could be far higher, even if the actual volumes are similar.
This means that SONET transceivers, filters, multiplexers/demultiplexers, couplers, etc., are not achieving the rates that DWDM components are.
To conclude, the optical-component market continues to thrive, even at a higher level than that of optical fiber. To be further specific, DWDM-oriented components generally are growing more rapidly than other optical components.
C. David Chaffee is director of fiber-optics research at Communications Industry Researchers (Charlottesville, VA).