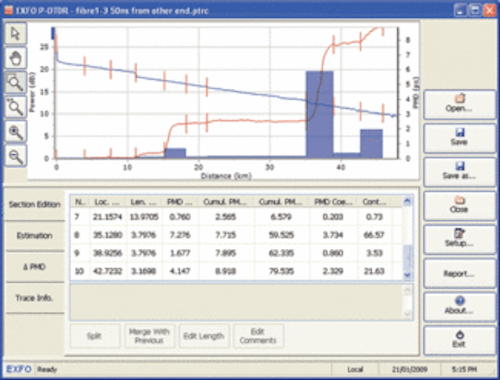 by Stephen Hardy
EXFO Electro-Optical Engineering Inc. (www.exfo.com) has announced a new test platform designed to enable carriers to measure PMD on their fiber links in much the same way as they currently measure loss with OTDRs. Using the FTB-5600 Distributed PMD Analyzer, carriers will be able to pinpoint fibers or specific areas within a link that present PMD challenges, thus enabling them to address such issues in a more localized, efficient fashion. For example, within a 10-km link, carriers could replace or circumvent a 2-km stretch that presents significant PMD challenges, rather than replacing or avoiding the entire 10 km.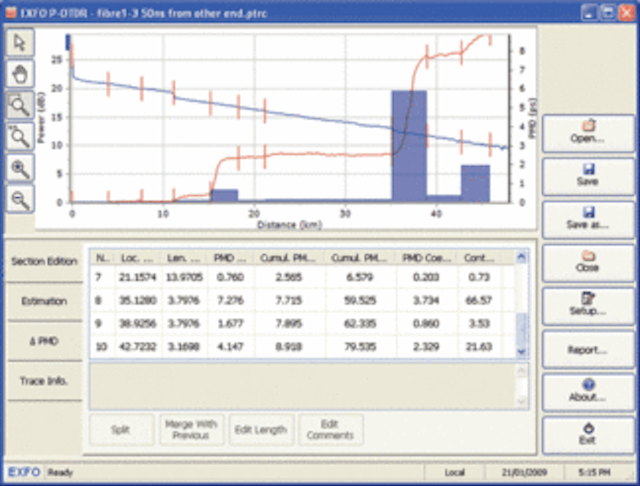 The FTB-5600 Distributed PMD Analyzer will enable carriers to determine the polarization-mode dispersion of each segment of a communications link in much the same fashion that they measure loss with optical time-domain reflectometers.
According to Etienne Gagnon, vice president, product development and marketing, at EXFO and Francis Audet, senior product manager within EXFO's Optical Business Unit, the FTB-5600 will find use in metro networks in which network planners hope to support 10-Gbps transmission over older fibers as well as across the network wherever 40- and 100-Gbps transmission is desired.
Unlike traditional PMD analyzers, which provide a total PMD value for a network, the FTB-5600 provides measurement of PMD as a function of distance. "We're giving a length measurement," Audet explains. "We're identifying the splices of course or showing the OTDR events. And we're giving the distributed PMD as a function of that length. And we're also giving obviously the PMD of each section identified by either splices or connectors.
"It doesn't tell you between this splice and that splice you have a problem. It tells you between this splice and that splice you have this amount of picoseconds or femtoseconds or whatever. It's not really qualitative, it's quantitative," Audet adds. However, the FTB-5600 also has an on-screen simulation feature that enables the user to visualize the potential effect on total PMD of replacing a section with high PMD.
"For a 10-gig [link] you have a 10-psec budget, depending upon the system, obviously," Gagnon says by way of example. "So if you see that this 2 km is generating 8 psec, it might be worthwhile to remove it or go around it."
Because the tool is based on OTDR methods, using the FTB-5600 will be much like using an OTDR. "It's exactly like an OTDR curve with attenuation, but with PMD," says Audet of the measurement results. "So if there's a section that has high PMD, the curve is going to increase dramatically at that point in the network."
The platform, which will be available in March, has already been delivered in prototype form to what Gagnon calls "key carriers." One of these, Deutsche Telekom, presented a paper co-authored with EXFO on their initial experiences with the platform at last year's OFC/NFOEC ("Measuring the Link Distribution of PMD: Field Trial Using an RS-POTDR," where "RS-POTDR" stands for "Random-Scrambling Polarization Optical Time Domain Reflectometer"). The two companies will collaborate on an updated paper to be delivered at this year's event.
The new instrument already has impressed analysts. "This is a cost-effective solution for carriers while upgrading their existing networks," says Srihari Padmanabhan, research analyst for the Test & Measurement Group at Frost & Sullivan (www.frost.com). "With proven results for Deutsche Telekom, it is expected to witness huge demand in the future."
The company is not yet commenting on the price of the instrument, which will be on display at OFC/NFOEC.