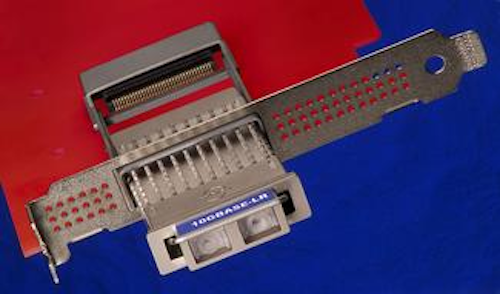 Molex recently announced that it has developed an XPAK form factor solution for 10-Gbit I/O applications. The XPAK system consists of an XLink 10-Gbit optical transponder, guide system, and 70-pin XAUI host connector.
The products are designed to the XPAK multi-source agreement (MSA). Designed for low profile applications, they have a maximum profile of 9.8 mm and are PCI compliant. Typical applications include network interface cards (NICs), host bus adapters (HBAs), target channel adapters (TCAs) and dense packed storage area network and enterprise switches. This next-generation form factor is approximately one half the size of the current generation XENPAK 10-Gbit MSA form factor.
XLink 10GBASE-LR Optical Module
The XLink optical transponder is designed to the IEEE 802.3ae 10GBASE-LR PMD standard. There are four lanes of XAUI data input at 3.125 Gbits/sec (for Ethernet) or 3.1875 Gbits/sec (for Fibre Channel) per lane. These lanes are electrically multiplexed to a single channel that modulates an uncooled DFB laser at 10.3 or 10.5 Gbits/sec. The 8B/10B data stream is re-encoded to 64B/66B and can be transmitted up to 10 km over standard singlemode fiber. Molex's proprietary optical packaging design ensures efficient optical coupling, high reliability, and low cost, say company representatives.
Molex's 10-GBASE-LR modules are available in two versions for use in either 10 Gigabit Ethernet or 10 Gigabit Fibre Channel protocol applications. The modules are hot pluggable, operate off a 3.3V and 1.8V power supply, and utilize an SC duplex optical interface. They cover approximately 36 x 69mm of board space. Samples of the XPAK XLink modules will be available in the fourth quarter of 2002.
Guide System
Molex's guide system allows for above board Z-axis pluggability. The low profile guide system is PCI compliant. To ensure low electrical magnetic interference (EMI), the guide system shields the host connector that includes a ground tab across the front of the connector. An optional EMI gasket can be used to ground the guide system to the faceplate. Two additional mounting placements are available to seal either the front or back of the bezel. For applications where the faceplate is painted the back sealing can be
used. For plated faceplates the front sealing is optimal. Both solder mount and press fit guide system prototypes are available. The mounting pins have been arranged to allow for "belly-to-belly" mounting requirements. Prototypes will be available in the fourth quarter.
SMD Host Connector
The 70-position host connector features SMT leads in an edge-card configuration and is part of the Z-axis pluggable family of Molex products. The connector provides a compact, high bandwidth connection to support the XAUI (10-Gigabit Attachment Unit Interface) electrical interface. The XAUI interface defines four parallel lanes of differential data, each operating at 3.125 Gbits/sec for 10 Gigabit Ethernet protocol or at
3.1875 Gbits for 10 Gigabit Fibre Channel protocol. The connector also supports the emerging SFI4 phase 2 interface for SONET OC-192 applications. SFI4 phase 2 defines four parallel lanes of differential data at 2.488 Gbits/sec per channel.
The standard connectors are available with either 0.15-micro inch or 0.30-micro inch of gold plating. These are now in production and are available in 480-piece tape and reel.
For more information on the XPAK modules, guide system, host connector, or other optical and electrical products, visit the company's Web site at www.molex.com/10gig.html. Molex Fiber Optics is headquartered in Downers Grove, IL.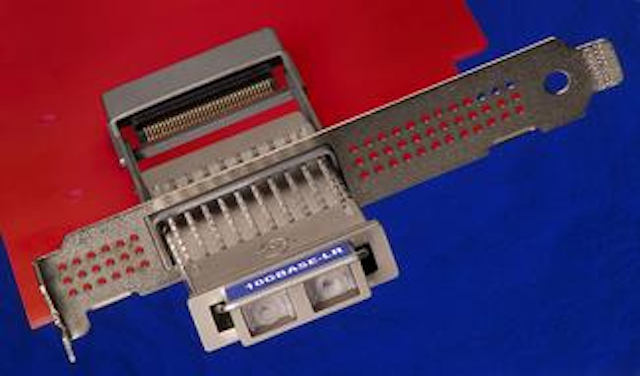 The new XPAK small form factor module from Molex Fiber Optics