Extending LAN communications across the MAN
By ABDUL KASIM, Adva Optical Networking -- Fears of cannibalizing established revenue streams are keeping some carriers from introducing managed Ethernet services. Others are seizing the opportunity and realizing new, high-margin revenues today.
Nov 11th, 2003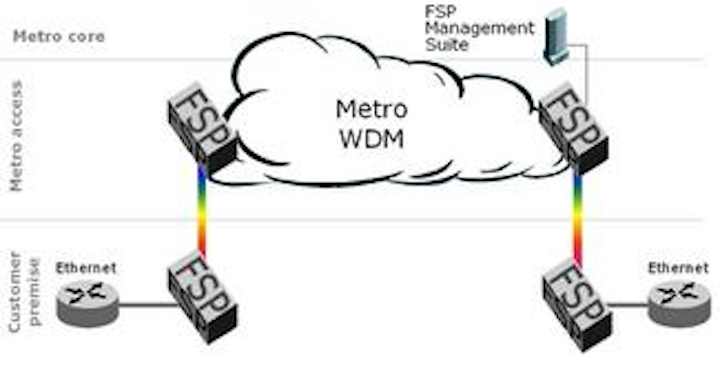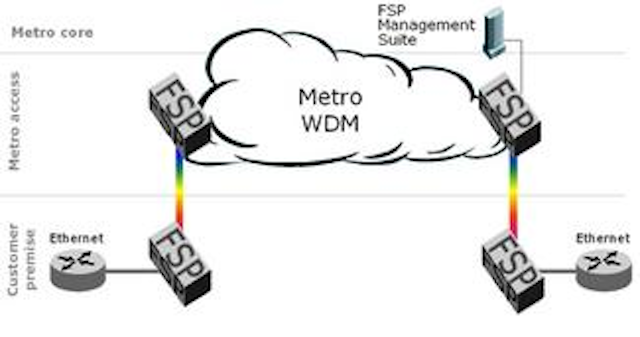 Fig. 1. LAN Interconnection Service
Fears of cannibalizing established revenue streams are keeping some carriers from introducing managed Ethernet services. Others are seizing the opportunity and realizing new, high-margin revenues today.
Abdul Kasim
Adva Optical Networking
Enterprises are deploying an array of bandwidth-intensive services such as LAN extension, virtual private networks (VPNs), remote storage, supply-chain management, and distributed work sharing, databases, and processing. For multiple reasons -- significantly higher bandwidth, lower per-bit cost, and use of standard LAN technology -- Ethernet is emerging as the de facto access method for these services. IDC reported that Gigabit Ethernet port shipments were up 23% in 2002, to 7.2 million.
Some leading North American and European carriers are now offering Ethernet as a managed access service over their MAN infrastructures, and they are experiencing very attractive return on investment (ROI) on the equipment used to offer the services -- typically around six months. This win-win opportunity is rapidly catching on with customers in several vertical segments, including small businesses, healthcare providers, manufacturers, schools, governments, and financial institutions.
Multiple options
Carriers have multiple options for the foundation underlying their managed Ethernet offerings but only one real choice: a fiber-optic infrastructure enhanced with WDM. The applications that enterprise customers want to run today simply demand more bandwidth than copper can deliver, so optical is the only feasible medium. And while TDM technologies such as SONET/SDH have traditionally been used to offer Ethernet access across MANs and WANs, WDM offers a more compelling alternative.
SONET/SDH and TDM were designed for voice transmission and, consequently, do not efficiently carry the data packets that compose enterprise applications. Furthermore, carriers find it expensive and difficult to scale SONET/SDH networks as customer bandwidth and access needs inevitably evolve. WDM, in contrast, gives carriers the scalability and long-term flexibility to accommodate future opportunities and -- most importantly today -- the operational efficiency to price Ethernet services at a level that is competitive with today's standard T1/E1 offerings.
WDM, able to multiplex several (typically up to 32) signals on a single fiber, can carry multiple high-bandwidth applications. The fiber plant does not have to be expanded as capacity requirements increase, as would be the case with SONET/SDH. Furthermore, WDM is transparent to the specific bandwidth and protocol of the application, allowing the same optical infrastructure to support Ethernet (10/100 Mbits/sec to 1/10 Gbits/sec), as well as other protocols that are typically pervasive in enterprise applications, such as Enterprise System Connection (ESCON), Fiber Connection (FICON), Fibre Channel (1 and 2 Gbits/sec), Coupling Link, Sysplex Timer, ATM, and SONET/SDH (OC-3/-12/-48/-192 and STM-1/-4/-16/-64).
WDM, therefore, provides carriers with a compelling method for interconnecting Ethernet LANs and supporting other high-bandwidth services (Figure 1). The low per-bit cost, coupled with the flexibility, minimizes the price/performance trade-off that is typical of alternative technologies.
The right mix of benefits
The growing market demand for managed Ethernet-over-WDM services stems from the breadth and depth of enterprise benefits.



Enterprises experience full, native-speed performance for all applications up to 10 Gbits/sec.

They gain secure, reliable availability of all network resources across all metropolitan facilities, at transmission rates that are predefined and guaranteed.

Because the carrier manages the service, enterprises reduce cost for recruiting and training IT staff.

Enterprises eliminate equipment-depreciation concerns.

With a managed Ethernet-over-WDM service, an enterprise customer boosts productivity, concentrates in-house personnel on the core business, and achieves a new degree of flexibility. The company can more strategically locate equipment and personnel, for example. Back-office resources could be relocated from a city's high-rent financial district to the lower-cost suburbs, without discernible impact on operations. Furthermore, enterprises future-proof for escalation in bandwidth and application needs.
Leaders of the pack
BellSouth and British Telecom (BT) are at the vanguard of the trend toward managed Ethernet services.
BellSouth is rolling out 100-Mbit/sec and Gigabit Ethernet business services in nine U.S. states. The carrier's Gigabit Ethernet services are priced at a level competitive with that of standard T3 offerings while delivering about 50 times the bandwidth. Some BellSouth enterprise customers are using the Ethernet services to cost-effectively support large-scale government design projects. High-resolution computer-aided design (CAD) drawings are transferred in real time among dispersed colleagues. Engineering teams manage the projects more efficiently than ever, and time cycles have been streamlined. BellSouth's services have effectively made its customers' employees more productive.
BT, meanwhile, is supporting a wide variety of applications across more than 30,000 Ethernet connections over dedicated optical links. Manufacturing, healthcare, and education have been the target vertical markets for BT's managed Ethernet offerings. BT's education clients are enhancing their network capabilities while simultaneously reducing total cost for communications. Schools have extended high-speed network services end-to-end across facilities. Students are realizing the full educational potential of the Internet, with usage monitoring administered across the network. BT's Ethernet services also help the schools more optimally use sophisticated administrative applications.
Win-win
The delivery of managed Ethernet access services over an optical/WDM infrastructure is a sweet spot for enterprises and carriers alike and is increasingly contributing to a renewal in telecom spending. It is now possible for enterprises to leverage new, high-bandwidth applications at a very attractive cost; they also perceive no risk, since Ethernet is a tried-and-tested enterprise technology. Carriers, meanwhile, gain higher efficiencies with WDM and offer services at a lower marginal cost. This presents a new revenue opportunity with attractive margins, fueling the investment-and-demand cycle.
Carriers who are wary of the new managed Ethernet services opportunity, due to its potential to cannibalize existing T1/E1, ATM, or Frame Relay services, will likely face an even more difficult outcome. As managed Ethernet access gains currency with enterprises, forward-looking carriers will be able to quickly up-sell value-added services, such as VPNs, storage, and voice over IP and displace incumbents offering traditional services. A first-mover advantage in managed Ethernet access, therefore, presents valuable opportunities for carriers.
Abdul Kasim is vice president, North American business development, for ADVA Optical Networking (Mahwah, NJ).