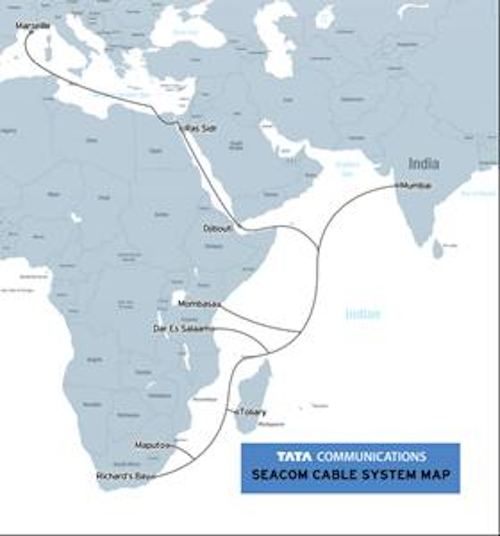 MARCH 18, 2009 -- Tata Communications (search Lightwave for Tata Communications) has reported that it is an anchor tenant customer on the privately owned SEACOM (search Lightwave for SEACOM) cable system.
The SEACOM cable system enables the company to provide fully integrated network services from South Africa, Mozambique, Tanzania, and Kenya to its networks in Europe, Asia and India.
Another subsidiary company, Tata Communications Transformation Services Limited (TCTS), has been awarded the network operations, administration, and maintenance (OAM) contract of the cable supporting 1.28 Tbps of capacity.
Tata Communications operates the landing point in Mumbai; Neotel (search Lightwave for Neotel) will manage the landing point in South Africa. Tata Communications will be able to provide seamless connectivity between the SEACOM cable system and the company's global network, along with Neotel's converged network in South Africa.
"Prior to the development of this cable system a majority of East Africa relied on small and expensive satellite circuits to meet their international network requirements," says Brian Herlihy, president of SEACOM Ltd. "We are pleased to be collaborating with Tata Communications in our ongoing effort to meet the rapidly increasing demand for increased bandwidth and connectivity throughout this region of the world."
SEACOM and Tata Communications are planning for the system to be ready for service by June 2009.

Visit Tata Communications
Visit SEACOM