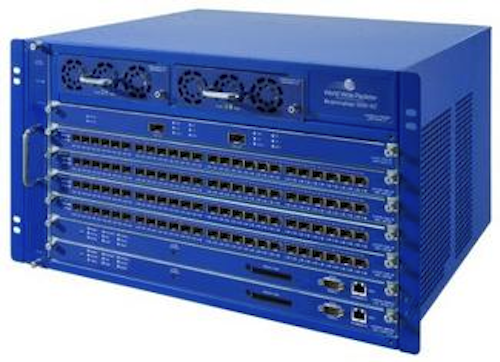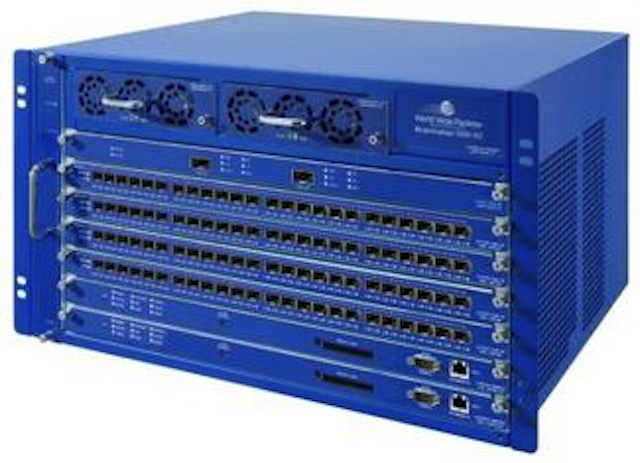 FEBRUARY 5, 2007 By Stephen Hardy -- World Wide Packets (search for World Wide Packets) has extended its line of Carrier Ethernet hardware via the LightningEdge 3300 (LE-3300) Service Aggregation Switch. The 100-Gbit/sec platform is the first of a planned series of aggregation systems, according to company sources.
The company simultaneously unveiled version 5.0 of its Ethernet Services Manager element management system.
In a visit to Lightwave's offices this past Friday, World Wide Packets Executive Vice President Mike Nielsen and Senior Vice President/Global Sales and Marketing Chad Whalen described the 6U-high LE-3300 as "smallest fully redundant system" on the market for Carrier Ethernet aggregation. Purpose-built for Carrier Ethernet applications, the system provides aggregation of 24 to 96 Gigabit Ethernet streams to redundant 10-Gigabit Ethernet pipes. The platform offers redundancy on a per-line-card or multiple-line-card basis and offers a fully programmable distributed switching architecture and a redundant hardware design with service cards ranging from 10 Gigabit Ethernet to Gigabit Ethernet.
The LE-3300 supports guaranteed service-level agreements (SLAs) via hierarchical ingress metering and egress shaping with "rich classification"; its intelligent fabric is designed to ensure end-to-end QoS. OAM features are based on 802.3ah for physical topology verification and 802.1ag CFM and Y. 1731 for service verification.
The system offers five universal line card slots which support 2x10-Gigabit Ethernet XFP-equipped cards and 24xGigabit Ethernet client-side cards using SFPs. The cards offer 2:1 and 2.4:1 oversubscription, respectively. The World Wide Packet executives pointed out that while these oversubscription levels were comparatively low by Ethernet standards, the demands of business SLAs and the potential necessity to support video services warranted a more conservative approach.
The LE-3300 facilitates bridging of multiple protocols and standards such as Multiprotocol Label Switching, Provider Backbone Transport, Provider Backbone Bridging and Provider Bridging. The LE-3300 has full physical redundancy with separate management, control, and data planes to facilitate upgrades with minimal service disruption
Neilsen and Whalen said the company will market the platform for such applications as Layer 2 virtual private network (VPN) aggregation, FTTX access aggregation, wireless backhaul, and Layer 2 backhaul of Layer 3 VPNs. They see customers deploying the LE-3300 primarily in small PoPs and in the basements of large MDUs/MTUs.
There will be three releases of the LE-3300. The first will offer the 802.1Q/802.1ad Provider Bridge, hierarchical QoS, Layer 2-Layer 4 access policies, dual tag transformations, and virtual switching features. The second release, expected to debut during the second half of this year, will add PBT backbone edge bridging and 802.1ah provider bakcong bonce edge bridging. The final release, expected early in 2008, will see support for VPLS MTUs and VPLS PEs.
The company also expects to release smaller and larger versions of the platform.
Complementing the LE-3300, the ESM 5.0 is designed to provide a comprehensive system for service creation, provisioning, and management. The scalable management system supports multiple open source interfaces to facilitate rapid integration with service providers' software requirements.
Visit World Wide Packets