France Telecom inaugurates new IP core network
Aug 1st, 2001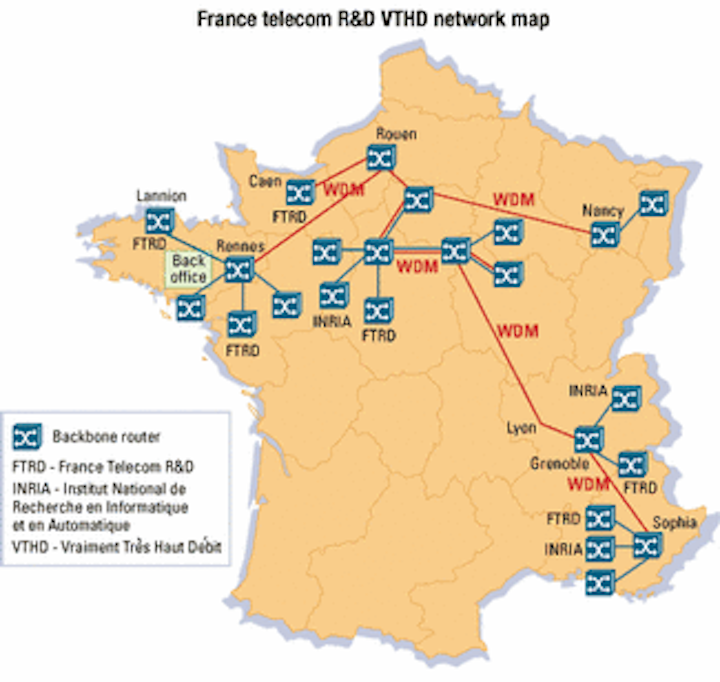 NETWORKS
By EDWARD HARROFF
After more than 18 months of effort, France Telecom R&D (formerly known as CNET R&D) and two key project partners have reported on Vraiment Très Haut Débit (VTHD, "very high bandwidth"), a major program to use advanced fiber-optic equipment in an intelligent IP over optical network. This experimental core network was approved by the French Telecom network research center (RNRT) in 1999.
To achieve high-bandwidth performance, France Telecom R&D connected new-generation "giga routers" with high-speed optical communication channels implementing DWDM. France Telecom R&D was fortunate to recruit its two partners, Institut National de Recherche en Informatique et en Automatique (INRIA) and Groupe des Ecoles de Telecommunications (GET), to aid in the development of this approach.
"The VTHD network represents a major step toward the implementation of the second-generation Internet," says Dominique Delisle, IP program director at France Telecom R&D. "We are looking for solutions that fit the increasing need for high throughput and advanced traffic engineering solutions."
The VTHD network was designed for a potential speed of 40 Gbits/sec at the core and used Gigabit Ethernet to generate access links at around 800 Mbits/ sec. With the support of France Telecom Long Distance, the backbone network of eight points-of-presence links local sites between the Paris region, Grenoble, Lannion, Rennes, Caen, Rouen, Nancy, and the Sophia-Antipolis technology park.
The backbone comprises eight routers connected by 2.5-Gbit/sec optical lines leased from the France Telecom communication infrastructure. To this national long-haul network, 18 access routers are connected, aggregating the traffic generated by campuses or local enterprise networks of organizations using the VTHD platform.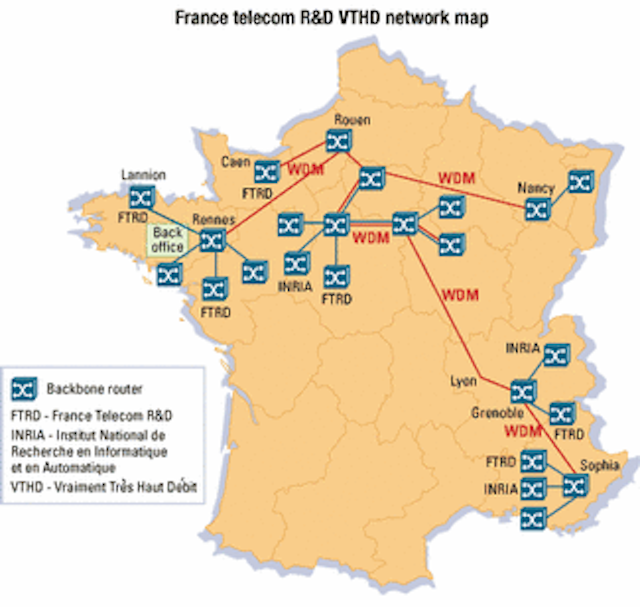 France Telecom's new VTHD national backbone network supports advanced Internet applications via DWDM infrastructure. (Source: France Telecom R&D)
The VTHD network-management center, located in the France Telecom Internet Services Operations Center in Rennes, runs the overall VTHD router network. This VTHD net work is currently a closed network, only offering connectivity between authorized sites of VTHD partners.
Right from the start, the VTHD project prioritized non-proprietary, standard solutions. "IP routers and optical transmission suppliers that support this network understand that this trail does not ensure their position when France Telecom deploys a full-scale Internet 2 network," states Delisle.
The VTHD network has adopted a simplified IP-over-DWDM architecture for its backbone section, where the routers are directly interconnected by DWDM optical transmission systems. Wavelengths connecting routers on the VTHD backbone network each carry 2.5 Gbits/sec. An SDH digital frame for these wavelengths enables the optical carriers to carry binary digital flows. Currently, four wavelengths are active on the Paris metropolitan network, boosting interconnection speeds for the three IP routers on this ring to 10 Gbits/sec. The other routers are interconnected at 2.5 Gbits/sec.
Building on the IPv4 service inaugurated in 1999, a new IPv6 service will be gradually implemented this summer. With the growth in the number of terminals connected to the Internet, and especially the impact of the IP protocol in the mobile phone arena (GPRS, UMTS), ad dressing problems with IPv4 will be come increasingly critical and drive the migration to IPv6. The introduction of this new generation of IP protocols will offer the advantages of mobility and security. The VTHD project's switch to IPv6 in June 2001 should enable the partners to experiment with and learn about these new capabilities. It will first be implemented on Cisco Systems routers, but research will also be carried out into interoperability with other suppliers.
"We are extremely satisfied with our work on the VTHD project, which offers an ideal research context for GET people who are highly active in new network technologies, especially in architecture and high-speed traffic engineering," explains Claude Gueguen, scientific director at GET. "Our various sites are now linked together at very high speeds, which has multiplied our network capacities 500-fold! This is much appreciated by remote researchers who now have a high-performance tool for experimenting and working together. It is also the ideal platform for developing research into new uses, where high speed helps render the network more transparent."
The INRIA and GET partnerships have lead to the use of new Internet technologies in successful experiments with a broad range of applications in research and industry, including interactive multimedia applications, computing and distributed cache systems, and broadcasting applications.
With its high-bandwidth capacity, the VTHD network was able to better the following:
Foster distance learning
Develop the technologies needed for distance surgery training (telemedicine).
Attain expected potential for distributed computation.
Create distributed systems for web cache memories.
Broadcast high-definition online TV.
Accelerate industrial processes, while delivering excellent quality of service and measuring the network behavior for very-high-speed applications.
Data explosion, especially IP traffic, is today's major phenomenon in the world of telecommunications. Some 150 million people worldwide are connected to the Internet, and the number is growing by 60% a year. And in addition to actual Web surfers, data volume per user is constantly expanding due to the shift to more powerful access links (e.g., asymmetrical DSL services).
The enterprise market is especially concerned with this IP traffic growth. Today, more than one in every two French businesses is connected to the Internet, and intranets are going mainstream, forming a key component in internal enterprise communications. Companies also use high value-added integrated voice/data/multimedia services, which need high transmission capacity. These factors are driving networks toward ever-higher speeds.
"Both retail and enterprise customer demand for bandwidth is growing fast. In order to anticipate these needs, France Telecom has taken the initiative of pushing the most recent new-generation Internet technology as far as it can go with its VTHD project," explains Jean-Jacques Damlamian, vice president for business growth at France Telecom. "By implementing these solutions, we can offer the most innovative applications and a substantial increase in capacity, while lowering cost per speed."
Edward Harroff writes on telecommunications issues from Bellevue, Switzerland, for the GEID Press Agency (Paris).