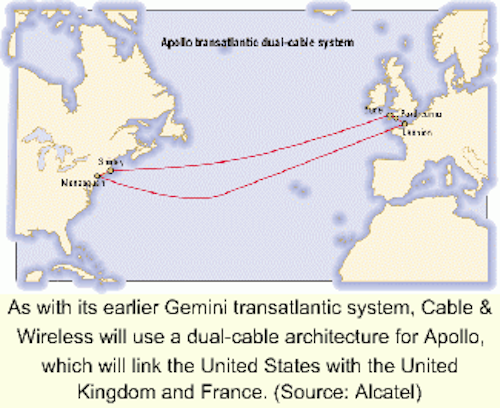 NETWORKS
By EDWARD HARROFF
Cable & Wireless has started building the first 80-wavelength transatlantic optical system (3.2-Tbit/sec capacity per leg) that will enable the system to fulfill an anticipated heavy demand for bandwidth. The new cable system is scheduled to begin service in the summer of 2002 and will make significant bandwidth available to Cable & Wireless customers at lower cost and well in advance of competing systems using similar technologies.
"Cable & Wireless is building the world's most advanced Internet Protocol [IP] transatlantic cable, known as 'Apollo,' together with Alcatel Submarine Networks, to meet growing IP and data demand that several analysts forecast to grow on average at 100% per annum," explains Gordon Hennessy, customer director for Cable & Wireless Global Carrier. "Several analysts confirm Cable & Wireless's internal traffic growth trends, as a result of the rapid adoption of business Internet communications worldwide. We have used analyst forecasts from Probe Research, Pioneer, and Yankee Group."
Cable & Wireless made its first major move to build transatlantic network capacity in 1998 through a joint venture called "Gemini" with MCI/WorldCom. The Gemini DWDM network capacity was not expected to peak until 2003, but Gemini is already reported filled.
The Apollo network presents a dual-cable configuration, relying on two links from the United States connecting with points in the United Kingdom and France (see Figure). The system will span approximately 13,000 km. Stéphane Téral, analyst at market researcher RHK Inc., sees "the Cable & Wireless decision to add major fiber transatlantic capacity quickly as a smart play, due to the rapid growth of IP traffic. This transatlantic network deployment will be the fastest ever and will contribute to driving down long-haul prices."
As with its earlier Gemini transatlantic system, Cable & Wireless will use a dual-cable architecture for Apollo, which will link the United States with the United Kingdom and France. (Source: Alcatel)
Based on new DWDM technology developed in Alcatel's research laboratories, the network will benefit from a capacity of 3.2 Tbits/sec per leg. The network will consist of four fiber-pairs equipped with 80 wavelengths at 10 Gbits/sec. "It will be the first time ever that so many channels will cross the Atlantic on a single fiber-pair," claims Alcatel deputy director for sales and marketing Peter Howard. "Apollo has therefore the highest capacity and lower unit cost of any transatlantic system and features a robust and flexible design, which is adaptive to future traffic patterns."
RHK's Téral points out that "this advanced IP transatlantic cable system has been well-designed for strong resilience using a dual-leg architecture similar to what Cable & Wireless used in the Gemini network. Also, Apollo will provide greater capacity using DWDM technology on the first 80-wavelength undersea system deployed. Cable & Wireless's multimillion-dollar investment was well-timed."
Cable & Wireless's investment in the transatlantic system is £300 million ($450 million). "Alcatel is offering some additional project financing intended for Apollo based on Cable & Wireless's requirements," reports Howard. "We were able to quickly start building cable due to the longstanding relations between our two groups. Alcatel knows how to deliver and service a transoceanic cable system that meets Cable & Wireless's strict requirements."
The marine maintenance contract for Apollo includes a comprehensive after-sales service from Alcatel, including cable fault and marine repair services to be provided by two cable-vessels from Alcatel's own fleet. Alcatel launched this service last year.
A major U.S. communications company has already signed a letter of intent to purchase one fiber-pair, representing a quarter of the new cable system's capacity. In addition, Cable & Wireless's dedicated carrier and service-provider channel, Partner Services, has nondisclosure agreements and ongoing commercial negotiations with other potential purchasers.
"This statement from Cable & Wireless demonstrates how strong transatlantic broadband demand remains," Téral says. "The business risk of wholly owning Apollo is sharply reduced by this pre-selling of future transatlantic broadband capacity. We have seen this market behavior with other undersea network projects."
The Apollo undersea optical network indicates that Alcatel is again pushing transoceanic transmission capacity toward 1 Tbit/sec for distances of greater than 6,000 km. With DWDM technology maturing, subsea transmission capacity has come a long way since Cable & Wireless and Alcatel dared to implement Gemini-the first transatlantic DWDM system. By the end of this year, this capacity performance is expected to rise to more than 8 Tbits/sec (105 wavelengths x 10 Gbits/sec per fiber-pair).
Edward Harroff writes on telecommunications issues from Bellevue, Switzerland, for the GEID Press Agency (Paris).