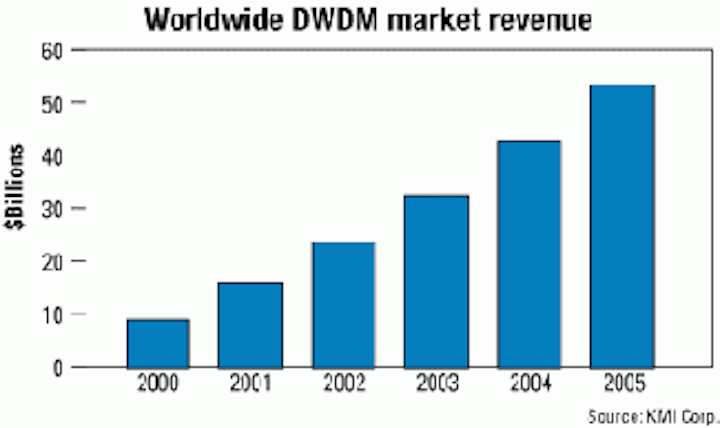 The worldwide DWDM market has experienced a 73% CAGR over the past four years to jump from $1.7 billion in 1997 to $8.9 billion in 2000, according to a new study from fiber-optic market-research firm KMI Corp. (Newport, RI). Despite a number of significant acquisitions in the space, the number of vendors offering DWDM system-level products increased from 15 in 1999 to almost 30 in 2000. The total number of carriers that have deployed DWDM technology rose from 75 in 1999 to 175 in 2000, while the number of publicly announced contracts for DWDM has doubled from 75 in 1999 to an expected 150 in 2000.
While growth in the segment is driven by long-distance carriers' demands for more bandwidth, it is also fueled by the migration of DWDM technology closer to the end-user in metropolitan applications, access networks, and enterprises.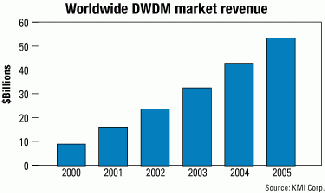 Though KMI forecasts continued growth in the DWDM segment, analysts predict that this growth will occur at a slower pace than the market has experienced over the past four years. The DWDM systems market will experience a 43% CAGR from 2000 to 2005, when the market will reach $54 billion (see Figure). According to the report, the slower growth rate reflects several market trends, including a maturation of the long-distance segment of the DWDM equipment market, increased competition that will lead to price pressures, and shorter-distance products in the market. KMI predicts that the short-distance segment will comprise 18% of the total market by 2005 and see revenue of more than $9.6 billion.
The report, "2000 Worldwide Markets for DWDM Market Study," provides detailed information about the market value, unit sales, and pricing of DWDM equipment worldwide and by geographic region. For more information, call (401) 849-6771 or visit KMI's Website at www.kmicorp.com.