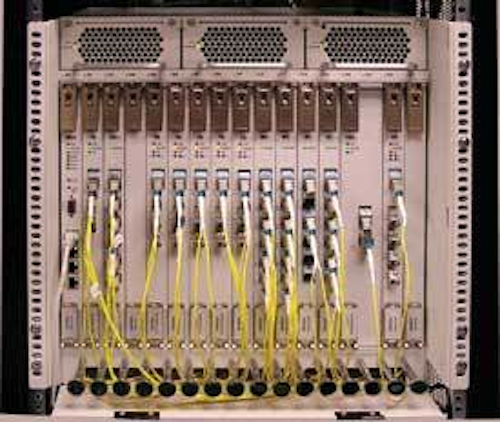 by Stephen Hardy
OpVista has recently unveiled the AnyWave Optical Network strategy. OpVista has combined already fielded IP with new technology initiatives to enable companies to transition their existing infrastructures into high-speed, high-capacity Ethernet transport networks.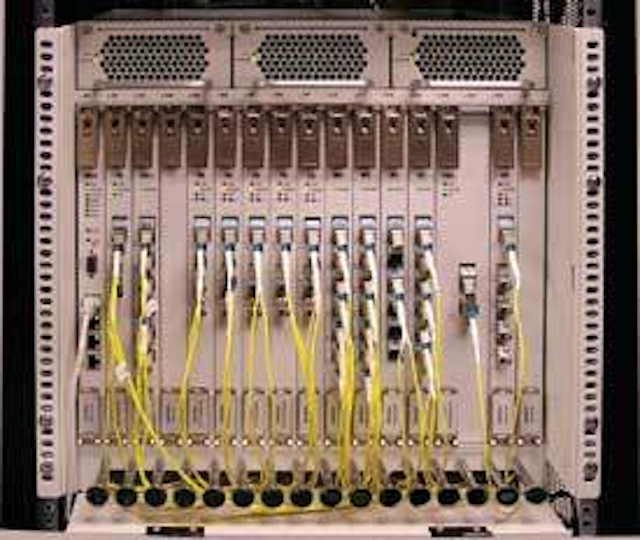 OpVista's AnyWave Optical Network concept is designed to enable service providers to use the OpVista 2000 to transform their legacy infrastructure into a Carrier Ethernet network.
"It's a holistic way to look at the network, then it's some additional capabilities we added to the portfolio to do that," describes Dawn Hough, vice president, marketing and business development of OpVista. According to Hough, the cornerstones of the company's new strategy include the reuse of existing infrastructure by providing a graceful upgrade path for current networks, the ability to provide connectivity anywhere in the network at any time, the addition of network resiliency to Ethernet transport, reduction of capex and opex, and the creation of a service-independent network that can cost-effectively support voice, video, and data services for residences and businesses.
OpVista has combined existing and newly announced IP to implement the AnyWave Optical Network concept. For example, it plans to provide scalable capacity via its existing 10-Gbit/sec Ultra-DWDM technology, plus its new WaveWeaver capability. The Ultra-DWDM technology enables 10-Gbit/sec traffic to ride across networks engineered for 2.5-Gbits/sec by combining four 2.5-Gbit/sec streams into a single 2.5-Gbit/sec transmission window. The new WaveWeaver technology enables companies to add wavelengths to existing 10-Gbit/sec networks that have hit maximum capacity usage. Wavelengths from the existing 10-Gbit/sec multiplexers operating at 100-GHz spacing feed into the WaveWeaver platform, which adds additional wavelengths at 100 GHz, but offset by 50 GHz from the original grid. The new wavelengths ride between the existing wavelengths, thus doubling capacity to a maximum of 800 Gbits/sec, based on a total of 80 wavelengths.
Hough reveals that the company also plans to port its Ultra-DWDM technology for 40-Gbit/sec applications, again by transporting multiple 10-Gbit/sec streams into the transmission window normally occupied by a single stream. She declined to reveal when the technology would be officially released.
For ubiquitous connectivity, OpVista will leverage its existing broadcast-and-select architecture, which uses broadband couplers and tunable receivers to create a ROADM functionality that can be enabled and expanded without disrupting service or requiring forklift upgrades. Hough asserts that thanks to differences in transponder costs and the fact that carriers won't have to install new modules at every node to add or expand ROADM capability, the OpVista ROADM approach will cost 72% less than a typical network equipped with fixed optical add/drop multiplexers.
Meanwhile, the company's existing Switched Ring Architecture (SRA) provides the network reliability and resiliency that Carrier Ethernet requires, Hough says. The SRA provides full optical layer protection across any number of nodes; Hough says that one customer has deployed an SRA with 26 nodes across 1,000 km. "So if you look at video, and operators trying to minimize their cost for servers and storage, if you can serve a large number of nodes with a single video stream, you're going to save a lot of your cost in that video distribution," Hough explains.
The company believes its upcoming EtherWave technology will reduce capex and opex by decreasing router/switch costs at the network edge. The technology will be incorporated into the company's OpVista 2000 platform. One box can be installed at the service hub and pass up to 80 wavelengths of Gigabit Ethernet to another OpVista 2000 at a remote node, which will split the streams for delivery to the customer premises. The architecture reduces or eliminates the requirement for comparatively expensive edge routers. While OpVista has introduced the concept within the AnyWave Optical Network announcement, it plans a separate release of the technology around the June timeframe.
Taken together, OpVista is confident that its approach provides both scale and cost savings. "We believe the AnyWave Optical Network concept is the most comprehensive, cost-effective way to transform your existing infrastructure into a Carrier Ethernet-ready network," Hough concludes.