Celion Networks brings long-distance DWDM to the enterprise with single-fiber system
Feb 1st, 2004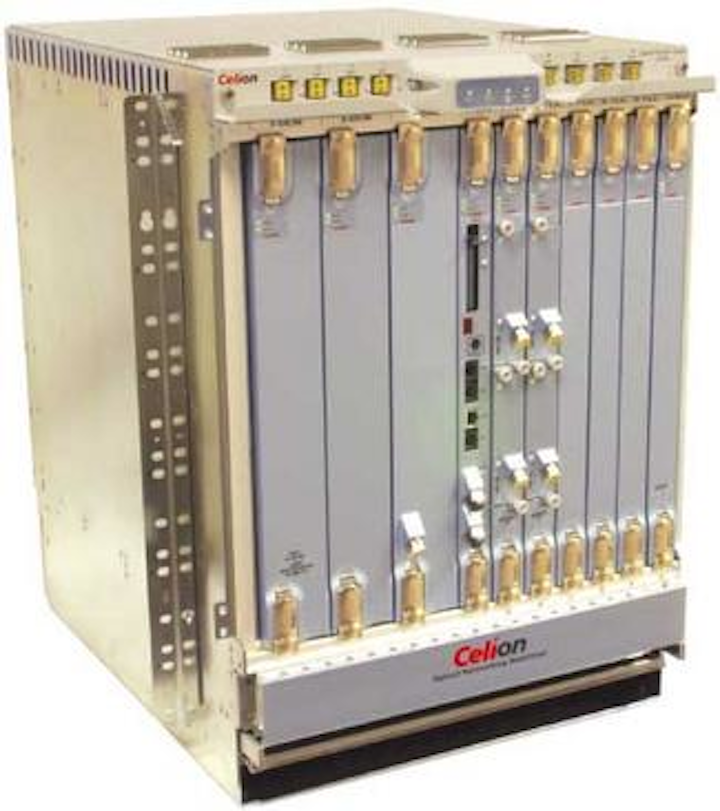 Connecting data centers in separate cities can be an expensive and complicated endeavor for enterprises. Beyond the myriad equipment necessary for such a connection, the enterprise usually also has to contract for a metro private line at each data-center site and an intercity or WAN private line to connect those sites. Further compounding the problem, the Securities and Exchange Commission has declared that backup data centers for the largest, most critical financial institutions should be at least 200–300 miles apart. "A lot of companies are now wondering, 'How do I get my backup data centers that far away?'" reports Bob Tkach, chief technology officer at Celion Networks (Richardson, TX). "'What technologies can I use to do that?"'
The 10-channel, 10-Gbit/sec-per-channel Enterprise Transport Solution from Celion Networks spans up to 3,000 km without regeneration. Most intercity distances can be reached with a single system.
According to Celion, DWDM is the right technology—when specially designed for enterprise customers. The company's single-fiber Enterprise Transport Solution (ETS) provides what Celion claims is a cost-effective alternative to leased WAN bandwidth.
Unlike most DWDM systems, Celion's ETS employs one fiber to pass traffic from east to west and west to east. While there is a small capacity penalty for using a single-fiber versus a two-fiber implementation—there must be a guard band between the two directions of wavelengths—this penalty is not overly critical for enterprises, Celion believes. What matters most for enterprise customers, says Tkach, is "the getting started cost," which is significantly reduced in a single-fiber system. Additionally, the ETS requires just two amplifiers, one at each site, further lowering the overall system cost.
What Celion proposes is leasing dark fiber between two data centers and installing the Celion system in those data centers. The ETS provides interfaces that enable an enterprise to extend its LAN and SAN directly, including 1-Gigabit Ethernet (GbE), 10-GbE LAN, OC-48, and OC-192, as well as native 1- and 2-Gbit/sec
Fibre Channel and Ficon interfaces. The end result, says Tkach, is a "drastically simpler architecture."
Moreover, once the network is built, it is never touched by anyone but the enterprise, thanks to the system's high degree of automation. If you need to put up a circuit between two sites, for example, "you simply plug the cards in at the end and the system discovers the cards are there, tunes up the wavelengths, makes sure the power stays on balance, does a bit-error-rate test on the wavelength, and delivers it for service—all without issuing any commands at all," explains Tkach.
Because enterprises do not have the expertise or support staff of major carriers, they often need "a substantial amount of help," admits Tkach, "but we are geared up to provide that help. If an enterprise wants to connect a data center in New York and a data center in Chicago, for instance, they can give us the addresses and we will come back to them with a complete dark fiber solution, including who owns the fiber, how to go about getting it, who to contact, and what the price is likely to be."
Deb Mielke, managing director at Treillage Network Strategies (McKinney, TX), agrees that Celion is making a valiant effort to "reduce all the barriers to buying." That said, she also thinks the company has a key obstacle to overcome: It's one thing to locate available dark fiber, but determining the quality of that fiber is a little trickier. "Is there really that much good dark fiber out there?" she muses. If the company continues to evaluate fiber on a case-by-case basis as it does today, "it's going to be tough to scale the business," she asserts.
She suggests Celion find a third-party partner or analyst firm that can assess the quality of dark fiber in advance. "Without them, being able to create what I would call a solid market for this is going to be tough."