Progress on the path to convergence
Aug 1st, 2004
The show floor at this year's SuperComm, held in an unusually sunny Chicago in mid-June, bustled with talk of multiservice technologies aimed at carriers looking for ways to profitably combine voice, data, and video services onto a common IP/MPLS backbone. Advances in multiservice aggregation, reconfigurable optical add/drop multiplexing (ROADM), Ethernet over SONET, and Layer 2 Ethernet switching generated much of the overall buzz. No major surprises, but progress is well underway.
Ratification of key standards, such as IEEE 802.17 Resilient Packet Ring, IEEE 802.3ah Ethernet in the First Mile, and ITU-T G.7041/Y.1303 Generic Framing Procedure (GFP), legitimized some technology platforms and implied a harder sell for others. Carriers and vendors joined forces for the first time in several interoperability demonstrations. The Optical Internetworking Forum (OIF) demonstrated end-to-end connection management between network equipment using intelligent control-plane technologies (user-to-network interface and network-to-network interface) as well as standards-based Ethernet over SONET/SDH transport. The network equipment supplied by 15 vendors linked seven carriers' labs around the world. Deutsche Telekom, Telecom Italia, China Telecom, KDDI, NTT, AT&T, and Verizon participated.
Many exhibitors voiced guarded optimism about carriers' deployment plans in 2004 and 2005. Several partnerships and customers were announced as vendors trumpeted technology trials and carrier deployments. CLECs were once again on several companies' radar, and many equipment manufacturers now view multiple-system operators (MSOs) as a key market.
Long-promised new technologies appeared closer to general availability as several vendors introduced ROADM capabilities as add-ons to their DWDM systems. Cisco Systems (San Jose, CA) announced that it is adding ROADM functionality to its ONS 15454 multiservice transport platform. The 4.7 release, described as "intelligent DWDM," is an upgrade to the DWDM (release 4.6) capabilities first integrated into the platform in September 2003.
Lucent Technologies (Murray Hill, NJ) announced the general availability of its CWDM/DWDM platform, the Metropolis wavelength service manager, which was co-developed with Movaz Networks. The product will offer add-on ROADM capability in release 2.0, which is slated for next month. Lucent's longstanding customer, T-Com, a division of Deutsche Telekom, is starting to test the wavelength service manager this summer for its planned network expansion.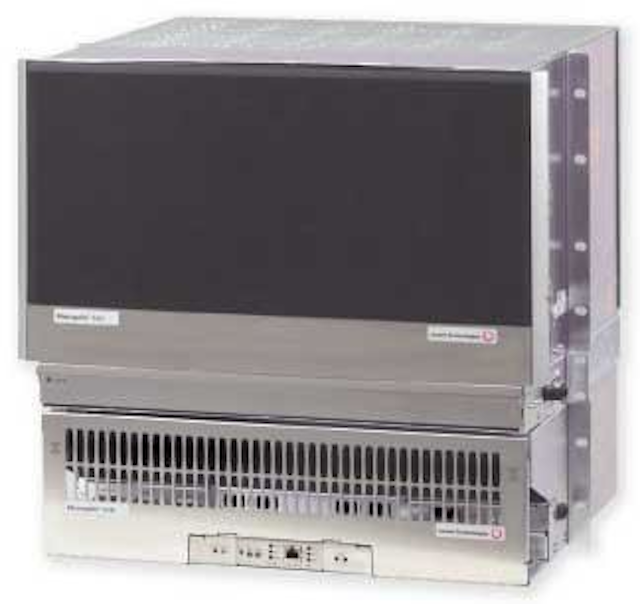 Lucent Technologies' modular DWDM platform, the Metropolis WSM wavelength services manager, which was co-developed with Movaz Networks, will offer add-on ROADM capability in release 2.0.
Movaz unveiled its own system, the RAYROADM, which the company says enables remote, automatic, hitless reconfigurability of any wavelength or combination of up to 40 wavelengths. Carriers can deploy the modular system in a standalone fashion or as a field upgrade to the RAYexpress OADM. The product is generally available.
Competition is heating up in the ROADM space. On June 14, the week before SuperComm, optical transport-system supplier Mahi Networks announced that it had acquired Photuris primarily for its ROADM technology and existing customer relationships. Photuris is working with three of the four RBOCs, MSOs and an interexchange carrier, according to company reports.
On June 15, Fujitsu Network Communications (Richardson, TX) announced the general availability of its Flashwave 7500 extension system, a lower-cost version of its metro DWDM platform of the same name. The extension system, which uses the same optical line card shelf, transponders, and management as the full-sized platform, offers a migration path to the Flashwave 7500 ROADM system. The lower-end platform is designed for metro/access point-to-point and ring applications using up to 16 wavelengths. The full-sized Flashwave 7500 is being deployed by MSO customers Comcast and Bright House Networks to support high-speed data and video on demand applications.
As transport vendors loaded up their arsenals with ROADM capabilities, multiservice platforms were reaching the edge and access segments of the network. Multiservice functionality was also available in numerous switches and, for first time, introduced "officially" as part of a crossconnect.
Turin Networks (Petaluma, CA) and White Rock Networks (Richardson, TX), both extended their transport product lines with multiservice edge platforms supporting native delivery of DS-1/3, TDM, and packet services.
Turin announced the TraverseEdge 100, which combines SONET/SDH (OC-3/12/48 or SDH-1/4/16), Ethernet transport, and Layer 2 Ethernet switching, for TDM and packet-service delivery over legacy networks. The environmentally hardened platform is two rack units, which can be used to aggregate and manage services in metro/access rings, in the outside plant, or as a customer premises device. It also supports Ethernet over SONET standards, GFP, link capacity adjustment scheme (LCAS), and low-order and high-order virtual concatenation (VC). The product offers several carrier class protection options, including 1+1 hardware protection. Unlike some competitive platforms, the TE-100 offers a fixed configuration, which may limit carriers' flexibility, but helps lower costs, commented Dave Dunphy, principal analyst of optical infrastructure at Current Analysis, in a recent report. The SONET version of the platform is slated for release in the third quarter, with the SDH version in the fourth quarter. Turin has OEM partnerships with Motorola and UTStarcom.
Similarly, White Rock Networks (Richardson, TX) extended its VLX2020 transport family with an OC-48 SONET-based multiservice access platform, the VLX2006, which is priced under $10,000. Like the Turin platform, the VLX2006 aggregates TDM and Ethernet services and integrates Layer 2 Ethernet switching. (The OC-48/192 VLX2020 transport platform will be upgraded to support Layer 2 Ethernet switching as well.) The multiservice access platform offers Ethernet port protection and a Gigabit Ethernet interface that support data rates of 512 kbits/sec to 1 Gbit/sec, enabling carriers to remotely increase customers' subscribed data rates as needed. General availability of the VLX2006 is expected this month.
Alcatel (Paris) extended its crossconnect product line, launching a Generalized MPLS-ready multi-service crossconnect (MSCC) that combines TDM and advanced data aggregation for wideband, narrowband, and broadband traffic support. The 1671 service connect is the first MSCC, but much of the key data functionality and a 240-Gbit/sec (VT/STS-1) switch matrix are not scheduled for general availability until the first quarter of next year. "The 1671 will not become fully competitive until then, giving competitors plenty of time to respond," notes Current Analysis's Dunphy in a recent report. On the upside, the 1671 offers a clear migration path to Alcatel's installed base of 1631 users.
Other announcements from Alcatel included a 7450 MPLS-based Ethernet service switch targeted at the SDH market and the 1662 packet-ring switch based on OEM partner Native Networks' MPLS-based resilient-packet-ring platform. The Ethernet service switch was developed using the same IP/MPLS hardware and software architecture found in Alcatel's 7750 service router. The switch, which features 40-Gbit/sec slots, is designed to support service-level agreements for thousands for Ethernet services. Swedish incumbent TeliaSonera is planning to deploy the Ethernet service switch as part of its metro Ethernet service infrastructure.
The Alcatel 1662 packet-ring switch is designed for packet-based applications and targeted as a solution for greenfield deployments or SDH extension. It enables quality of service over point-to-point and point-to-multipoint Ethernet on multiple rings or mesh topologies. The packet-ring switch does not support TDM or comply with the IEEE 802.17 Resilient Packet Ring standard, which was approved by the IEEE in June. "MPLS supports faster channel switching, which is needed for broadcast video," says Vinay Rathore, director of product marketing, fixed communications infrastructure, at Alcatel.
Finally, CWDM proponent RBN (San Francisco) introduced the GigaEdge 2330, a subwavelength multiservice provisioning platform designed to multiplex SONET/SDH and Ethernet services (see "RBN's '4 × ANY' mini-MSPP enables services on demand," page 25).
Perhaps the biggest discussions at SuperComm centered on who's left in the industry and which companies will partner or consolidate next. A dearth of startups at the show indicated to many exhibitors that the incumbent systems vendors were again behind the wheel, racing toward partnerships, technology acquisitions, or consolidation as carriers demand bleeding-edge technologies from their traditional vendors.