Rural Washington county pioneers optical broadband services
Feb 1st, 2002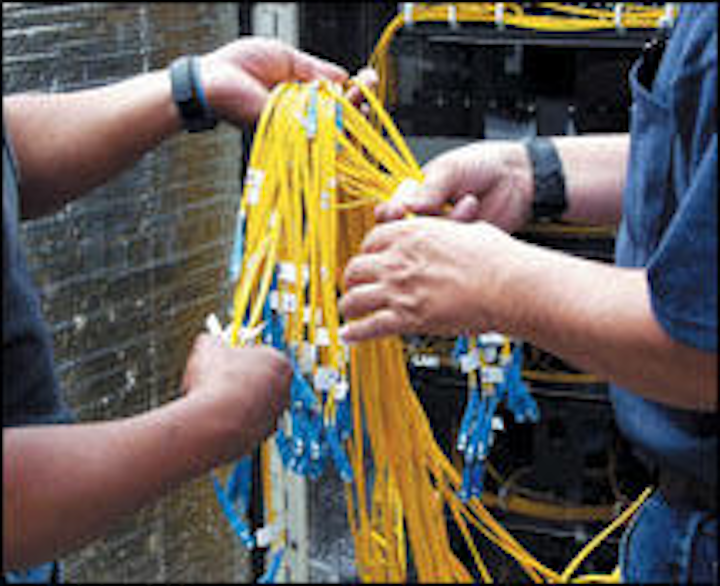 APPLICATIONS
By ROBERT PEASE
A consumer-owned utility is leading the way in providing residential customers the latest in optical broadband services. While service providers in more populated areas of the United States may take years to provide services like high-speed Internet, video-on-demand (VoD), and live programming to their customers' homes, Grant County Public Utility District (GCPUD) in Ephrata, WA, is taking the next step in its fiber-to-the-home (FTTH) initiative announced earlier last year (see Lightwave, July 2001, page 31).
Through its contract with Minerva Networks, a broadband IP network provider based in Santa Clara, CA, GCPUD will provide video services over its existing fiber-optic infrastructure, known as Zipp. When completed in 2005, the Zipp network will contain some 50,000 mi of fiber in its effort to reach 40,000 homes, businesses, and farms throughout Grant County. To date, the network passes about 7,000 homes with approximately 2,000 customers "lit" and receiving services.
Minerva is supplying 40 of its video network platform MPEG-2 IP encoders and 60 digital video broadcasting (DVB)-to-IP demultiplexers into the Zipp network. This equipment will create a fully redundant IP television headend for access to more than 200 channels of live television and on-demand programming. Other necessary equipment includes IP video servers for the delivery of VoD and pause/rewind capability, Ether net- based set-top boxes, IP multicast-enabled network equipment, and dedicated bandwidths exceeding 5 Mbits/ sec to each home. GCPUD is also using virtual LANs (VLANs) to separate multiple service providers.
The system uses a multicast router in the core to feed multiple Internet group management protocol (IGMP)- enabled Layer 2 switches at the curb. The multicast router receives all the source IP local video content, satellite programming, and VoD, while managing the downstream multicast membership addresses for each of the gigabit trunks feeding the curbside units. Gigabit Ethernet is used between the router and the curbside switches to provide an unlimited number of video channels to the system, while only requiring a single gigabit trunk between each curbside unit.
Each curbside switch is housed with a DC battery power backup and serves 240 homes with point-to-point singlemode-fiber trunks running Gigabit Ether net. Singlemode-fiber pairs are terminated outside each home next to the electric meter. Finally, there are computers and set-top boxes inside each residence, which are connected to the external demarcation using Cat egory 5 copper.
Although the Zipp project may be ahead of its time in terms of FTTH deployments, there traditionally have been barriers to using fiber to provide video broadband services to residential customers. First and foremost, providers need to see a return on investment for any new services. Only recently, have companies like Minerva shown any compelling proof for earnings before interest, taxes, and amortization (EBITA) in a reasonable amount of time.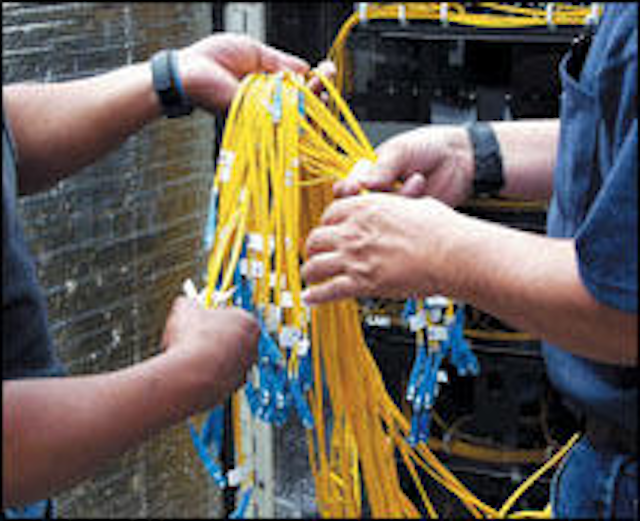 A utility crew works with multiple fiber strands that provide numerous Grant County residences with optically based broadband services like high-speed Internet access, music channels, and video-on-demand. (Photo courtesy of Autumn Weis, Grant County Public Utilities District)
Widespread fiber deployment in the last mile only existed in rare cases until recently, limiting the number of reachable homes and making the delivery of video services difficult. Technology was also a limiting factor in terms of both availability and affordability. But that has changed over the last few years.
"Customer premises equipment, such as fiber network termination gear and IP-based set-top boxes, were very expensive," says Reed Majors, vice president of business development at Minerva. "Over the last 18 months, set-top-box prices have dropped dramatically and should continue to do so until they reach the $200 range. Likewise, 18 months ago, the FTTH residential gateways were priced in the $2,000-per-home range. Today, they are closer to $1,500, and in another year, we should see prices in the $600 range."
Jon Moore, senior telecommunications engineer at GCPUD, agrees with the declining cost structure. He believes the industry has reached a point where the depreciated cost of the installed infrastructure and cash flow needed to provide enhanced broad band services is competitive with existing legacy services.
Utility companies like GCPUD have a further advantage in terms of competition. The cost of entry is prohibitive and most utility companies are reasonably entrenched. With consumers willing to pay between $40 and $315 for enhanced services-all on a single utility bill-the more services utilities can offer, the better for all concerned.
"The benefits for public utilities for enabling video services over fiber includes facilitating competition among multiple providers, ensuring uniform quality throughout the system, and instantaneous outage detection resulting in improved customer service," says Moore. "Additionally, transport rates are lowered by sharing infrastructure with multiple voice, video, and data providers, and reach to the customer is expanded to more than 100 mi from a common headend."
Other companies participating in GCPUD's Zipp project include World Wide Packets (Spokane, WA), which is providing the fiber termination equipment used at the consumer location. Cisco Systems (San Jose, CA) is providing the multicast routers and curbside access switches.
"This project is a bit of a proving ground, and we see it becoming a model to other utility companies, showing that they can deliver optical-based video services using their fiber infrastructure," says Majors. "The video business can be a bit intimidating, and by working with an early mover like Grant Public Utility District, we will illustrate that it can be done."
The convergence of voice, video, and data directly to residential consumers over fiber infrastructure is hardly a new concept, but over the past few years, the barriers have simply been insurmountable. However, the times are changing-equipment is available, costs are lower, demand is higher-and projects like Grant County's Zipp network are testing the waters for new broadband services delivered to every door.