Tellium and NEC collaborate on DWDM transport switch
Aug 1st, 2002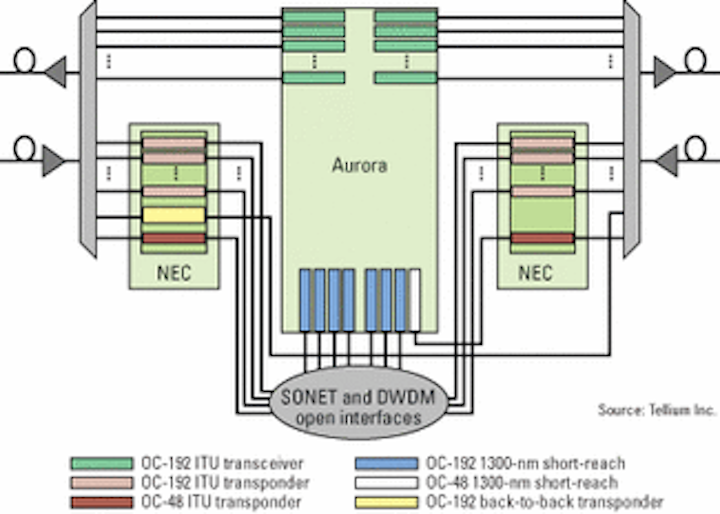 SYSTEMS
By MEGHAN FULLER
In June 2001, Tellium (Oceanport, NJ) and NEC (Tokyo) announced a joint marketing and development agreement to create integrated optical systems with fewer networking components. A year later, they have made good on that promise, unveiling the industry's first multivendor transport switch, which they claim will provide improved carrier economics by eliminating redundant electrical components, reduc ing footprint and power consumption, and simplifying network management.
The system features Tellium's AURORA optical switches and its StarNet wavelength management system (WMS) combined with NEC's SpectralWave DWDM system and SpectralWave network management system (NMS). The system also integrates a transceiver from Tellium and a DWDM transponder from NEC to create an ITU-compliant DWDM optical wavelength transport switch.
The integration of existing transponder and transceiver functionality into the new Aurora/NEC transponder simplifies the network and eliminates the need to purchase, install, interconnect, and maintain one set of transponders. "Transponders themselves are very expensive," contends Christopher Nicoll, director of infrastructure analysis at market researcher Current Analysis (Sterling, VA). "By removing those cards, you are saving space in the central office-footprint, rack space-and you're saving an enormous amount of cost."
A single user-friendly graphical interface provides seamless end-to-end management of the network, including auto discovery, fault management, performance man agement, and end-to-end point-and-click provisioning. Integration is achieved via a standard TMF 513/814 northbound interface from the Tellium WMS to the NEC SpectralWave NMS.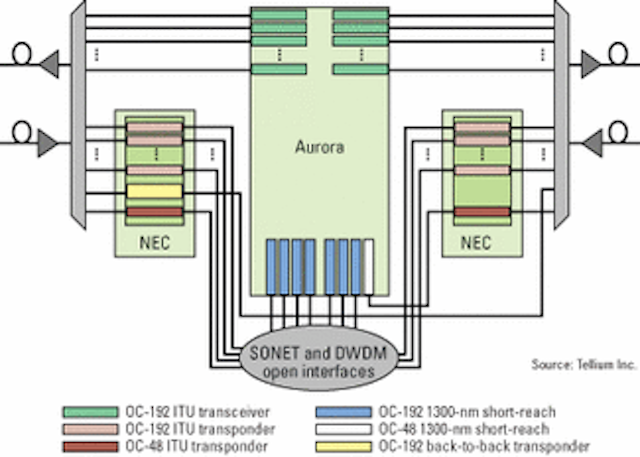 The industry's first multivendor integrated transport switch, shown here in an artist's rendering provided by Tellium, eliminates a complete set of trans ponders, resulting in a 50% reduction in footprint and significant capital-expenditure savings for the carriers.
The Tellium/NEC transport switch also boasts a significantly smaller footprint. Integrating the DWDM transponders in the switch results in a compact configuration that requires just six bays of SpectralWave DWDM equipment, rather than the traditional 12 bays. The companies also claim their system requires less than half the power of discrete multivendor transport-switch systems.
Though NEC and Tellium were first to market with an integrated transport switch, they may not be able to enjoy the benefits of that distinction for very long. Several incumbent vendors, including Lucent Technologies, Nortel Networks, Sycamore Networks, and Ciena have switch and transport capabilities in-house, and they will no doubt offer similar solutions in the future.
"Everybody has to meet the same requirements though," notes Nancee Ruzicka, program manager for the Yankee Group's (Boston) Carrier Convergence Infrastructure research and consulting practice. "Functionally, these things all have to perform the same way. [They are] going to reduce the number of regenerations required, get rid of some equipment, save some space in the central office."
That said, vendors could differentiate themselves based on their systems' reliability or the range of applications they can support, Ruzicka says. She cites the flexibility of the NEC/Tellium switch as one possible advantage.
There are startups working on single-box solutions that combine DWDM transport and optical switching and established vendors touting that they have open systems with separate transport and switch elements so customers can deploy DWDM equipment from any vendor. But it's an either/or situation, surmises Tellium chief technology officer Krishna Bala.
"Although with NEC we've announced an integrated transport platform," explains Bala, "we still offer open interfaces that allow us to interconnect to a Nortel or a Lucent, for example. It's a solution that continues to offer open interoperability-and at the same time reduced cost savings from integration."
"Some of the integrated products that we see coming aren't quite that flexible," agrees Ruzicka. "The DWDM is there whether they want it or not."
Multivendor collaborations such as this one make sense, says Bala: "If you look at what carriers are deploying today, they deploy WDM equipment from vendor A and a switch from vendor B and the integration is done much later in their back office. That integration cycle takes about six to nine months, whereas what we offer the carrier is the ability to have that integration done before the deployment even begins. They don't have to go through this six- to nine-month period of back office integration. It gives a head start to the carrier in terms of deployment."
Nicoll of Current Analysis believes the collaboration between Tellium and NEC makes sense because neither had the other's products. "Tellium is an optical-switch company; it doesn't have long-haul transport. NEC has transport systems, but it doesn't have switching," he says.
When asked if the Tellium/NEC partnership marks the beginning of a trend toward more collaborative efforts among vendors, Nicoll admits that he does not see many opportunities for such collaboration. However, he adds, "I would expect to see the incumbent vendors-the Cienas, Sycamores, Nortels, Alcatels, Lucents, and those types of vendors-offer this level of integration within their own product line."