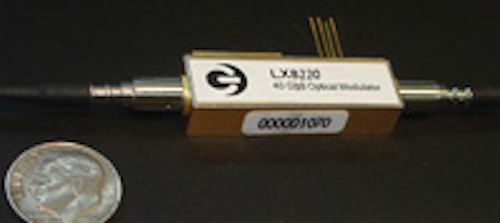 For advertising information, contact Kathleen Skelton or Kelly Barker.
EQUIPMENT DESIGN

LX8220

GigOptix
The LX8220 is a compact 40G DQPSK optical modulator enabling 4.5×5.5" 300-pin transponders for metro applications. Its low drive voltage ensures low power consumption without compromising on optical performance.
www.gigoptix.com
EQUIPMENT DESIGN

USB To Fiber Optic Bit-Driver
S.I. Tech
Supports USB 1.1 and 2.0 plug and play, multimode or singlemode for secure communication, remote security cameras, instruments, or other USB devices, extended-distance. EMI/RFI immunity. Order: 1.KIT #26 for complete multimode system. 11.3181/3182 for tempest version.
www.sitech-bitdriver.com
EQUIPMENT DESIGN

IntelliGain™ Optical Channel Performance Monitors C, L, CWDM, Wideband
BaySpec, Inc.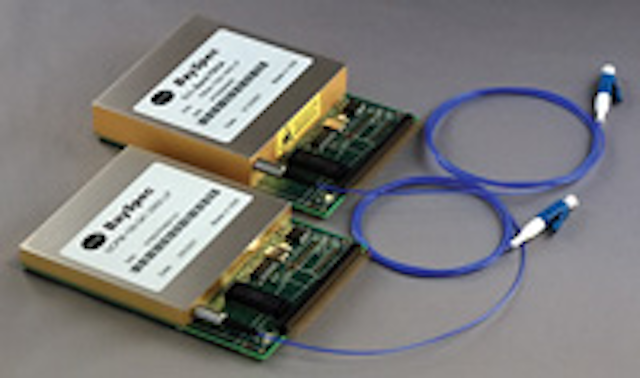 100% Made-in-the-USA, BaySpec's Optical Channel Monitors feature ultra fast sub-50 milli-second response, high compact size, and low power consumption. With over 30,000 units shipped, the ruggedized design ensures long life – now available in reduced height option <10mm!
www.bayspec.com
TEST
LightSpeed™ 1000
GL Communications Inc.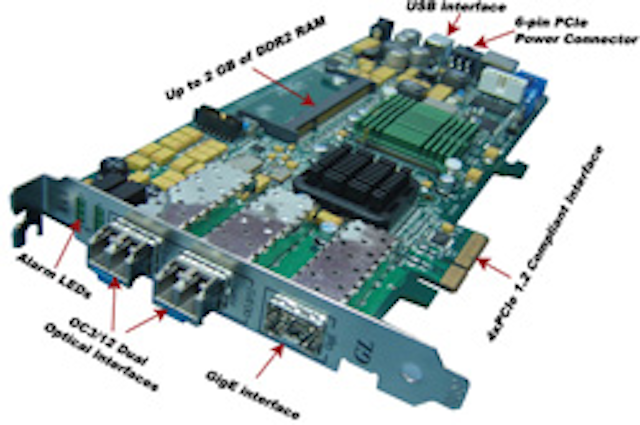 OC-3/STM-1, OC-12/STM-4 Analysis and Emulation LightSpeed 1000 is a Dual OC-3/STM-1, OC-12/STM-4 PCIe card designed for monitoring ATM, Packet over Sonet, RAW, and Ethernet traffic at wirespeed. It allows Monitoring, BERT, Emulation, Capture, and Protocol analysis on both optical and Ethernet ports.
www.gl.com
TEST
FTE7500A PON OTDR
Terahertz Technologies Inc.
The US made FTE-7500A-131516ACT is an OTDR for in-service testing and trouble shooting of PON networks at 1625nm. Included are a standard 1310/1550nm OTDR, Autowave LTS, Video Scope and VFL.
www.terahertztechnologies.com
TEST AND MEASUREMENT

Optical Wavelength Meters
Bristol Instruments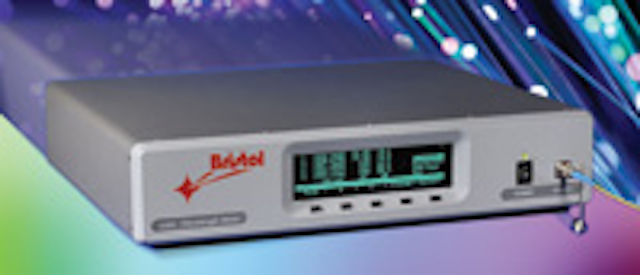 Optical wavelength meters precisely characterize the wavelength of DWDM lasers. Multi-wavelength meters measure wavelength, power, and OSNR of DWDM signals. High accuracy and reliability achieve the most meaningful test results.
www.bristol-inst.com
EQUIPMENT DESIGN
Rev2 Micro-Polisher
Krell Technologies
Rev2 automates connector air-polishing using a "micro-feed" feature that gradually lowers the ferrule to the polishing surface at a controlled rate. This provides superior control for fiber-denub and epoxy removal.
www.krelltech.com
EQUIPMENT DESIGN
Coherent 64 Gbaud Photodetector
u2t Photonics AG
The CPDV1200R extends u²t's family of highly integrated coherent products. It consists of a polarization diversity network as well as two 90° hybrids and 4 balanced photodiode pairs monolithically integrated on InP.
www.u2t.com
TEST
FastMT — The Fastest Automated Auto-Focus Inspection Available... Without Scrolling! Inspect • Certify
FiberQA,LLC
FastMT simultaneously auto-focuses 4-72 individual fiber displays while certifying results on 8, 12, 24, 36, 48, 60, 72 MT connector regions.
www.fiberqa.com
NETWORK DESIGN
Optical Cellular Backhaul
Lindsay Tough Optical Solutions
Lindsay Broadband offers robust and economical optical products to expand capacity to your 3G, 4G, LTE Cellular Tower Sites. Lindsay's modular, chassis-based Media converters, SFP transceivers, and our outdoor-hardened CWDM and DWDM multiplexers/demultiplexers enables operators to expand capacity to Cellular tower sites over existing fiber cable.
www.lindsaybroadbandinc.com