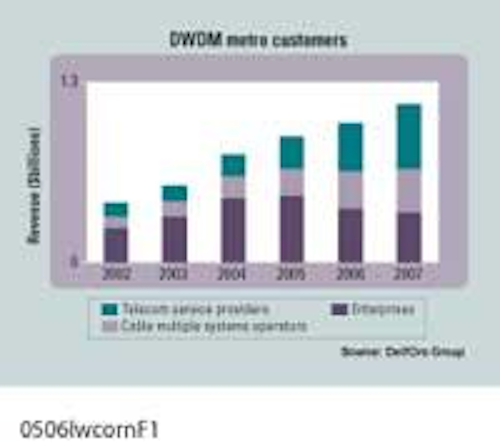 By Jimmy Yu
The metro DWDM market grew 30% in 2003 and 40% in 2004. Growth in most optical segments such as SONET/SDH multiplexers typically comes from the telecommunications service providers' purchase patterns as they add capacity. However, a unique force has driven robust expansion in the metro DWDM market over the last two years: unusually high demand for metro equipment from enterprises seeking to interconnect their storage and LAN islands.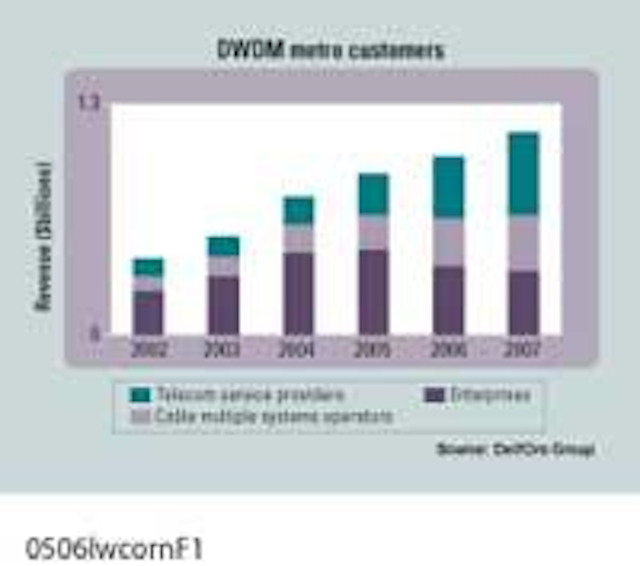 Figure 1. Enterprise customers drove growth in metro DWDM prior to 2005. Future growth should come from the telecom service providers and cable multiple systems operators.
We anticipate a bright future for metro DWDM but envision future growth to be driven by telecom service providers (SPs) and cable multiple systems operators (MSOs) as they focus on delivering higher-bandwidth services like video on demand (VoD). We expect the strength of this market to move from enterprises to SPs starting this year; this changeover in customers will open up opportunities for vendors to gain share.
Three major customer bases drive demand for metro DWDM equipment: enterprises, cable MSOs, and telecom SPs (see Figure 1).
Enterprises are the largest customer base. Their demand for metro DWDM equipment began in 2002 and continued at a brisk rate throughout 2003 and '04. The largest enterprise verticals appear to be financial institutions, hospitals, and manufacturing companies that require rapid data recovery or need to transfer large files such as MRI scans and 3D drawing models. We expect this demand to stabilize this year and likely decline next year as these enterprise verticals finish expanding their networks.
During '03 and '04, cable MSOs began upgrading their infrastructures to gain more bandwidth capacity to deliver new services: voice, data, and VoD. Although the cable MSOs continued to deploy some SONET rings, they also started to equip higher-density sites with metro DWDM equipment. Often, they deployed eight Gigabit Ethernet (GbE) ports multiplexed into one 10-Gbit/sec SONET wavelength. Adoption of these new voice, data, and video services should increase traffic on the networks, encouraging cable MSOs to continue upgrading their metro networks.
Telecom SPs have typically used metro DWDM equipment selectively on point-to-point routes where fiber was limited to interconnect large central offices and deliver managed services to enterprise customers. As Figure 1 illustrates, these SPs have contributed little to the metro DWDM market growth through 2004.
However, that should change during 2005. We believe that telecom SPs will increasingly compete to deliver new services (such as VoD) to differentiate themselves in the marketplace, retain customers, and increase their average revenue per user. The underlying foundation to deliver these new higher-bandwidth services is a metro network capable of delivering large volumes of raw bandwidth cost-effectively. We believe a metro DWDM network meets this need. Further, as telecom SPs deliver more video services, they'll require additional metro DWDM systems to transport the increasing volumes of video and data traffic between video distribution sites.
To utilize a metro DWDM system beyond a simple point-to-point configuration, telecom SPs and cable MSOs will likely employ a reconfigurable optical add/drop multiplexer (ROADM). A DWDM system enabled with ROADM technology allows the SP to reconfigure and optically add or drop wavelengths remotely, without converting them to an electrical signal.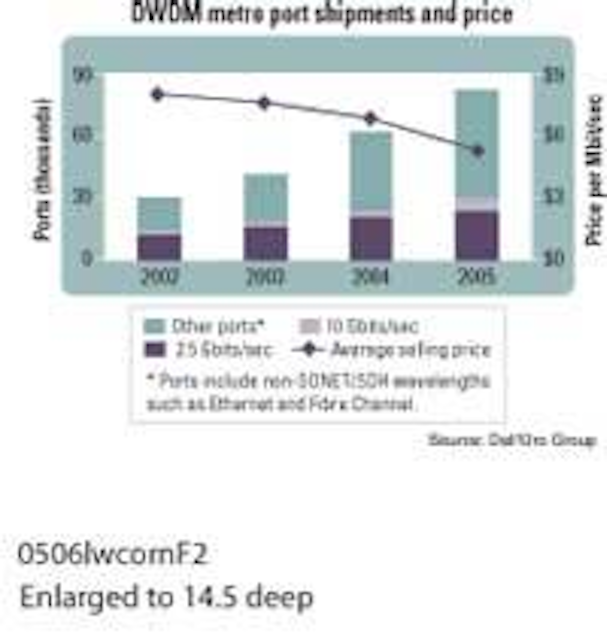 Figure 2. Expect the price per bit to decline over 20% this year.
This technical benefit creates an economic benefit: significant savings in operational expenses. Two factors-the sensitivity of service providers' power budgets and the transients formed as lasers power on and off-make it cumbersome to add and drop wavelengths on metro DWDM systems that do not have a ROADM. Therefore, a field technician must travel to each site and manually tune the systems whenever a wavelength is added or dropped. The ROADM provides automatic gain and transient control, which resolves this issue and eliminates the expense of sending technicians into the field.
The shift in customer base from enterprises to service providers will have two effects, both of which will depress the average selling price, forcing vendors to accelerate down the cost curve to maintain profitability. First, the shift will cause a migration to 10-Gbit/sec wavelengths, which have a lower price per bit than their 2.5-Gbit/sec counterparts. We forecast 10-Gbit/sec port shipments to grow over 140% this year. Second, the shift will cause heightened competition. To generate $50 million in metro DWDM revenue, a vendor must win either several hundred enterprise contracts or one service-provider contract. Therefore, we expect competition for the limited (but comparatively much larger) SP contracts to intensify dramatically this year. The combination of a mix-shift toward 10-Gbit/sec wavelengths and heightened competition for contracts should lower the average selling price per bit more than 20% over the course of one year (see figure 2).
The top two metro DWDM vendors have something in common that currently drives their success: strong sales channels into North American enterprises (see Table). These and similar vendors led the market last year, capturing 55%-60% of metro DWDM purchases. But as the market evolves, we expect vendors with stronger ties to the growing customer base to gain market share.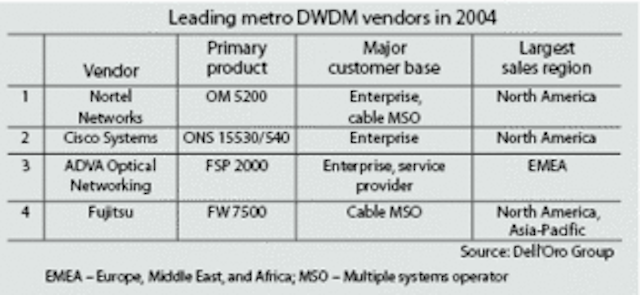 For example, in 2004, the customer mix among enterprises, cable MSOs, and telecom SPs shifted slightly in favor of cable MSOs. Over the same period, Fujitsu, a vendor that targets sales to cable MSOs, grew its metro DWDM revenue 360% and gained 5% market share. Therefore, as the mainstream customer base moves away from enterprises, vendors without enterprise sales channels will find an opportunity to grow and gain share.
The metro DWDM market is expected to continue growing, but the dynamics underpinning growth will change. Looking at the past, market growth was driven by demand for enterprise data recovery. Looking toward the future, we envision growth driven by telecom SPs and cable MSOs. This shift is expected to bring technology advancement, steeper price declines, and vendor opportunity.
Jimmy Yu, senior analyst at Dell'Oro Group (Redwood City, CA, www.delloro.com), covers the optical transport equipment market.