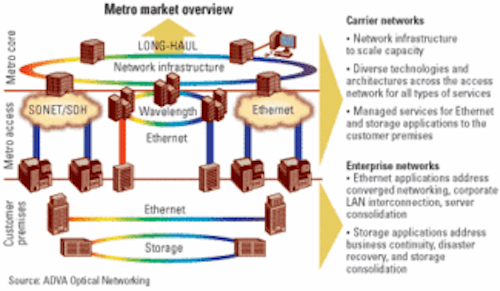 Two years ago, CWDM was the hot topic at all the conferences and trade shows, and every DWDM vendor, it seemed, was working on a CWDM counterpart. But the technology has not taken off as expected, accounting for just 5% of the overall WDM market. Even the price differential between CWDM and DWDM-a key advantage of CWDM-is not as great as it was a few years ago. So what happened?
The rings that carry carrier traffic to different locations around a MAN-the classical interoffice facility (IOF)-will always be DWDM, contends Michael Howard, principal analyst and co-founder of Infonetics Research (San Jose, CA). First, metro rings feature a higher capacity than CWDM can support. Second, carriers are reluctant to invest in a technology that has limitations in terms of distance, speed, and capacity. And third, new switching and reconfigurable optical-add/drop-multiplexing (ROADM) functionality have been added to DWDM gear, thereby increasing its desirability.
So just where and how are carriers, enterprises, and other customers using CWDM? According to both Howard and Sterling Perrin, senior research analyst at IDC (Framingham, MA), storage-area networking and Ethernet-service delivery have emerged as two key applications for CWDM.
The lower cost of CWDM is bringing SANs within reach of not just the Fortune 500 companies, but also large and medium-sized companies and even some small businesses. The United Nations' Federal Credit Union (UNFCU-New York City), for example, opted for CWDM to connect four sites in NYC to its remote data center in New Jersey.
In the past, the credit union's headquarters and two branches were connected via point-to-point 1.44-Mbit/sec T1s. Using CWDM technology, the UNFCU is able to achieve the level of protection necessary under the Basel Capital Accord, which stipulates that a financial institution's data backup strategy be factored into its credit rating.
"They are now able to restore 60 Tbytes/sec in just 90 minutes, whereas that would have taken a month and a half on the installation they had before based on SONET connectivity," reports Per Hansen, director of business development for optical transport at ADVA Optical Networking (Munich, Germany). ADVA is providing its FSP 2000 C/DWDM system for the UNFCU installation.
Enterprises like the UNFCU can also leverage CWDM technology to create a converged network for other optical services, including voice and data. CWDM provides up to eight transparent wavelengths and is protocol-agnostic, enabling the support of multiple applications in addition to SANs.
The addition of small-form-factor-pluggable (SFP) interfaces has enhanced the functionality of CWDM, enabling the interfaces to act almost like manually tunable transponder cards, notes Hansen. Using pluggables "makes it more economic to regenerate signals in CWDM systems," he says. "Whereas before they were limited by the lack of availability of amplifiers, you now have the option, at a realistic cost, to regenerate the signal and make these systems a little larger."
While SAN extension has become a key driver for CWDM in the enterprise space, it is not the only applicable option, says Perrin. "If you look at the optical options for SAN extension, CWDM is kind of in between the DWDM approach and the new SONET approach," he explains. "If you have huge bandwidth requirements, you're DWDM. If you're still optical but lower bandwidth requirements, then you might use the SONET products, the MSPPs that are starting to come out. CWDM is going to get some play, but it's never going to corner the whole market because you have three different sets of needs."
CWDM is also gaining traction as the transport medium for Ethernet services in both the carrier and enterprise markets. "We're seeing more of the [CWDM] uptake so far on the Ethernet side," says Perrin, who notes that the technologies "fit well together," because both are designed to meet the low-cost needs of the access network.
SBC, for example, uses CWDM technology in the delivery of its GigaMAN and FiberMAN managed wavelength services throughout its 13-state territory. The carrier's GigaMAN service provides enterprises with a dedicated point-to-point Gigabit Ethernet service that links LANs within a metro or region. Its FibreMAN service, meanwhile, offers a dedicated point-to-point full-duplex private-line connection via Fibre Channel over CWDM.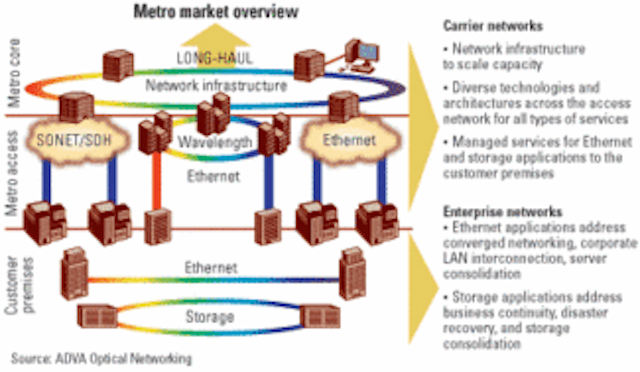 CWDM is finding use today in carrier networks as the transport mechanism for Ethernet services and in enterprise networks to address storage-networking needs. Metro core rings remain DWDM, however.
"The beauty of that is they can have CWDM to the access edge, but in the core, they can rely on DWDM," contends Geneviève Beaumier, product and solutions marketing with Nortel Networks' Optical Networking Division, which provides its OPTera Metro equipment to the carrier. "When you're aggregating so many wavelengths from different customers, when you get to your core infrastructure, your wavelength count increases quite a bit. CWDM in this context becomes a compliment to DWDM."
In terms of enterprise uptake, Beaumier reports that there are three distinct application drivers in three separate enterprise segments. The small Fortune 5000-type businesses use CWDM technology for media conversion, carrying one signal type over a point-to-point link. The Fortune 1000 and 2000 companies use CWDM for both point-to-point and multi-site ring typologies with more than one service carried over the link or ring. These enterprises often converge their storage, voice, and data needs over the same CWDM network. Finally, the Fortune 500 companies typically favor what Beaumier dubs the "scalable hybrid," which is the combination of C/DWDM capabilities.
In addition to the delivery of both storage and managed wavelength services, European countries have also embraced CWDM technology for DSL backhaul, particularly in regions where a strong second provider is rolling out bundled services like IPTV, voice over IP (VoIP), and in some cases, video on demand (VoD). In France, for instance, Neuf Telecom is emerging as a solid competitor to the incumbent France Telecom, with about 2,000 neighborhoods served by DSL today. To backhaul its DSL-based triple play services, the carrier uses a combination of inexpensive CWDM; DWDM where it has fiber exhaust issues; and extended-reach EDFAs.
In Asia, CWDM is an attractive option for large countries that need a massive infrastructure build-out or smaller countries without a great deal of available capital. In both cases, CWDM can help lower initial installation costs.

CWDM technology can decrease a carrier's or enterprise's initial investment by as much as 30%, say industry insiders. When combined with DWDM in a hybrid system, the technology can also enable customers to futureproof their networks.
One of the inhibitors for DWDM adoption has been its high cost, says Perrin, which limits its addressable market. "CWDM comes in at a lower cost not just on a per-channel basis, but also on a per-box basis as well," he reports. "This is one way to lower the cost for someone looking at a WDM option but does not quite have the bandwidth requirements or the ability to pay for a full-blown DWDM implementation. That's where CWDM is gaining traction versus DWDM."
The worldwide CWDM market accounted for roughly $50 million in the fourth quarter of 2004, with just under $200 million for the year, reports Howard. Despite its relatively small numbers, the CWDM market has more than its share of competitors. According to Infonetics Research, Alcatel was the worldwide CWDM market leader in the fourth quarter of last year, followed by ADVA, Nortel, Zhone, and Siemens. These five companies accounted for about half the market. The other half belonged to those vendors in the "other" category, including players like Ciena, Fujitsu, Lumentis, Transmode, Marconi, and Harmonic as well as a myriad of smaller companies.
Clearly, the market cannot support so many players, so who holds the advantage? The future, according to Perrin, is in hybrid C/DWDM systems like those developed by Alcatel, ADVA, Nortel, and several others. "Given the fact that CWDM as a technology doesn't hit all the applications, the fact that there is a lot of DWDM in place today, and the fact that carriers don't want to make a bet on one technology over the other as they lay out these new networks, the hybrid approach at any level makes sense," he says. "This is where I see the market heading."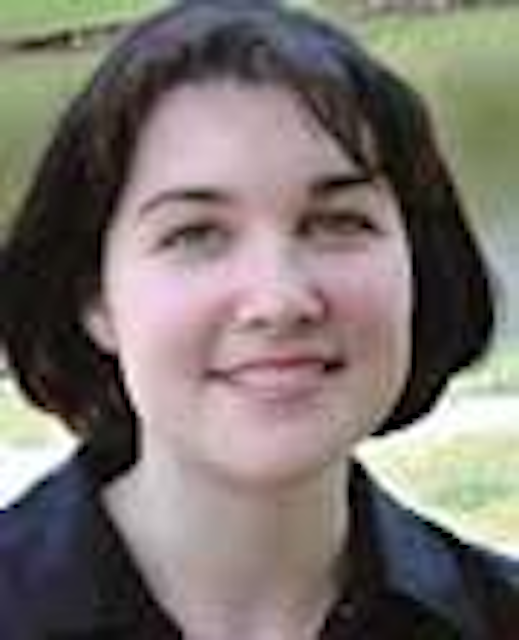 Meghan Fuller is the senior news editor at Lightwave.