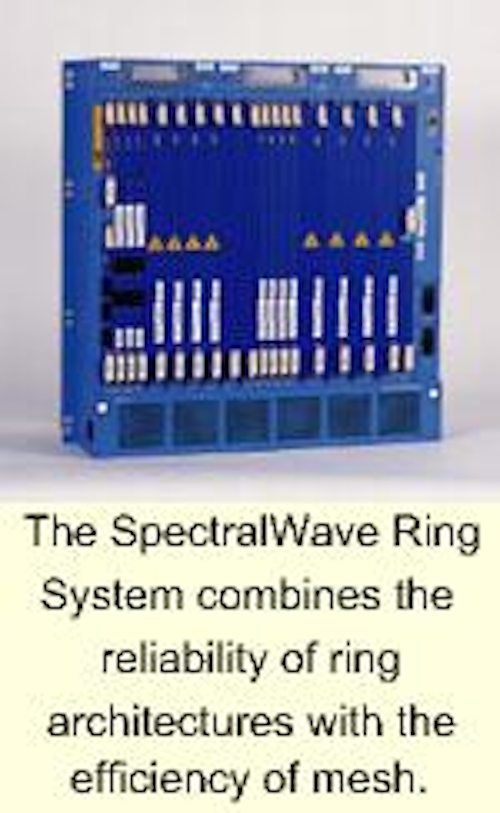 Telecommunications carriers want to have their cake and eat it too. They want to aggressively expand their bandwidth-transport capabilities to include deploying and provisioning high-speed data applications such as Internet protocol (IP) and Asynchronous Transfer Mode (ATM). At the same time, they need to maintain high standards of reliability and network availability that Synchronous Optical Network (SONET) has championed in the long-haul backbones. NEC America's answer to their dilemma is the latest addition to its SpectralWave product family, an advanced optical-ring solution for backbone networks of long-distance and local-exchange telecommunications carriers. The SpectralWave Ring System is a wavelength-based optical-protection technology specifically designed for carrier networks supporting high-speed applications.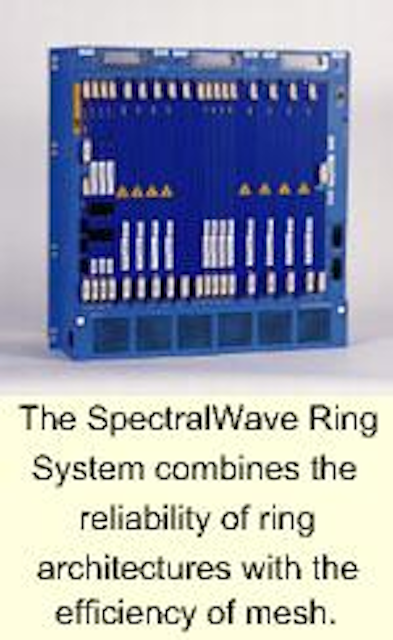 The SpectralWave Ring System combines the reliability of ring architectures with the efficiency of mesh.
"We believe we've done something innovative and unique," says Steve Cortez, manager of product marketing for NEC America's transport product division. "We set out to bring forth an independent optical-network solution that would tie the best of the proven reliability of optical-ring technology, while maintaining an open architecture that allows carriers to still use the more logical mesh strategies typically associated with data-centric networks such as IP and ATM."
The SpectralWave Ring gives the carrier the capability to deploy, at a "per-wavelength" granularity, a physical-ring network. At the same time, it allows the overlay of logical mesh or other designs with IP or ATM routing schemes. The combination provides carriers the benefits of an optical-ring switching fabric with very fast restoration in a self-healing infrastructure.
The platform evolved from NEC's 4-fiber, bidirectional, line-switched ring configuration recently provided to Sprint, Frontier Corp., and AT&T. SpectralWave takes the same basic optical-ring system and applies it to the optical layer. NEC calls it a bidirectional-wavelength-path switched ring.
"The technology allows the same 4-fiber, physical-fiber strategy to be applied to any wavelength," says Cortez. "So now, in a virtual dense wavelength-division multiplexing (DWDM) multiwavelength environment, a carrier can deploy the same benefits and protection strategies to an optical-layer solution to provide alternate paths, redundancy, and reliability on a wavelength basis, regardless of whether they use IP or ATM. It gives the carrier optimum flexibility in the provisioning mode."
Another unique feature of SpectralWave is its "extra traffic channel access." One of the biggest complaints about ring architectures has always been having extra-protection bandwidth going unused. NEC designed the system with some tributary inputs into the protection wavelengths for lower-priority traffic making use of otherwise idle capacity.
The SpectralWave Ring is a stand-alone, independent unit, separate from other parts of NEC's SpectralWave portfolio and not an integrated piece of its overall DWDM system. It works with any open-architecture system. Targeting the multivendor DWDM market allows carriers to provision and trigger these optical-ring capabilities on a per-wavelength basis.
"DWDM has largely provided 'big dumb pipe' to service providers needing capacity relief," says Dana Cooperson, a senior analyst with RHK Inc., an industry analysis and consulting firm. "Survivability, particularly for long-haul systems, has typically been provided by the client systems riding over the DWDM wavelengths. As more data clients are connected directly to DWDM systems without an intervening SONET/SDH [Synchronous Digital Hierarchy] multiplexer, service providers need fast, SONET/SDH-like optical-layer restoration capabilities that can be invoked (or not) per wavelength."
"We believe SONET still does a good job doing switching," says Cortez. "But once you start doing IP, ATM, or any data-centric or packet-centric transmissions, carriers still aren't sure how reliable the restoration schemes will be for switching packets at 2.4- and 10-Gbit/sec speeds in large-scale networks."
Bill Kleinebecker, president of Technology Futures in Austin, sees NEC joining a small but growing group, including Lucent Technologies (Murray Hill, NJ) and Nortel Networks (Brampton, ON), that will provide solutions to obviate the SONET/SDH layer.
NEC is conducting field trials on the SpectralWave Ring with two major long-distance carriers. Initial results have been promising, particularly for integration into existing multivendor environments. The product should be generally available the first quarter of next year.