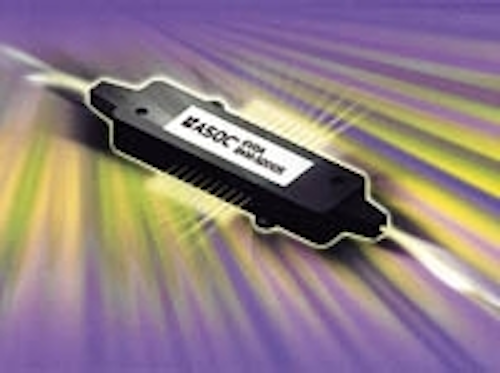 Compiled by Sue Boyle
COMPONENTS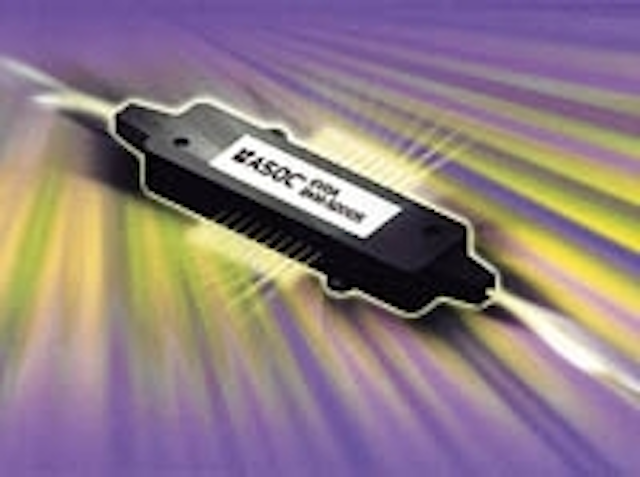 This silicon-based multichannel electronic variable optical attenuator (EVOA) reduces space requirements and eases design constraints for multichannel DWDM systems. The device uses high-volume production methods to build reliable integrated optical devices. The EVOA accepts four completely independent optical channels, each with its own input/output fibers, and applies a precisely controlled optical attenuation to each one. Operating over the 1,300- to 1,610-nm wavelength range, the device features high attenuation of 30 dB, allowing it to block or turn off specific channels for system configuration.
Bookham Technology Ltd.
Abingdon, UK
INSTALLATION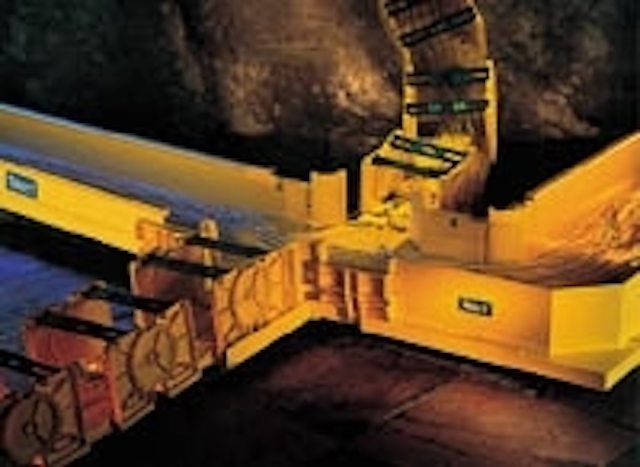 The CableLinks cable- management system includes 12-inch plastic straight troughs and junctions de-signed to protect and route large amounts of cable. The new components offer faster installation and greater protection since all coupling and mounting hardware occurs on the outside. CableLinks is a flexible, modular channel system that can handle virtually any controlled-environment cable-management job, from small remote terminals to large telephony and cable-TV sites. The 5-ft-long trough is ideal for long straight runs with no articulation. Bolts on the outside are used to create a vice-like grip when tightened, but they don't penetrate the trough.
Telect Inc.
Liberty Lake, WA
TEST EQUIPMENT
The DSP-4000 Digital Cable-Analyzer test tool pinpoints sources of crosstalk and return loss anywhere along the link length, saving users troubleshooting time. Using high-definition time-domain crosstalk (HDTDX) and high-definition time-domain reflectometry (HDTDR) diagnostics, the DSP-4000 version 3.0 makes it easier for cable installers and network owners to certify high-speed copper and fiber cabling. The HDTDX technology uses faster pulse diagnostics from both ends of the link to profile the crosstalk along the total length of the link-under-test.

SYSTEMS & SUBSYTEMS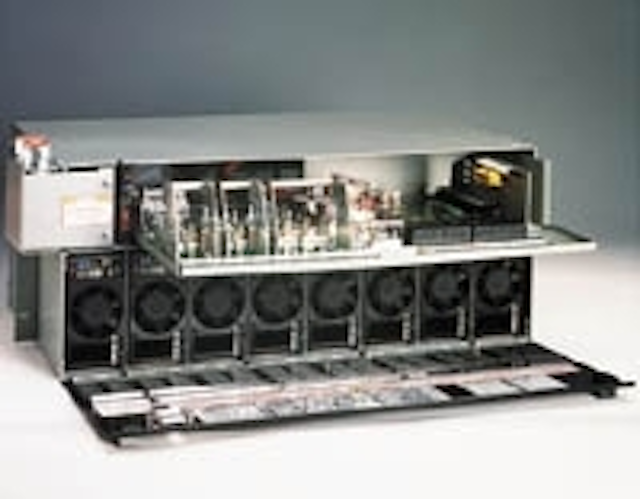 The AGM 60 is designed for outside-plant, fiber, PBX, microwave, and broadband applications. It requires only five rack spaces and can be configured for 7.5 to 60 A using the company's -48-Vdc, 7.5-A advanced switchmode rectifiers. It is equipped with low-voltage disconnect, battery disconnects, AM1-type circuit breakers, GMT fuses, A and B feeds, loadshedding, microprocessor monitoring, control, and other features not found in other power plants.
C&D Technologies Inc.
Blue Bell, PA
The AT-9006SX/SC managed Gigabit Ethernet switch delivers flexible port density and media-configuration options. It has six 100Base-SX (SC connectors) and two expansion slots for enhanced flexibility. Optional expansion slots can be used to add 10/100TX ports (four per expansion module) 100FX ports (two or four per expansion module, depending on connector) for up/downlinks, additional gigabit or Ethernet ports (one per expansion module), or a combination of the options. Each Gigabit Ethernet port on an AT-9006SX/SC switch supports half- or full-duplex operation and is IEEE 802.3z auto-negotiating-compliant. Run ning in full-duplex mode, each gigabit port can provide up to 2,000 Mbits/sec of aggregate bandwidth. With six 1000Base-SX ports, the AT-9006SX/SC provides an aggregate throughput of over 8.8 million packets/sec. The 6-port, modular, managed Gigabit AT-9006 includes advanced features such as Web-based management, standards-based IEEE 802.1p priority queuing, and 802.1Q VLAN tagging, making it easy to install, integrate, and manage.
Allied Telesyn
Bothell, WA
LightWorks Toolkit for optical services, a series of new optics-, silicon-, and software-based service enablers, allows carrier customers to deliver the next generation of any-time, any-size, any-priority optical services based on user-signaled needs. The toolkit will transition carriers from static provisioning to real-time, in-demand bandwidth delivery; from bandwidth limited by traditional SONET hierarchy to optical bandwidths of any size; and from a single wavelength quality of service to a range of service qualities that can be dynamically configured and motored.
Ciena Corp.
Linthicum, MD
AutoTwister provides extended distance capabilities to existing 10-Mbit/sec Ethernet networks. It expands existing copper-based networks up to 100 km over fiber and connects disparate 10-Mbit/sec LANs over long distances. AutoTwister auto-negotiates speed and provides seamless connectivity across wide distances in mixed-media networks. It incorporates the company's "link loss return" feature that reduces troubleshooting time by notifying a management station in case of fiber failure. It also offers shared-network-segment isolation, auto-negotiation of full- and half-duplex configurations, and a lifetime warranty. AutoTwister is available as a standalone unit or as an intelligent module for the company's Intelligent Media Converter 7500.
Lancast Inc.
Nashua, NH
F.CON is a family of high-density SNMP-managed 100Base-TX/FX multichannel media converters providing fiber-optic connectivity in medium and large LANs. The F.CON series (supplemented by CTF/M 10Base-T/FL managed converters) provides good performance and cost-effectiveness. Available models offer up to12 conversion channels in 19-inch 1U enclosures. The devices have integrated management interfaces and may be field-upgraded to full SNMP by sliding in the operational management module. Other optional features include redundant power supplies, hot-swappable power supplies, and fault propagation.
FibroLAN
Israel
COMPONENTS
FiberWire is a rugged, industrial optical-fiber-communications cable system designed to supersede copper-wire and coaxial-cable communications systems on the factory floor. It provides ease of use with lower overall system cost than copper systems. Its bandwidth performance and intrinsic EMI/RFI immunity make it ideal for harsh factory environments. FiberWire offerings withstand industrial applications over the full industrial temperature range of -40°C to +85°C, while maintaining its distance and bandwidth performance of 10 MHz at 1 km. With a 200-micron glass fiber-optic core and patented polymer cladding technology, FiberWire can be terminated in less than 3 min. "Crimp-and-cleave" termination toolkits allow for close-quarter terminations in the plant and field without the adhesives, polishing disks, solvents, or clean-room conditions previously associated with optical-fiber terminations.
Lucent Technologies
Avon, CT
The CO-600V voltage controlled crystal oscillators (VCXOs) are available at frequencies from 10 to 160 MHz. The CO-600V VCXOs are characterized by low jitter performance of <1 psec rms at 155.52 MHz. The units are ECL- or PECL-compatible and powered by an input of 3.3 Vdc or 5 Vdc for PECL operation and -4.5 Vdc or -5.2 Vdc for ECL outputs. Typical phase-modulation noise is -115 dBc at 1 kHz. The oscillators are available in single DIP, gull wing, or in a new true surface-mount, FR4 configuration that can be furnished on tape-and-reel for easy pick-and-place installation. The FR4 package is also available with an enable/disable function. The VCXOs are used in SONET/SDH and ATM equipment, digital switching, transport streams, and multiplexing applications requiring low jitter performance.
Vectron International
Norwalk, CT
This silicon germanium (SiGe) multiplexer is designed for use in very-long-haul telecom-transmission systems. With forward-error-correction data rates of up to 12.5 Gbits/sec, the MTC1215 is a 16:1 multiplexer for use in SONET OC-192, SDH STM-64, and proprietary systems applications. It accepts 16 differential data channels at a nominal rate of 622 Mbits/sec and combines them into a 10-Gbit/sec serial data stream suitable for transmission over high-speed fiber-optic networks. By accepting a 10-GHz clock from the host systems, it divides that into a 622-MHz clock for use in strobing 622-Mbit/sec data channels in the multiplexer. A user-controlled phase selector and an internal phase frequency detector with external clock input are provided. The MTC1215 is provided in a 128-pin quad flat pack and operated from a single -3.3-V power supply. All data and clock I/Os use current mode login buffers and are provided with on-chip ohm terminations to minimize external component count.
Multilink Technology Corp.
Somerset, NJ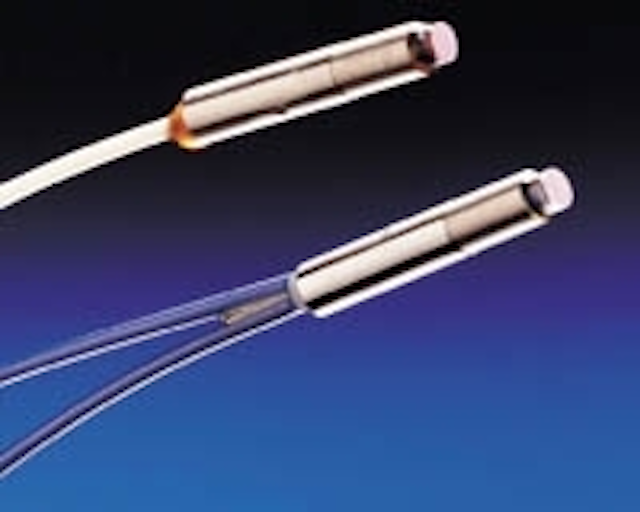 These collimators offer ultra-low-loss coupling characteristics and long working distances. By optimizing the index gradient profile of the SELFOC GRIN lens, the company is able to produce low insertion loss, high-coupling-efficiency collimators for any DWDM component requirement. Superior beam characteristics enable working distances of 100 mm and greater for switching applications. The micro-fiber collimators are characterized by lens diameters of 1 mm with a 20% larger effective diameter than standard 1.8-mm lenses. The low-loss capability and reduced outer diameter supports the demand for improved optical performance and smaller footprint components in networking applications. They are offered in both single- and dual-fiber configurations.
NSG America
Somerset, NJ
The MAX3781 dual multiplexer/buffer is useful for designing redundant high-speed serial-data paths. Each half of the dual port provides a 1:2 buffer to create duplicate output data paths and a 2:1 multiplexer to select for two alternative input data paths. It is ideal for redundancy in serial backplane and system interconnection applications up to 2.7 Gbits/sec. Data integrity is preserved by outputs that have only 15-psec total jitter. Signal output levels are typically 1,600 mV for inputs as low as 200 mV. MAX3781 operates with a 3.3-V power supply and has a power-down mode to disable unused buffer outputs. It comes in a compact 48-pin TQFP package that has on-chip terminations at all ports compatible with 50-ohm transmission lines.
Maxim Integrated Products
Sunnyvale CA
These two high-power 1,480-nm pump laser-diode modules for the EDFA can operate up to 140 mW of power. The pump modules, the OL4121N-120 and the OL4121N-140, will provide EDFA manufacturers with low tracking error for high reliability and long-haul network applications. Designed for long-haul fiber-optic systems, the pump modules are manufactured in a 14-pin butterfly package and incorporate a built-in isolator and thermoelectric cooler. OL4121N-120 operates with output power of up to 120 mW, while OL4121N-140 can operate with 140 mW of knick-free power.
OKI Semiconductor
Sunnyvale, CA
This air-blown optical fiber in a pre-installed empty cable eliminates unused fibers and futureproofs the network by filling up the empty tubes with additional fibers as the demand increases. The main uses for blown fiber are to connect the external access network to the internal customer-distribution point as an in-building optical-distribution network. The empty cable is available in 4, 7, and 19 tube sizes and installed in the same way as a standard optical fiber. The sheath material can be polyethylene for external use or low-smoke zero halogen for in-building installation. Where it passes into the building, the external and internal cables can be joined with a gas/water seal connector, and the fiber units are blown through with no splicing required thus saving attenuation losses. The optical fiber unit consists of the company's optical fibers bound together by a soft acrylic resin allowing rapid breakout of the fibers. They are installed using a portable blowing machine and floated in on a bed of air with no strain on the optical fibers.
Pirelli Cables Ltd.
Newport, UK
NP2510, a low-power OC-48 transceiver, offers a high level of integration in what the manufacturer claims is the smallest package available, when compared to equivalent solutions in the market. It is targeted toward crossconnect, DWDM, add/drop-multiplexer, terabit router, and edge equipment. The device enables telecommunication- and network-equipment manufacturers to double or quadruple their port density without increasing the existing system power requirements or real estate. Features include an integrated phased-lock-loop-based clock generator, clock and data recovery unit, and 16-bit 155-MHz parallel interface that can be operated in low-voltage positive-emitter coupled logic. The 2.5-Gbit/sec data and clock lines are differential current mode logic that are designed to drive 50-ohm transmission lines and have on-chip termination.
NewPort Communications Inc.
Irvine, CA
INSTALLATION
This line of epoxy adhesives helps control the bondline of the substrates that are being bonded. Spacers can be added to most adhesives and range in size from submicron to 5 mil. A constant bondline plays a crucial role in bonding that can affect the performance of the end product. These agents are designed to control the bondline and can be added to existing material or used in a custom formulation made for a specific application.
Tra-Con Inc.
Bedford, MA
Type-65 Micro-Mass and Type-45s Micro-Single fusion splicers have been added to the company's family of splicer products. Type-65 has an automatic splice time of 30 sec. Both splicers are smaller, portable, and faster than previous models. Type-65 lays claim to a front-to-back work flow that minimizes fiber slack requirements and an optical system that simultaneously views 12 fibers with the same magnification and resolution. Its 5.6-in color LCD with on-screen guide enhances fixed V-groove precision, resulting in a splice loss rate of 0.05 dB or less. Type-45s features a 20-sec splice time with operational precision jacket remover and easy-to-use fiber cleaver to provide high-quality splicing and strip length.
Sumitomo Electric Lightwave Corp.
Research Triangle Park, NC
The OMX 600 optical distribution frame (ODF) is a front-facing, high-density frame designed for protecting, managing, and enhancing optical networks.
It is capable of terminating and splicing up to 576 fibers in a 600x300-mm footprint. The OMX 600 is a front-access ODF that protects fiber cable and connectors through the use of the company's patented angled retainers and bend-radius protecting design. Its modular storage provides flexible configurations for termination, splice, and storage applications. The OMX 600 can be installed back-to-back or against a wall to save office floor space.
ADC Telecommunications Inc.
Minneapolis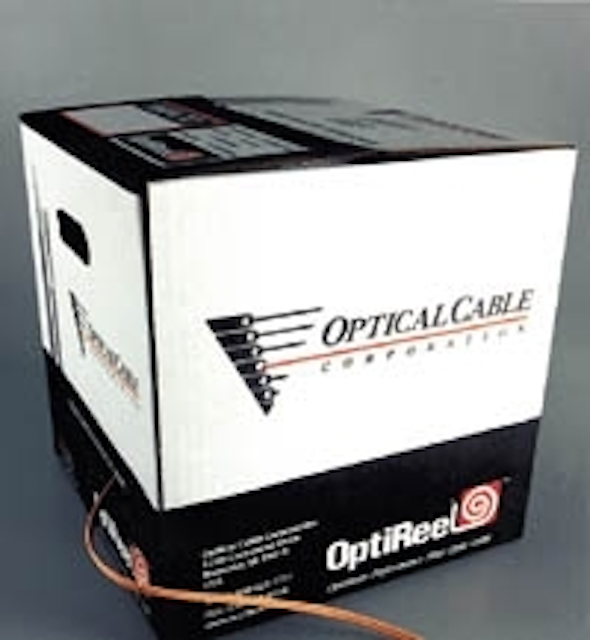 The OptiReel is a self-contained payout box that facilitates the handling and pulling of cables and is well suited for cable pulls through building duct systems and walls and ceilings where multiple cables may be pulled together and many relatively short runs need to be installed to the desktop. The cable boxes can be stacked together with other types of data cables for faster installation. The 12x12x12-inch compact boxes contain an internal reel so cable stands don't have to be used. The cable packaging can be ordered with the company's simplex and duplex AX-Series cables as well as the DX-Series Distribution 2-fiber and 4-fiber cables. The cables can be either riser or plenum and can contain 62.5/125-micron, 50/125-micron, and singlemode optical fibers.
Optical Cable Corp.
Roanoke, VA
TEST EQUIPMENT
The WA-7000B multiline wavemeter optical-channel analyzer offers enhanced-performance specifications and additional operating features requested by customers. The WA-7000 series automatically processes measurement data to provide critical information to DWDM system performance and provides full optical spectrum for DWDM channel analysis. The WA-7000B sensitivity specifications range from -30 dBm to -40 dBm and improved the optical dynamic range from 30 dB to 35 dB. Measurement cycle time has been cut from 2 sec to 1.25 sec, and the maximum number of laser lines input has increased from 200 to 256. Customer-requested enhancements include NIST traceability, improvements to the auto threshold, and data available via GPIB interface.
Burleigh Instruments Inc.
Fishers, NY
This DWDM monitor is designed for intelligent real-time monitoring of DWDM transmission systems at an optical level. All channels are supervised by wavelength, amplitude, and signal-to-noise ratio for each channel and issue alarm signals if performance level degrades. The monitor is based on a solid-state system without any moving parts, so a complete analysis of the C-band for 1,530 nm to 1,565 nm is done within less than 25 msec. The spectral measurements and resolutions are better than conventional laboratory optical spectrum analyzers due to a patent-pending technique. The drift in wavelengths is measured with an accuracy of better than 10 pm, and the repeatability of optical power measurement is better than 0.1 dB. The monitor is available as a rack-mountable pop-in module for OEM users with individually set and report alarm levels.
Profile Inc.
Rockaway, NJ
LITERATURE
This 116-page, full color catalog offers a wide range of toolkits, hand and specialty tools, cable telephone and electrical test equipment, and service ads. Many new products are offered, including the new line of JTS Telecom Test Sets. The company offers same-day shipping, a 30-day unconditional guarantee on all products, a lifetime guarantee on the company's hand tools; free technical support; a 24-hour, seven-day-a-week FaxBack service; and a complete online catalog with secure ordering.
Jensen Tools Inc.
Phoenix
The Network Performance Guide is designed to help systems managers and installers ensure maximum network efficiency and prevent slowtime. It reviews potential problems related to the compatibility, installation, and quality of the components in network channels. Much of the information in the guide is based on product testing and network analyses performed in the company's lab.
Anixter Inc.
Skokie, IL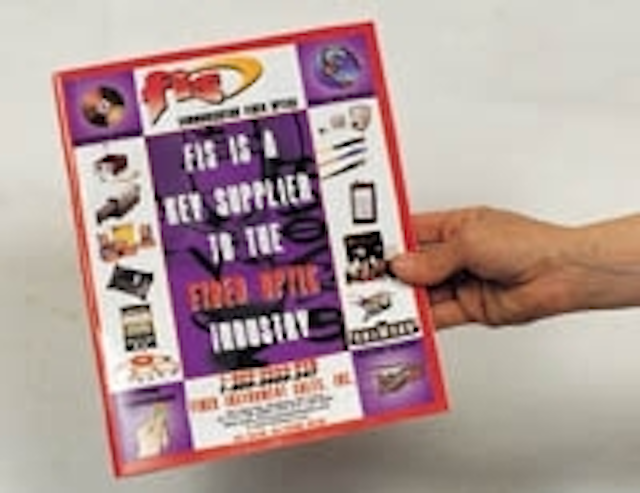 This free fiber-optic catalog contains more than 100 products, including FIS Heat Cure, Room Cure, Quick Cure, and Blue Dye epoxies; Volition, MT-RJ, and LC small-form-factor connector systems; 900-micron buffered zipcord cable, cable pulling, and measuring accessories; stock patch cords, including SC singlemode and ST-SC configurations; FIS testing sleeve, 0.01-dB resolution power meter, and OV-DR.
Fiber Instrument Sales Inc.
Oriskany, NY
ATM & SONET Basics explains the functionality of ATM and SONET as a key to survival in the telecommunications industry. The book explains the elements of SONET and ATM and familiarizes the reader with the concept of ATM and SONET, providing a path to a fundamental understanding and basic elements of their internetworking.
Intertec Publishing
Overland Park, KS
The TIA.EIA-568B.3 Optical Fiber Cabling Components standard document is part three in a series of telecommunications standards being developed to supersede the TIA/EIA-568A Com mercial Building Cabling Standard. The edition will include TIA/EIA-568B.1, General Requirements; TIA/EIA-568B-2, 100 Ohm Balanced Twisted-pair Cabling; and TIA/EIA-568B.3, Optical Fiber Cabling Components.
The Siemon Co.
Watertown, CT


---
The Lightwave Website, operated by pennNET, has a new feature designed to make it easier for our readers to find qualified suppliers online. The Product Sourcing Assistant enables visitors to provide a detailed description of their requirements-including performance specifications, delivery date, and required quantity-and receive responses from qualified vendors from pennNET's database of more than 17,000 companies. The potential purchaser can keep up to date with the status of the request online via the "Specifier Status Page."
Interested readers can find the Product Sourcing Assistant at www.light-wave.com in the "Hot Products" section of the Lightwave homepage. Click the "Product Guide & Showcases Main Menu" link to enter the site's main product section. Click on the yellow and black "PSA/Product Sourcing Assistant" button for instructions on how to use the new service, or click on one of the product categories listed on the screen.
Suppliers may contact either Paul Westervelt, pennNET's vice president of marketing and business development (713-499-6301, pwestervelt@pennnet.com) or Jay Regan, director of business development, advanced electronic technology (603-891-9310, jregan@pennnet.com) for more information on participating in the service. Listings under the product categories are free. But vendors wishing to participate in a particular sourcing request must pay a pre-established fee.