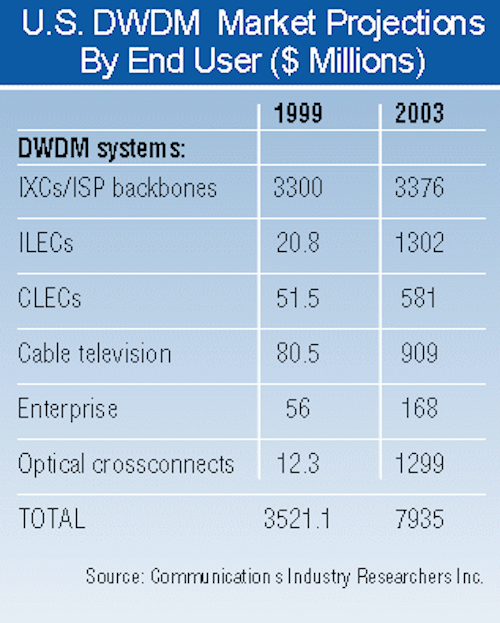 As DWDM evolves out of being just a way of saving money on new fiber and becomes an enabling technology for the intelligent optical internetwork, purchases of DWDM and optical crossconnects will grow to $7.6 billion in 2003. According to a new report from Communications Industry Researchers Inc. (CIR--Charlottesville, VA), fiber exhaust alone cannot drive the DWDM market forward.
Wave Division Multiplexing, Photonic Switching, and the Coming of All Optical Networks, 1999-2000, Volume I, North American Market Opportunities claims that the long-haul segment of the market has matured, while the metropolitan segment is somewhat "over-hyped." CIR research indicates most competitive local-exchange carriers (CLECs) are finding it cheaper to install more fiber than buy DWDM systems. The incumbent local-exchange carriers (ILECs) have also been treating DWDM with some caution because of worries about alarm monitoring, protection schemes, and other issues.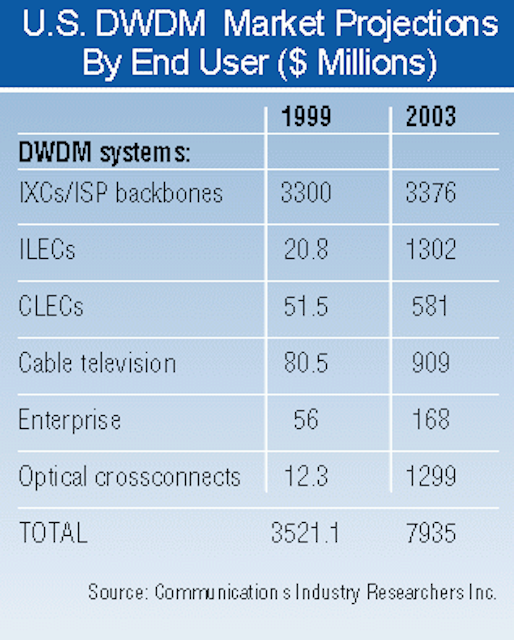 Vendors, meanwhile are dealing with these issues and working to bring prices down on DWDM, but the most important innovations will come from adding intelligence that enables the interworking of DWDM transmission systems and optical crossconnects to create an all-optical internetwork over which Asynchronous Transfer Mode, Internet Protocol, and other traffic will travel. The new optical internetwork, says CIR, will make it possible to provision high bandwidth in minutes, turning the new optical technology into a revenue spinner for the service provider and not just a way of saving money.
Although this report focuses on North America, Volume 2 will cover markets outside of North America and will be available by December 2000. For more information on this and other reports from CIR, contact Robert Nolan at (617) 923-7611 or rob@cir-inc.com.