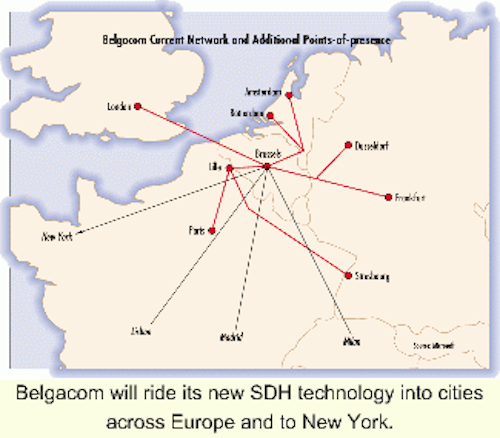 BY EDWARD HARROFF
NETWORKS
Belgacom, the dominant public carrier in Belgium, has started work on an ambitious project that will put SDH technology at the heart of its national fiber-optic network in cooperation with the team of Marconi Communications and TEIN Telecom (a local systems integrator). Belgacom will invest $87.5 million in a new SDH network infrastructure over the next three years. This project will enable Belgacom to offer business customers and other telecommunications service providers affordable fast Internet and other advanced services for the transmission of data, voice, and image.
Having SDH capability is key to the carrier's short-term plans. "Belgacom is committed to using high-capacity fiber-optic ring equipment with SDH technology because today this support is the most economical. It permits the highest bandwidth with the lowest operating cost and best transport quality," says Patrick Delcoigne, Belgacom Network Services (NTS) division.
"We can also use central management of our network that helps us lower our technical-support cost in conjunction with Marconi's MV-36, MV-38, and EMOS graphical network-management systems. We will exploit future technology enhancements, such as wavelength-division multiplexing and newer fiber-optic cables, to grow our network capacity as our traffic grows."
The deal covers a full range of add/drop SDH multiplexers, from STM-1 (155-Mbit/sec) to high-end STM-64 (10- Gbit/sec) equipment, along with Marconi's graphical network-management systems. Marconi's SDH optical transmission equipment will serve as the basis of Belgacom's core regional and optical-access transport networks, providing flexible, high-bandwidth services to almost 10 million fixed-line, mobile, and Inter net customers. As well as the growing number of competitive carriers, currently more than 50 Belgian licenses have been granted since 1998 economic community deregulation, needing to interconnect to the Belgacom public network. This backbone optical network will span along some 50 major Belgian transmission centers nationwide.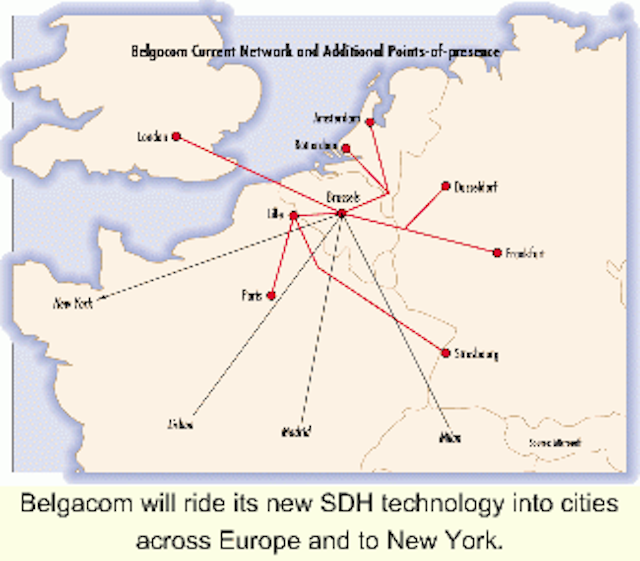 Belgacom will ride its new SDH technology into cities across Europe and to New York.
Service quality, market leadership, and operating costs were crucial to the investment decision, according to Jos Follon, head of NTS at Belgacom. "By choosing Marconi/TEIN as SDH supplier, new services with higher bandwidth will be deployed on mature and futureproof products. Our partnership will allow us to evolve toward a new architecture reshaped to face ever-growing capacities with bulletproof protection and restoration," says Follon. "The enhanced management-system concept built up with the supplier must allow us to drastically improve our process efficiency and enhance the monitoring of our services."
This Belgacom contract is Marconi's latest major optical-networking win in Europe. Marconi has already announced an important deal with British Telecom for the supply of SDH and DWDM equipment, which will be used to build Europe's most advanced all-optical network, as well as orders from Telecom Italia, Fibernet (Germany), and Telfort (Netherlands).
"A network has to have SONET or SDH in place as the transmission-equipment element before it can add the mux [DWDM] onto it, expanding the number of wavelengths. This is the first part of its network build-out," explains Maria Zeppetella, analyst of network infrastructure, Probe Research. "My hunch is that perhaps Belgacom may want a different vendor for the inevitable DWDM purchase that will come somewhere down the road, or at least it has not yet decided and may still be scrutinizing vendor platforms and RFP."
As the first-ever direct deal between Marconi and Belgacom, this contract reinforces Marconi's growing role as a primary optical-network supplier to one of Europe's top 15 public-network providers. The association of Marconi/ TEIN Telecom capitalizes on the skill of the company's services division, which will provide key technical-support services for the duration of the contract in close partnership with TEIN.
"We outpaced our rivals to win the Belgacom deal by coming up with a very competitive bid that incorporated not only a full SDH solution but a direct servicing agreement that will assure Belgacom of worry-free installation, operation, and maintenance for the life of the contract," says Peter Brown, president, Europe, Middle East, Africa, and Australia, Marconi Communications. Belgacom confirmed that most of the major SDH suppliers had replied to this request for quotation.
Also, Marconi is currently supporting legacy GPT transmission equipment. Finally, TEIN Telecom is viewed as a trusted local technical-service provider for Belgacom beyond just optical networks.
Some might suggest that Belgacom is probably lagging behind other European incumbent public-network providers in upgrading its national public network to the newer generation of optical transmission equipment. Belgian telecom consumers-whether residential, enterprise, or wholesale-likely will applaud this SDH investment, which ensures improved quality-of-service levels across the country.
Edward Harroff writes on telecommunications from Bellevue, Switzerland.