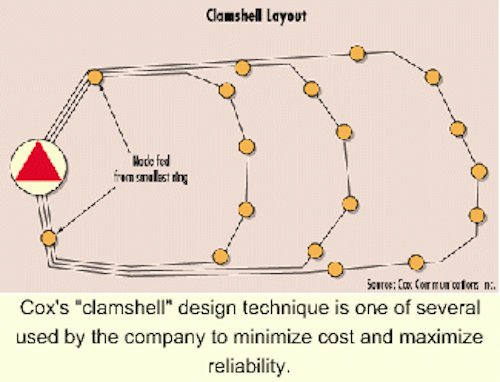 Using a "ring-in-ring" architecture as well as "clamshells," Cox has positioned itself for telephony provision.
Cox Communications Inc. has developed one of the more unique approaches to HFC and is among the most aggressive multiple system operators (MSOs) in terms of new service launches and acquisitions.
Back in 1994, Cox introduced its "ring-in-ring" architecture, which extends fiber rings out to nodes serving roughly 1000 homes. To our knowledge, Cox is the only major MSO to adopt this architecture on a corporate-wide basis. The ring-in ring architecture was largely an attempt by Cox to provide improvements in reliability, flexibility, and capability compared to more-traditional "star-bus" HFC architectures, which take homerun fibers to the node. Reliability was particularly important for Cox since it was an early advocate of HFC-based lifeline telephone service.
Since then, Cox has stayed on track with its strategy, aggressively building ring-in-ring networks and deploying telephone, high-speed data, and digital video services in its major clusters. Including recent acquisitions, approximately two-thirds of Cox's 105,600 miles of cable plant is equipped for two-way transmission, with nearly as much plant (64%) able to deliver at least 750 MHz of bandwidth.
While most large MSOs have been aggressively deploying digital video and cable modems, Cox remains unique in the scope of its commitment to early deployment of competitive telephone services. As of Oct. 30, the Atlanta-based MSO had launched facilities-based telephone service in nine markets: Phoenix; Hartford, CT; Omaha, NE; Oklahoma City; Hampton Roads, VA; New Orleans; Orange County, CA; San Diego; and Rhode Island.
A key challenge facing any operator is to deploy an architecture that is cost-effective today, yet able to evolve to meet a broad range of existing and yet-to-be-developed communication services. Cox's approach to this challenge was to develop an HFC architecture based on the requirements of three distinct classes of applications: analog and digital-broadcast services, targeted services such as video-on-demand and high-speed data, and "lifeline" telephone service.
The ring-in-ring architecture involves two fiber rings: a dedicated ring in which fibers originate at the headend and run to each individual node over diverse routes, plus a larger "loop-through" ring that rides piggy-back on the dedicated ring.
The dedicated ring provides the broadcast and targeted services directly from the headend to the node and transports reverse signals from the node back to the headend. It contains four dedicated fibers, two for downstream signals and two for upstream. The two forward and reverse fibers use redundant paths, with the shortest path serving as the primary path.
The loop-through ring also begins at the headend but groups from 6 to 12 nodes into a second ring. The fibers in the loop-through ring pass through each node in the group, continuing from one node to the next around the ring until they terminate back at the headend.
Cox uses a number of techniques to design ring routes that minimize cost and maximize ring design and reliability. Among these is the "clamshell" design technique, which involves choosing routes that connect a number of nodes in a natural ring while minimizing route and fiber footage, then building additional routes in layers of rings. When viewed on a map, the design resembles the expanding rings on the shell of an oyster or clam, hence the term "clamshell." The main idea is to close rings as near to the headend as possible to minimize the number of fibers per sheath segment. Each succeeding ring contains smaller fiber counts in its extremities, which minimizes fiber footage and therefore cost. A series of these layered rings will typically result in some cable spans carrying three to five rings each, with six to 12 nodes served per ring. The figure illustrates the clamshell design concept.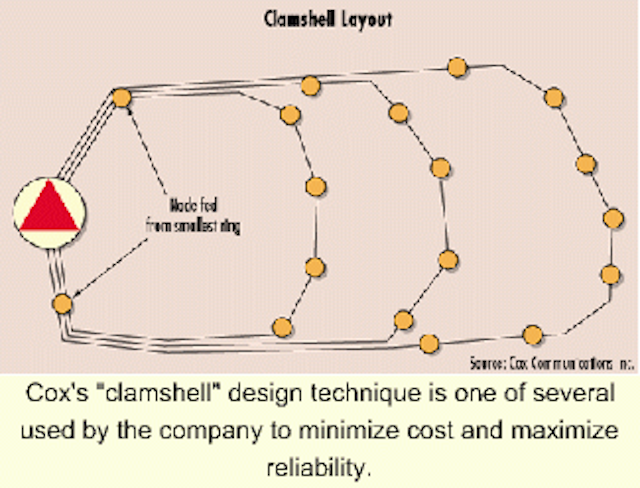 Cox's "clamshell" design technique is one of several used by the company to minimize cost and maximize reliability.
Initially, Cox designed the loop-through ring with a minimum of two fibers. These had several potential uses. One was to accommodate increased traffic by subdividing nodes and reducing optical serving areas from 1000 homes to as little as 250 homes. The loop-through ring was also intended to support Synchronous Optical Network and digital-loop-carrier service for commercial telephony customers.
As time went by, Cox found itself deploying more and more fibers to support its growing commercial telephony business, which led the company to recently boost its minimum specification for the loop-through ring from two to 12 fibers, according to Chris Bowick, vice president, technology development. The growing traffic from this new market is also reflected in rising fiber counts. Hugh McCarley, director of engineering and technology, estimates that the average fiber count in HFC networks Cox is building today is around 50 fibers versus the 28 to 34 used in initial ring-in-ring deployments.
Cox serves the business market with a mix of HFC and dedicated fiber, with the former typically used for small to medium-sized businesses and the latter for larger customer sites that can justify dedicated fiber links. Cox expected to double its commercial revenue from $25 million in 1998 to $50 million in 1999 and is budgeting $96 million in revenue and $47 million in operating cash flow for 2000.
Cox sees a potential market in its service area of roughly 400,000 businesses that are expected to generate $7.8 billion in annual revenue by 2002. It is especially focused on the small to medium-sized business market, which is largely untapped by competitors and tends to be within easy reach of Cox's HFC networks.
In September, Cox launched a new business services division in Phoenix, where it sees a potential market of $1.3 billion. Of this total commercial market, $660 million is accounted for by businesses with 100 or fewer employees. If Cox can capture 20% of this small to medium-sized business market, it would be adding $132 million (50%) in annual revenue to its existing Phoenix residential business, which generated $265 million in 1998.
While mobilizing to exploit new commercial market opportunities, Cox remains committed to a rapid rollout of HFC-delivered new services to its residential customers. As of Sept. 30, the company could boast roughly 3.9 million digital-ready, 3.5 million data-ready, and more than one million telephone-ready homes passed. Not including its July acquisition of TCA Cable, these numbers translate into 66%, 58%, and 20%, respectively, of the roughly six million homes passed by Cox at that time. Together, these new-service deployments accounted for more than 423,000 new-service generating units as of Sept. 30, with Cox expecting that number to top the half-million mark by year-end.
Cox's digital subscribers have been generating $15 to $18 per month in revenue, with systems that have been launched for at least one year exceeding 8% penetration and Orange County--Cox's first digital launch--reaching 12%.
Penetration of Cox's @Home high-speed data service as of Sept. 30 was 4.1% company-wide. In systems where the service has been marketed for at least one year, penetrations are in the 5% to 10% range, which translates into 15% to 20% of online homes.
Per-customer residential telephony revenue has been in the $55 to $60 range, with penetration averaging 12% of marketable homes and approaching 30% in some nodes.
Cox's experience so far suggests that a robust, fiber-rich HFC network can build healthy new-service revenues in the residential market while also providing a cost-effective platform for expansion into the still underserved small to medium-sized business market.
Don Gall has been involved with the cable-TV industry for the last 28 years. He was an integral part of the team at Time Warner that developed the first practical applications of analog fiber and hfc networks. He is currently a consultant with Pangrac & Associates (Port Aransas, TX) and can be reached at dongall@pangrac.com
Mitch Shapiro has been tracking and analyzing the broadband industry for more than 12 years. He is currently a consultant with Pangrac & Associates, which this summer will publish the first of a series of in-depth reports on clustering, network upgrades, and new service strategies in the cable industry. He can be reached at mshapiro@pangrac.com or via the P&A Website at http://broadbandfuture.com.