Meriton's access-to-regional transport equipment
Oct 1st, 2003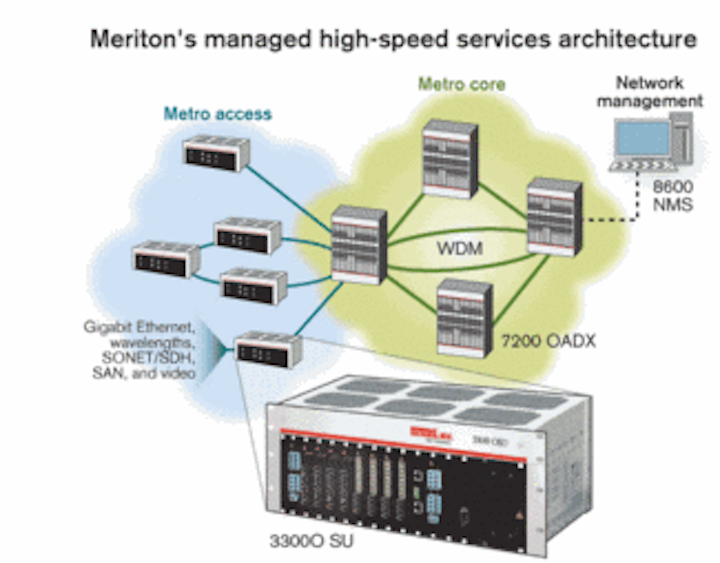 The folks at Meriton Networks (Ottawa, Ontario) spent six months questioning Wall Street-based Fortune 50 companies—the highest-demand users of metro services—about the quality of the services they receive. Most reported dissatisfaction; the dedicated networks that carriers must deploy to service these customers are difficult to engineer, expensive, and offer no performance monitoring, leading to long provisioning times and added expense for the customer.
Meriton has responded with what it claims is the industry's first fully managed, access-to-regional, high-speed metro (HSM) services architecture. The shared service-centric architecture delivers SONET/SDH, optical Ethernet, SAN protocols, and transparent wavelengths on a common platform.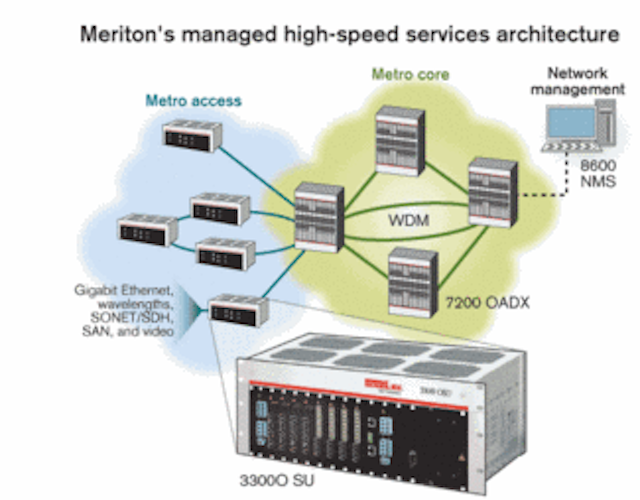 The 3300 OSU is the latest product in Meriton's high-speed metro services architecture designed to provide fiber relief and access-to-regional high-speed service delivery.
"In general, what they are offering is the ability to provision wavelengths in the same simple way that SONET and DS-3 and T1 circuits are provisioned today," explains Michael Kennedy, managing partner of market researcher Network Strategy Partners LLC (Boston). "They're offering the capability to provision wavelengths in a manageable way to reduce the number of onsite visits and truck rolls—which is a necessary step to building the next generation of optical networks."
The HSM services architecture features what the company calls "out of the box WDM." Unlike ring-centric architectures that have to be reengineered every time a new wavelength is added, Meriton's network is engineered on a span-by-span basis. "In our solution, once you've lit one wavelength between two network elements, you will never have to reengineer it again," asserts Rob Gaudet, Meriton's marketing communications director. "You can light additional wavelengths, you can change them, you can move traffic, but that span will never have to be reengineered, which gives us a real advantage over the competition."
The company recently announced the newest member of the HSM family, the Meriton 3300 optical services unit (OSU), a transparent optical multiplexing device for access networks that collects and aggregates traffic at the customer premises or carrier's point-of-presence (PoP). The 3300 OSU features 1.5-Mbit/sec- to 10-Gbit/sec-service interfaces and supports 1310-, 850-, and 1550-nm wavelengths on the client side. Like the previously released 7200 optical add/drop switch (OADX), the 3300 supports a "mix and match" of CWDM and DWDM on the line side. "One of our philosophies is that you should be able to use the technology that fits the application, as opposed to force-fitting a technology," explains Gaudet. Meriton has also introduced a series of metro extension products to extend transmission reach beyond the traditional sub-100-km metro boundaries to regional applications that span 200 and 300 km.
According to the company, the HSM services architecture has caught the attention of a number of carriers in the United States and abroad. "From the carriers' perspective, this technology will allow them to broaden their customer base, really moving outside that Fortune 50 niche into the Fortune 5000 and beyond," says Gaudet. "It provides them with a very capital and operationally efficient model to run their business."
While their story may be solid, the folks at Meriton are taking a strategic risk, asserts Network Strategy's Kennedy. "The problem is most of the business today is going to be with the major incumbent carriers, whether it's the RBOCs in the United States or NTT in Japan and so forth. Those carriers are building their networks based on SONET. Even though [Meriton's HSM services platform] is probably the right answer, unfortunately, it's not always the right answer that wins," he says. "It's a chancy thing right now because budgets are tight, and there's no apparent turnaround in the telecom industry."