Michigan's 'optical bridge' first step in statewide broadband access
Mar 1st, 2003
The Michigan Broadband Development Authority (MBDA) is financing a new fiber-optic network across the 5-mi Mackinac Bridge to link the Lower and Upper Peninsulas—the state's first initiative in providing statewide high-speed broadband access for its citizens. This optical bridge will diminish the Upper Peninsula's reliance on connectivity through Wisconsin by creating a redundant loop between both sides of the Mackinac Straits.
"Just take a look at a map," says Hunt Williams, president of Merit Networks (Ann Arbor, MI), a participant in the MBDA project. "Michigan is surrounded on almost all sides by water. The state is just north of the major trans-U.S. fiber trunk lines. This deal provides redundancy from the Upper Peninsula to Chicago and helps put Michigan in the middle of the continent in terms of fiber connectivity to Canada via Sault Sainte Marie in the north and Windsor [Ontario] in the south."
A workman atop the majestic 5-mi Mackinac Bridge installs fiber-optic cable that will help complete a redundant loop between the Upper and Lower Peninsulas of Michigan and provide more broadband connectivity throughout the state.
Merit is a nonprofit corporation owned and managed by Michigan's public universities. The Internet service provider is getting 20-year indefeasible rights of use (IRUs) on two bidirectional OC-192 (10-Gbit/sec) or higher wavelengths from Charter Communications (St. Louis), another participant. The wavelengths will run 890 mi from Allendale to Iron Mountain, MI, and provide DWDM capabilities. Merit primarily services institutional customers in Michigan's schools, colleges, health care organizations, public libraries, museums, and state government agencies.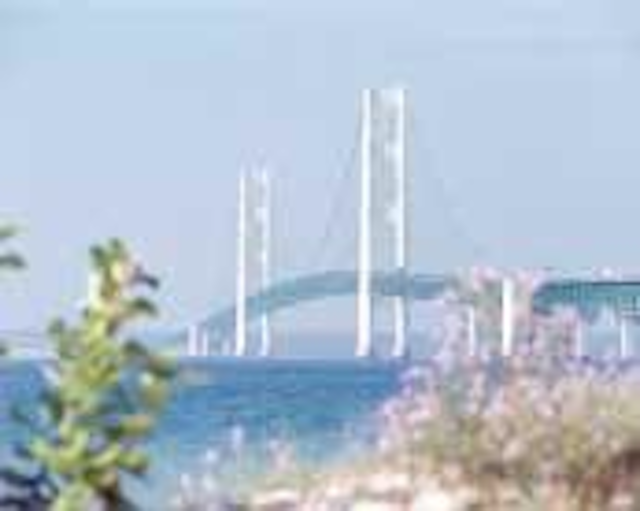 Charter, a provider of broadband communications services to about 6.7 million customers, including 623,000 in more than 900 Michigan communities, will build and maintain 250 mi of new fiber construction on both sides of the bridge. In addition, Charter will lease 7 mi of existing fiber that was installed across the bridge in 2001 by the Michigan Bridge Authority (MBA).
"Much of Charter's Michigan network has been upgraded to a fiber-optic-based architecture," says Tim Ransberger, vice president of government relations for Charter. "The State of Michigan and Merit Networks are essentially becoming customers of Charter's by leasing a portion of the fiber-optic infrastructure."
Historically, service providers rarely seek to share infrastructure, making the collaboration between Merit and Charter a unique aspect of the MBDA project. The benefits of working together, however, overcame any potential conflicts. For example, Charter enhances its capability to offer customers additional high-speed technological services, while Merit can provide more dependable services to its clientele, particularly those located in the Upper Peninsula.
"Both [Charter and Merit] came to us separately seeking financing for their respective projects," says Bill Rosenberg, president and chairman of the MBDA. "Upon evaluation, the authority saw a way that would maximize the public benefit aspect of both projects. A project was conceived and agreed that would benefit the citizens of Michigan and the customers of both Merit and Charter."
The MBDA is a new state agency proposed by Gov. John Engler and created in March 2002 by the Michigan legislature. The agency is charged with accelerating the deployment and use of broadband services and high-speed Internet access within Michigan.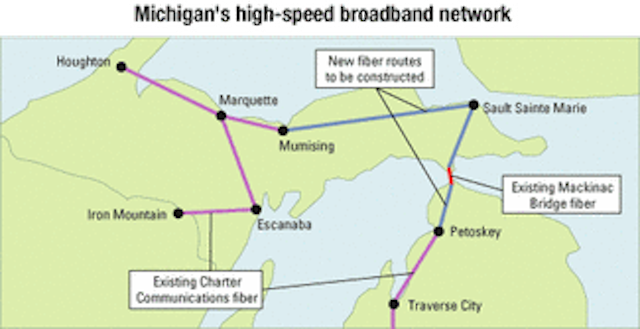 The fiber-optic bridge between Michigan's Upper and Lower Peninsulas will include new fiber from Petoskey to Sault Sainte Marie and from there to Munising as well as existing fiber installed across the Mackinac Bridge in 2001.
"We are positioning the state to take advantage of the economic boon that we expect will result from widespread deployment and usage of broadband technology in Michigan," says Rosenberg. "One study presented to the legislature suggested [widespread broadband deployment] will create in excess of 600,000 jobs and increase the output of goods and services by $440 billion in the state."
According to Rosenberg, Michigan is the first state to adopt legislation that will provide financing to assure access to broadband services in all areas of the state and by all of its citizens. Over the next few years, the MBDA plans to establish a loan portfolio of $375 million, stimulate economic development in technology industries, address the "digital divide" in underserved areas (see Lightwave, March 2001, page 1), and develop outreach programs and development partnerships.
"This specific project puts Michigan at the forefront of states providing the critical support to ensure its broadband capability is in place and can grow," says Rosenberg. "Over the next few months, the MBDA will be completing its pilot or startup phase during which time we expect to announce another five or six projects that will receive financing. We're showing that Michigan is capable of providing its citizens with access to high-speed technological services."