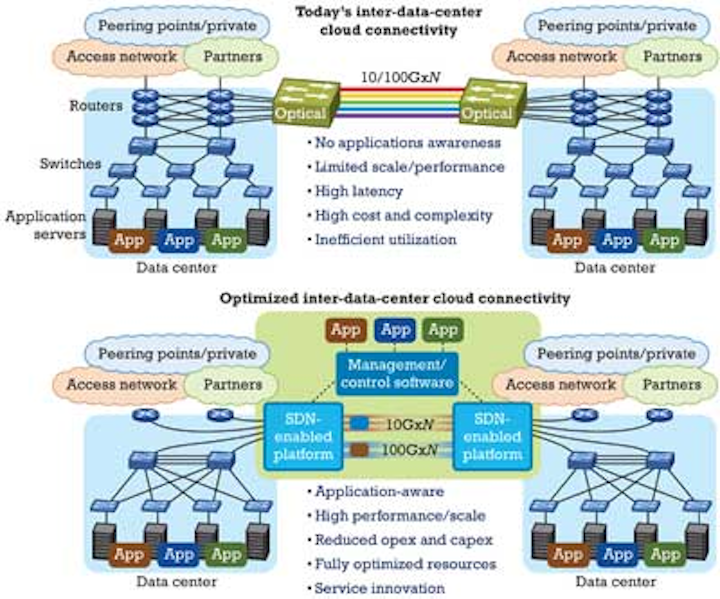 Network operators likely will find that traditional approaches won't keep pace with emerging cloud-based services requirements.
By DR. ROBERT KEYS
By 2016 nearly two-thirds of data-center traffic will be cloud traffic. This expansion of cloud services will derive from both consumer and enterprise demands for ubiquitous access to services from anywhere and at any time. Most CIOs have already defined a roadmap for the transition of enterprise services to public or hybrid cloud models. It has become clear that the cloud provides flexibility to scale capacity as needed with powerful economics to meet varying demands.
Content and service providers in particular face challenges from this trend, since they must scale their networks efficiently to support daily demands from consumers and businesses - 250 million photos uploaded on Facebook, 864,000 hours of video uploaded on YouTube, 22 million hours of TV and movies watched on Netflix, and more than 35 million applications downloaded. An impatient public complicates these demands; for example, a 100-msec delay costs Amazon 1% in sales, and Bing found that a 2-sec slowdown reduced queries by 1.8% and revenue per user by 4.3%.
Cloud network and business challenges for content and service providers include:
Delivery of timely and differentiated cloud services.
Better use of expensive resources in the network.
Reduction of operational (opex) and capital expenses (capex).
Keeping up with scale and capacity demands efficiently.
The growth in the volume of data traffic - which has increased eightfold over the last five years according to Cisco's Visual Networking Index - creates the opportunity for providers to take a bigger role in delivering cloud services and drive new revenue streams. But with the evolution from traditional to cloud data centers, providers must understand and accommodate the changes in network traffic patterns via such strategies as allocating workloads across multiple data centers to handle varied demand requirements and virtualizing multiple data centers as a shared pool of resources.
The dynamic traffic flows the growth of new cloud services creates are unpredictable. To keep up with escalating regional and global processing demands, content and service providers are expanding data-center capacities and adding more locations and servers, while increasing power use and floor space needs. Additionally, corresponding growth in inter-data-center network traffic often means leasing more lines, building provider-owned networks (for control and cost), and purchasing more point networking devices, including routers, switches, and optical transport devices that are expensive to deploy and manage. These approaches typically increase operational complexities and costs, affect network use, and can reduce performance. In short, this exponential bandwidth growth has created space, power, scale, management, control, cost, and service flexibility challenges, particularly for service and content providers.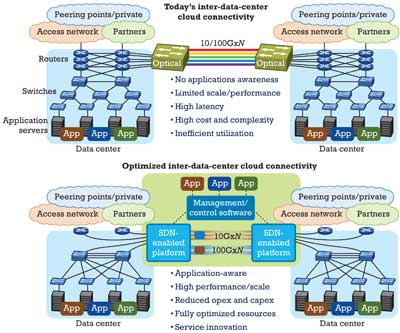 As cloud-based services drive more traffic and revenues, operators must rethink their data-center network strategies.
The emergence of new or enhanced technologies such as software-defined networking (SDN), label-switch routing (LSR), and the integration of applications with management and control layer software has created substantial opportunities to dramatically improve the cloud network. Factors like performance, cost, scale, complexity, and responsiveness to new services all have to be considered when making decisions to transform the cloud network.
New innovations offer such significant improvements as real time access to analytical data, new levels of controls for application flows, a reduction in the number of network elements to simplify operations, and the ability to drive massive scale and capacity with high performance.
Six steps to transformation
Areas that can most affect performance and scale in the cloud - and are correspondingly ripe for improvement driven by new hardware and software innovations - include:
1. Increased applications awareness. Inter-data-center connectivity is often supported with separate layers of discrete switching, routing, and optical networking elements that support specific protocols and functions and offer little to no application awareness. Conversely, an approach with centralized software control and applications integration enables programmability, increased control, and enhanced performance. These network applications can reside on separate servers or, for highest performance, on embedded applications modules that are co-resident in an integrated platform. Applications can include traffic analysis/analytics, traffic steering, application level optimization, and security. Additionally, the use of applications software with open APIs strengthens innovation and differentiation of new services.
2. Improved network analytics. To optimize cloud-service performance, network resources must be allocated based on application needs. Linking network intelligence through analytics and application control increases the value of network assets. Network analytics enables data mining for improved response times to changing traffic patterns and identifies new revenue-generating opportunities. Additionally, analytics can optimize network economics by knowing where and when to increase capacity, locating the best peering routes, and highlighting the most profitable applications. Real time analytics can also effectively monitor how the network handles data flows and what the policy engine requires for maximum efficiency.
3. Tighter control of the network. Use of new SDN capabilities extends network programmability to the optical layer and flattens the network architecture. Moving network control from physical devices to a programmable transport layer provides a high level of automation through the connection to higher-level cloud and virtualization platforms. New SDN converged packet-optical platforms with virtual-machine awareness give service and content providers new intelligence on the communications needs of applications. They also make the applications aware of the capabilities and state of the network. The provision of centralized intelligence virtually in networks eases configuration and creates controlled response to changes and the delivery of new services and applications.
4. Reduced layers of complexity. With data centers experiencing major changes to accommodate unprecedented levels of machine-to-machine, or M2M, traffic, the proliferation of layers and devices has resulted in massive underuse of resources and very significant operational complexities and costs. Attempts to manage separate layers also lead to poor performance, high latency, inefficient platform and network use, and multiple points of failure. The integration of such functions as optical transport, switching, and network applications with management software can converge multiple layers of the network and drastically reduce complexity. Benefits include high performance, massive scale and capacity, improved economics, fully optimized resources, and new levels of service innovation through SDN applications.
5. Driving scale and performance through optical. Optical networking technologies are vital in transforming data centers to handle unpredictable and dynamic cloud-based traffic flows. The convergence of packet and optical provides scale and increased performance and reduces the requirement for separate discrete devices. Optical communications provides the flexibility required to deliver connectivity and bandwidth where and when needed and eliminates the constraints of fixed connections. Operators can reconfigure the network easily to match application traffic flows.
6. Driving scale and performance through LSR. The cloud introduces significant capacity planning and traffic engineering challenges for content and service providers. Server and desktop virtualization, distributed computing platforms such as Hadoop, and web application architectures dramatically alter traffic flows and volumes inside and outside the data center. Combining optical transport and LSR will lower the cost per bit through hardware integration and deliver the scale and performance required.
Time is right
Networks built on closed products lack application awareness, suffer performance degradation, and cannot scale for capacity demands. The constant addition of new devices causes complexity and rising costs. Large content providers have already begun to tackling these issues through the use of flexible platforms that incorporate SDN, network intelligence, and analytics as well as deliver massive scale, density, and increased performance - all at lower opex and capex. There has never been a better time for service and content providers to assess their cloud network opportunities and deploy new platforms and strategies to optimize emerging revenue streams.
| | | |
| --- | --- | --- |
| | | DR. ROBERT KEYS is chief technology officer at BTI Systems. |
More LW Articles
Past Lightwave Issues