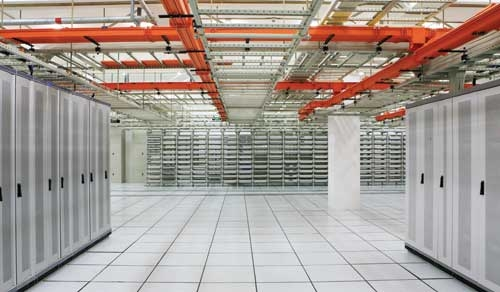 By Stephen Hardy
Carriers see a lucrative opportunity in providing cloud-based services. But the right networking strategy is essential for success.
Enterprises large and small have begun to consider the benefits of cloud computing and other cloud-based services. These boons can include lower capital and operational costs, flexibility, more secure business continuity, increased productivity, and the ability to focus on core competencies.
The growing popularity of cloud services has prompted a host of cloud services specialists to set up shop and–like over-the-top video service providers–offer their wares using carrier networks as little more than dumb pipes. Not surprisingly, this doesn't sit well with an increasing number of carriers, who want a piece of the action for themselves.
With connectivity essential to any cloud service, carriers are in a natural position to enter the cloud services space and compete with the likes of Amazon, particularly to meet the needs of high-end enterprises with complex and rigorous requirements. But before they enter the cloud, carriers need to look closely at several elements of their network to improve their chances of success.
Gathering clouds
A glance at the financial pages highlights the importance carriers have begun to place on the cloud services market. CenturyLink's recent acquisition of Savvis for 11X EBITDA closely followed Verizon's purchase of Terremark for roughly 13.5X EBITDA. The trend isn't limited to former RBOCs (or those who have purchased one). Windstream acquired Hosted Solutions late in 2010, while Telephone and Data Services Inc. purchased VISI in March of last year.
According to Ed Gubbins, senior analyst at New Paradigm Resources Group, carriers view cloud services as not just a good market, but an essential one to penetrate.
"To a degree it speaks to that really long-held fear of becoming dumb pipe providers," Gubbins offers. "It's a huge opportunity and telecom carriers are right to realize that they don't want to be just the handshake between the cloud and the end user. They want to be the service provider in that game."
Cloud services offerings can range widely, from unified communications and its various components to disaster recovery/business continuity, data center backup, sales management, and storage. The more advanced the services a carrier hopes to offer, the more likely it is that carrier will need some sort of partner (or acquisition) within the data center services community–as the Verizon and CenturyLink deals illustrate.
While such partnerships can bring useful elements, such as infrastructure and facilities (and, in the case of acquisitions, existing customers), the biggest benefit is expertise. Gubbins says that data center services specialists have greater insight into relevant trends and technologies, particularly in such areas as energy management.
Network elements
But a cloud is useless if you can't access and use it efficiently, which makes the network connectivity in which carriers excel equally important, in Gubbins' view. Carriers with their eye on the cloud services market should pay close attention to several elements, Gubbins and other sources agree.
Bandwidth: High-end services for large enterprises require fat pipes. Alberto Valsecchi, vice president of marketing and communications for optical networking at Alcatel-Lucent, believes that cloud services and related managed services for enterprises have made 10-Gbps links common and 40-Gbps connections increasingly popular, and will prove a major driver for 100-Gbps connections.
Security: "One of the biggest hurdles so far to cloud services adoption among enterprises has been trust," Gubbins says. Enterprises demand security, often in the form of encryption capabilities.
High availability: Trust involves not only protecting enterprise data from compromise, but protecting access to it from crashes, such as the one Amazon's EC2 service experienced in April. Route diversity and redundancy become important elements that an increasing number of smart customers have begun to demand.
Low latency: Network services aimed at financial institutions have trumpeted low latency for some time. But other types of cloud services, particularly disaster recovery and business continuity, require low latency as well.
With data centers becoming both more essential and more complex, several enterprises have begun to consider leveraging cloud-based services.
For this reason, several carriers have gone to a model in which they leverage numerous collocation centers to ensure a short run to their customers. "Level 3 has got data centers they're buying up all over the place, and they buy collocation facilities for customers. They get customers out of their old, dingy data centers and into their colos. And then they interconnect the colos with their fiber," says Todd Bundy, director of global alliances at ADVA Optical Networking, by way of example. "Once they're in the colo, they can drop in a cloud pod and they can provide whatever they want."
Robust service-level agreements: The above demands create very detailed and increasingly complex service-level agreements, Gubbins says. The complexity grows because elements can change region by region, depending upon the services offered and how the customer plans to access them, including from mobile devices. Customers want very detailed reporting mechanisms as well, Gubbins adds.
Dynamic bandwidth provisioning: The appeal of cloud-based services is not just the ability to leave IT worries to someone else; it's the power to pay only for what you need and get what you need when you want it.
"For example, an enterprise may need to download a massive amount of data from a cloud-based storage service during a disaster-recovery period to ensure business continuity. This would only be required until their data is retrieved, and then they would throttle back the CIR to its typical rate for periodic daily backups," according to Ralph Santitoro, director of Carrier Ethernet market development at Fujitsu Network Communications.
Carriers, thus, must be able to open and close the bandwidth spigot quickly and efficiently. This is easier done in a homogenous network, Santitoro says, but not impossible in a multivendor network environment.
Footprint: While it might seem logical to focus on placing resources in urban areas and near business parks, Gubbins notes that several major enterprises have begun to build data centers in rural areas. He notes, for example, that Google likes to establish data centers near rivers and dams for ready access to hydroelectric power. Some establishments may also see rural areas as more secure.
Carriers, therefore, may find themselves running high-bandwidth pipes to some pretty far-flung locations–or partnering with someone already there. This trend may prove a boon to rural and other smaller carriers, Gubbins points out.
Hey, you, get off of my cloud
As this list of elements indicates, readying the network to support high-end, cloud-based services is not trivial. The Amazon service outage underscores the difficulty of the problem–and the importance of solving that problem correctly. However, carriers would appear to hold the high ground when it comes to meeting cloud service challenges. Lower-cost options such as Amazon's will undoubtedly hold appeal to budget-conscious businesses. But carriers have a natural competitive advantage that several have begun to exploit.