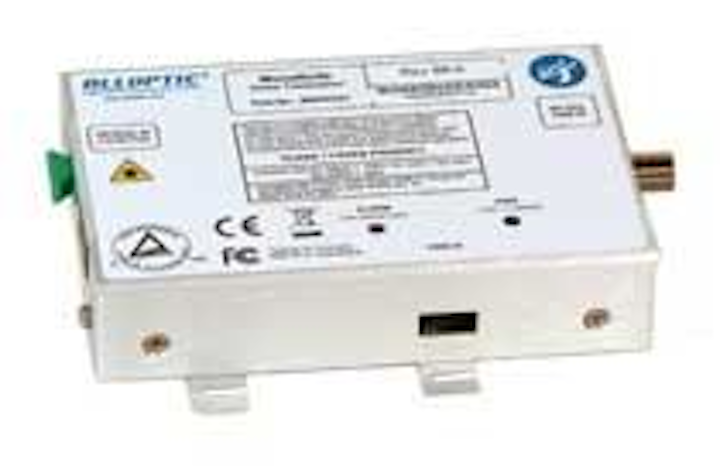 by Stephen Hardy
The message from most cable–TV multiple systems operators (MSOs) is clear: No DOCSIS support, no FTTH. Since it's never a good idea to ignore your customers when they're talking to you, optical access equipment vendors have moved quickly to comply with this mandate by incorporating some sort of DOCSIS–friendly RF return capability into their products. The Society of Cable Telecommunications Engineers (SCTE) is hard at work on a set of specifications for such equipment, called RF over Glass (RFoG). The lack of approved specifications hasn't prevented numerous vendors from touting RFoG–labeled offerings. However, while it may appear that the momentum behind RFoG is unstoppable, some equipment suppliers believe that an approach more consistent with conventional PONs makes better sense.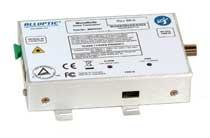 Alloptic claims to have 44 customers for its RFoG–like technology, exemplified by the MicroNode network interface device.
As reported in Lightwave previously (see "MSOs sift through the 'RFoG' at SCTE's Cable–Tec Expo," August 2008, p. 33, and "Cable MSOs' interest in FTTH deepens," January 2008, p. 1), MSOs have begun to look at running fiber closer to customers for a variety of reasons. Some fear competition from initiatives such as Verizon's GPON–based FiOS; others need an option when new home developers demand a fiber connection to every lot or business customers demand extremely high bandwidth services. None of these factors is expected to trigger a wholesale switch among major MSOs from current hybrid fiber/coax (HFC) topologies to fiber to the home and business. However, smaller cable companies have announced FTTH deployments, and rumors persist that their big–name counterparts are either doing the same thing quietly or penciling fiber to the home or business into their roadmaps.
RFoG–like topologies have emerged as the most popular approach to FTTH among cable MSOs who have taken the fiber plunge. In simple terms, the SCTE RFoG specifications are expected to call for an architecture in which the node at which an HFC network transitions from fiber to coax is replaced by a splitter that would distribute the downstream bandwidth to as many as 32 subscribers. A small, DOCSIS–friendly terminal at the home—popularly called a micronode—would then convert the optical signal to electrical for transmission over in–home coax, and vice versa in the upstream direction. The specifications would enable the service provider to continue to use DOCSIS headend and set–top box equipment, including those that can support DOCSIS 3.0 capabilities.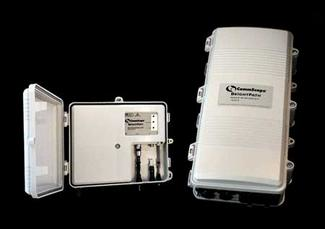 CommScope's BrightPath product line will support RFoG–like architectures as well as PONs.
Vendor sources indicate that RFoG specification development has progressed relatively smoothly and should reach completion by the middle of next year. There is agreement that the downstream wavelength will be 1550 nm. There is still some debate about the upstream wavelength(s); 1310 and 1590 nm have been proposed, although some "RFoG" equipment in the market also supports 1610 nm. One tricky question is how, if at all, to make RFoG compatible with PONs so that service providers could overlay conventional PON and RFoG on the same fiber plant. The 1310–nm wavelength is already common in both BPON/GPON and EPON, and the IEEE is looking at the 1590–nm wavelength for 10G EPON.
The momentum behind RFoG has led some to use the term to describe almost any offering that features RF return technology. With the SCTE's work still unfinished, no product can truly be called RFoG–compliant, but several companies have released equipment that should come close. In particular, Alloptic (www.alloptic.com), CommScope (www.commscope.com), and Hitachi Telecom (www.hitachitelecom.com) have announced equipment that might be considered "pure–play" RFoG offerings, with Motorola (www.motorola.com) sources confirming that they have RFoG technology in development and Tellabs (www.tellabs.com) announcing RFoG capabilities for its Tellabs 1100 multiservice access platform. Alloptic currently leads this space; the company asserts it has 44 customers, ranging from Tier–1 to Tier–3 carriers.
Meanwhile, PON vendors have attempted to appeal to MSOs by integrating RF return capabilities into their standard OLTs and ONTs. Enablence (www.enablence.com), back in its Wave7 Optics days, pioneered this approach and continues to gain market traction via its TRIDENT7 platform. Calix (www.calix.com) announced it had added an RF return option to its GPON product line in January. Wide Open West is the company's first announced customer for the capability, although Geoff Burke, Calix director of marketing, asserts he has others. ONT vendor TXP (www.txp.com) showed off an ONT with integrated RF return capabilities at NXTcomm this past June.
Not to be outdone, several of the RFoG suppliers also support PONs. For example, CommScope's BrightPath RFoG offering can be used to support a PON architecture, notes Carl Meyerhoefer, vice president of marketing and business development. Alloptic will be happy to pair its RFoG micronode with its EPON OLTs, while Hitachi and Tellabs will combine RFoG with GPON at the customer's request.
Suppliers of traditional HFC equipment aren't standing idly by in the face of this onslaught, however. Most of their responses combine fiber extension with PON technology.
For example, Aurora Networks (www.auroranetworks.com) introduced the GE4132M Node PON module for its NC4000 series node and VHubs. The module provides EPON capabilities. Pennsylvania–based cable–TV company Armstrong has combined the VHub with Alloptic's micronode in an RFoG–like architecture, which Roger Hughes, senior operations engineer, described at the recent FTTH Conference in Nashville, TN.
Motorola has adopted "Cable PON" as an umbrella term for its optical access MSO product line, which combines its HFC expertise with GPON technology (and with RFoG, as noted, on the roadmap). The result, which Motorola describes as "a hybrid HFC–PON solution," is designed to enable MSOs to roll out GPON architectures using existing HFC nodes. The GPON will work with the company's DOCSIS–based headend equipment and set–top boxes, as well as existing business and operational support systems. As a result, Motorola says, cable companies can run a GPON into a greenfield residential or business application that leverages the existing HFC investment.
Compton Communications of Ontario, Canada, is Motorola's first GPON MSO customer. As announced this past June at the SCTE Cable–Tec event, the carrier will use the Motorola AXS1800 Optical Access Platform and ONT1400GT Optical Network Terminal in a network designed to support commercial services.
EPON and GPON, of course, are telco–inspired architectures that their supporters hope will appeal to the telcos' MSO competitors. Cisco (www.cisco.com) and its subsidiary, Scientific–Atlanta, have proposed a PON–based architecture designed with cable companies in mind. Dubbed DOCSIS PON (D–PON), the technology takes the form of modules for Scientific–Atlanta's Prisma II HFC nodes, plus new ONTs. Not surprisingly, the system features a 1550–nm downstream wavelength and both 1310 and 1610 nm upstream.
According to Leonard Ray, business development manager at Cisco, the D–PON modules enable the same Prisma II platform to support HFC and D–PON architectures, thus leveraging the same headend equipment for both networks. "So this is, in effect, HFC with a very big 'F' and a very small 'c'," he says. The technology will support a link budget of 28 dB in the reverse and 26 dB in the downstream, which Ray asserts enables it to match ITU and IEEE PON architectures by supporting a 1:32 split over a 20–km reach. But it will also support DOCSIS 3.0 four–channel bonding; for a service group, this translates to 160 Mbits/sec downstream and 100 Mbits/sec upstream, Ray says.
The D–PON modules are expected to debut in January. They are also expected to provide RFoG support.
As cable MSOs evaluate fiber in the access, an important consideration will be their future vision of the network. Several of the PON vendors naturally see their architecture as the ultimate endgame, with RFoG merely an interim step. Whether this vision is accurate or merely wishful thinking may determine the popularity of the competing DOCSIS–friendly optical options.