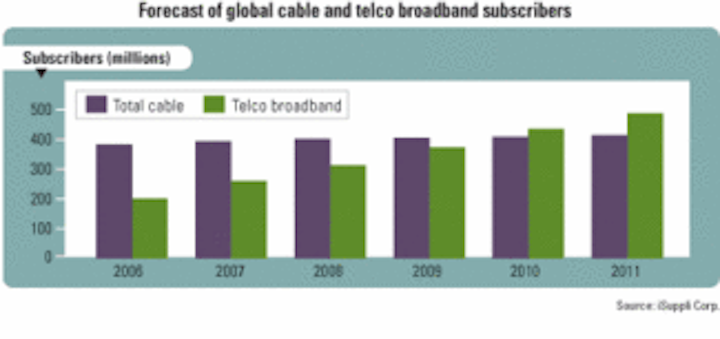 by Meghan Fuller Hanna
An August 17, 2006, article in The Wall Street Journal entitled "Cable Industry May Need to Spend Heavily on Upgrades" touched off a firestorm of debate within the cable multiple-systems operator (MSO) market. The article cited a Cable Labs report that posited the MSOs would have to spend billions to ward off the potential threat posed by Verizon's FTTP-based FiOS initiative and AT&T's FTTN-based Project Lightspeed. The MSOs, for the most part, balked at the report's findings, arguing that the forthcoming DOCSIS 3.0 would provide the requisite capacity for all their service needs.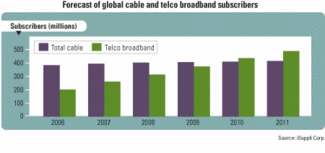 By 2009, iSuppli Corp. forecasts that worldwide telco broadband subscribers will reach 373 million, nearly equal to the 406 million cable subscribers worldwide. By 2010, telco subscribers will exceed cable subscribers for the first time.
But fast-forward nearly 18 months, and suddenly the FTTH equipment vendors have a new customer set to woo: the cable MSOs, many of which are now eyeing the technology to deliver business services or to provide residential video services in greenfield locations where a competitive threat exists. But there's a catch: Initially, the MSOs are going to do FTTH their way, and that way may look nothing like the traditional telco FTTH offering.
According to a recent report from iSuppli Corp. (www.isuppli.com), "Broadband's Next Big Step: Fiber to the Home and VDSL2," telco fiber deployments from the likes of Verizon and AT&T could "render today's cable television infrastructure obsolete. This is the same infrastructure that cable operators in the United States just finished upgrading at a cost that iSuppli estimates at $60 billion," says Steve Rago, principal analyst for networking and optical communications.
And therein lies the rub: After spending billions over the last decade to upgrade their infrastructures, the MSOs would be hard pressed to convince the investment community that they need another round of wholesale upgrades.
To capture the MSO market, then, the FTTH equipment vendors must develop systems that leverage the MSOs' legacy infrastructures and work within their existing operational systems and back office procedures. And that's exactly what vendors like Alloptic and Motorola have recently unveiled.
FTTH with a twist
Jim Farmer, chief technology officer of Wave7 Optics (now part of Enablence), says the MSOs are in "the serious tire kicking stage" when it comes to looking at FTTH-like technology for business services (for which they will likely deploy an architecture more akin to the traditional telco architecture) and for residential services in greenfield environments where they face stiff competition from the telcos. It is likely in the latter scenario that the MSOs will deploy a variant of this new DOCSIS-centric approach to FTTH.
Alloptic touts its Hybrid RF PON architecture, the cornerstone of which is the MicroNode, a small device that sits on the side of the house or in an apartment building and performs optical-to-electrical conversion, automatic gain control, and all the RF amplification. This enables Alloptic to replace the coax portion of the MSOs' hybrid fiber/coaxial (HFC) networks with an all-fiber network, says Shane Eleniak, vice president of marketing and business development. Passive splitters, either 1x32 centralized or 1x4 or 1x8 distributed, are then used to distribute services to end users.
Most important, says Eleniak, the MSOs' service delivery paradigm remains unchanged. "They are just not set up from an OSS perspective to get away from cable modems and set-top boxes, and going to an IP or Ethernet-based service would be a huge change for them," he admits."That's really why we've had such a hit with this; the MicroNode allows them to push fiber deep, which is what they really want to do, but they're not touching the home, they're not touching the back office, they're not touching the headend, and they are getting a fiber-to-the-home-type of play out of it"
Motorola used last year's National Cable & Telecommunication Association (NCTA) Conference to debut its Cable PON, which integrates the company's GPON technology in a small, modular unit that sits inside the existing cable node. This unit enables the MSO to run fiber, rather than HFC, from the node to the home.
"The benefit there is now operators will be able to say, 'Okay, I am not overbuilding or replacing my entire HFC infrastructure,'" explains Floyd Wagoner, senior manager of marketing in Motorolaâ's Access Network Division. "'I am going to take a little sliver of PON and branch off into the new development where there is a competitive threat, and I can place that PON inside an existing node and use my existing service architecture to deliver those services'" Moreover, he says, the cable operator can program the Cable PON system from its existing cable modem termination system (CMTS), and all the provisioning and billing will look the same.
Wagoner says Motorola is also readying an RF over glass system, though he admits it is "largely PowerPoints right now." RFOG, as the industry has recently begun to call it, is a source of some confusion because it is both a proprietary technology licensed by CommScope and, more recently, a generic, industry-wide term for leveraging a PON-like architecture that enables the transport of voice, video, and DOCSIS-based data over glass. (Alloptic's Hybrid PON also falls under the RFOG umbrella.)
Motorola is currently developing a network interface device (NID) that would include the DOCSIS signaling gateway functionality and the return path capability for video traffic. "It's not easy," muses Wagoner, "because these NIDs have to act as mini-CMTSs. They have to be able to decode or demodulate the DOCSIS signal and separate DOCSIS bits from the true IP bits and then send that information back up," he explains.
Market in flux
At least publicly, Alloptic appears to be the early frontrunner in the cable MSO space. The company says it has inked deals with 21 customers for its Hybrid PON architecture -- including two Tier 1s -- and has another nine customers that could finalize trials early this year. And the company recently raised an additional $24 million for the purpose of "extend[ing] its leadership position with the MicroNode product in the RF over glass space," in the words of a company press release.
At the Society of Cable Telecommunications Engineers (SCTE) Cable-Tech Expo in Orlando last June, Scientific Atlanta, now part of Cisco, previewed its DOCSIS PON (D-PON) architecture, which it claims is ideal for use in master planned communities that have mandated FTTH. Also at the Expo, Aurora Networks launched its Node PON Module, which features a 4-Gbit/sec data throughput and a 1-GHz RF passband.
More competition should emerge as the market matures. Eleniak reports that a number of parties met at the last SCTE conference to discuss whether there was enough interest in MSO-specific PON/RFOG technology to pursue standards activity -- "It was the equivalent of a Call for Interest," he says -- and the gathering voted in the affirmative. Materials are being collected now, Eleniak says, with presentations to the engineering group scheduled this quarter.
For his part, Wave7's Farmer believes a DOCSIS-based PON is merely "an intermediate stop. It's come out into the open that yes, the industry does have a bandwidth problem," he says. "And they are working right now on creative ways to solve that problem, staying with HFC while coming up with something -- modified architectures -- to say they have PON where fiber to the home is required. It's when they find out that it really doesn't give them all the advantages of fiber to the home that I think they will start seriously considering switching over to FTTH as we know it now, the GPON and the EPON," he contends.