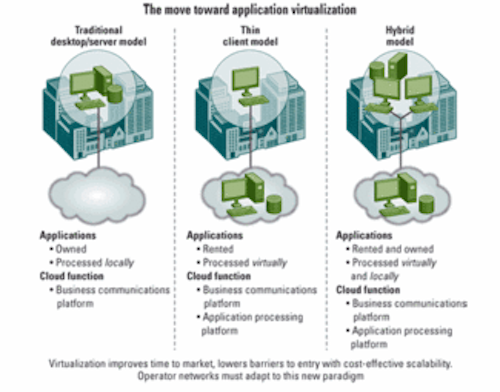 by Dave Parks
There is a growing trend toward the use of cloud computing environments for application and data access and storage. From consumers moving from a desktop office suite to Google Apps, or companies using Salesforce.com, this IT shift has influenced the general public, small businesses and large enterprises alike.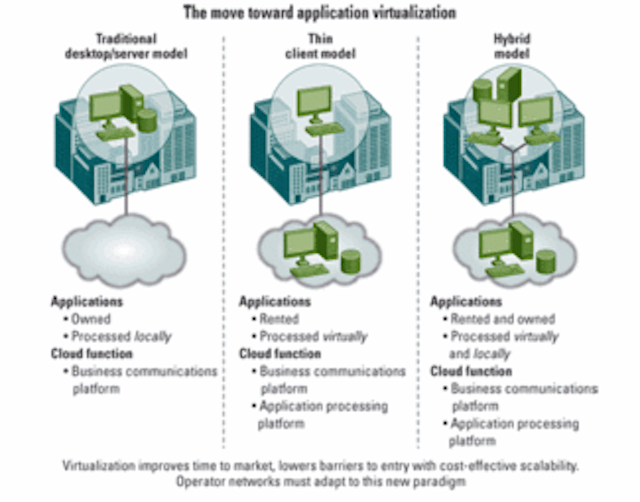 FIGURE 1. Virtualization improves time to market and lowers barriers to entry with cost–effective scalability. Operator networks must adapt to this new paradigm
The telecom cloud
The telecom cloud is essentially an "IT as a service" delivered by a virtualized resource regardless of location; it can be publicly accessed via the Internet or be privately available to enterprises through virtual private networks (VPNs) or private networks. The network connectivity type used to access the cloud–based resources largely depends on the performance and security requirements. Despite the different ways to access the cloud, the majority of cloud computing today consists of reliable services delivered through next–generation data centers that are built on computing and storage virtualization technologies (see Figure 1).
Cloud computing allows the end user to transform something from a physical copy (e.g., installing physical software on a computer) to a version located on a network resource (i.e., "the cloud"), which can then be accessed and used in theory from any location or device. In other words, services are made available to end users without requiring a physical network infrastructure, while providing benefits such as enhanced processing power, storage, configurability, application development tools, and connectivity.
The advantages virtualization and cloud computing provide are undeniable, as both are already being adopted by a significant user base. In fact, service and content providers are rolling out new cloud computing services regularly—Amazon's S3 service and Elastic Compute Cloud (EC2), Google Apps, AT&T's Synaptic Hosting service, Microsoft's Azure—each providing a complete, managed IT ecosystem for loading and running applications virtually.
Cloud computing introduces a significant shift to the lives and business practices of consumers and enterprises, whether the users are aware of it or not. For consumers, the cloud affects day–to–day activities such as communicating with peers, online commerce, media organization, and even checking the weather.
In the past, users strictly relied on their home PC for data access and storage, and had to purchase and install static software packages and specific applications to help with activities ranging from downloading music to filing their taxes. Today, the cloud has taken emphasis away from the traditional hard drive; it enables personal data to be equally accessible from any Internet connection and across multiple devices, such as users' home computers, a Web–enabled mobile phone, or a public Internet café.
Consumers are attracted to the mobility of the cloud, as applications like Google Docs and Microsoft Windows Live enable users to interact with friends, family, and people with common interests without the restraint of location. In addition, the cloud saves time and money, as consumers benefit from avoiding purchasing expensive software programs and can easily manage activities from coordinating personal schedules and to–do lists to storing and enhancing digital photographs.
At the enterprise level, cloud computing technologies play a significant role in business operations across multiple verticals. The healthcare industry specifically gains many benefits from adopting cloud–based models. Through the cloud, hospitals with multiple facilities are now able to share infrastructure and provide real–time, secure accessibility to patient information across locations, thereby enabling caregivers to provide better and more tailored healthcare to patients. In addition, evolving hospital IT systems in this way reduces costs and increases efficiencies by enabling hospitals to take advantage of a number of linked systems and reduces the need to purchase additional storage capacity. Embracing these advantages, the healthcare field can move closer to the holy grail of a unified communication system, and—in the future—toward country–wide patient information networks.
The research and education community also sees multiple benefits from cloud computing. Applications like Google Docs enable students to collaborate on assignments virtually without the need to purchase and upgrade specific software. This type of application also eliminates the need to send large attachments, and instead provides a centralized location that can be accessed anytime from anywhere, thereby saving storage and bandwidth costs. Virtual collaboration tools like these are also helpful in interdisciplinary research, where a centralized repository of research papers, lecture notes, or graded papers can better and more quickly facilitate communication among participating institutions. In addition, because a cloud–oriented approach to IT strategy helps reduce the need for software purchases and licenses, schools that might not be able to afford certain applications can access them through the cloud at little to no cost.
It is no surprise that private businesses are also increasingly relying on applications offered through the cloud, and are more often migrating to standardized IT applications rather than "home–grown" or customized programs. In fact, used sensibly, cloud computing is able to replace some aspects and operations of enterprise IT that are traditionally covered by internal IT teams, like avoiding having to physically install software on employees' computers and enhancing the ability to remotely provide general support functions. If we consider that, on average, about 80 percent of a company's local computing resources are unused, virtualization of some IT applications (i.e., placing them in the cloud) certainly makes sense.
Given the impact and implications of the cloud on the enterprise and consumer, it is inevitable that these "cloud" trends are increasingly affecting service providers as well. Because using Web–based applications and services often involves connecting through the Internet, cloud computing can have direct impact on bandwidth demand and quality of service (QoS). If there are simultaneous users of the cloud, one user's actions could affect other users' actions (e.g., user "A" is sharing photos via Flickr while user "B" is trying to access a thesis paper via Google Apps).
In a Web–based world, having the ability to create, control, and manage bandwidth into different application priorities enables service providers to ensure every user gets an optimal experience. As a result, with the varied capacity of individual service providers' networks, the quality of the user experience will vary as well. Therefore, regardless of the cloud–based service or application, it will generally be the connection offered by a service provider rather than the actual application itself that will determine the overall quality of experience.
In addition, this new network paradigm expands the reach of virtualized services beyond the traditional wireline connection. Devices such as the iPhone 3G, the Google G1, and other smart–phones—which offer ease of use, excellent user experience, and a range of third–party applications—further foster this trend. These wireless applications leverage the cloud and often eliminate the need to install and run software on the customer's terminal, easing the burden of maintenance, ongoing operation, and support.
In response, service providers must focus their business models on producing new revenue streams by developing and offering services that have consistent QoS to ensure the end–user experience is satisfactory, if not exemplary.
The trends described above will force service providers to transition their network architectures and service delivery models to better address these new environments. Those who embrace the fact that their networks must evolve into an asset that can rapidly adapt to the innovation spawned by virtualization and cloud computing in order to capitalize and monetize resulting new services will succeed.
As cloud computing acceptance and adoption continues with consumers, enterprises, and service providers, the implications for network infrastructures are significant. Service providers must accelerate service delivery, effectively manage traffic growth and a changing service mix, and unify operations. The following attributes are essential to achieve these ends and increase the profitability of cloud applications:
Optimal service awareness to enable new service creation, activation, and assurance is especially critical given the changing nature and mix of traffic and required network scalability and reliability.
Network intelligence to dynamically allocate capacity and reconfigure hardware remotely helps operators respond to unpredictable, transactional, or seasonal demand curves.
A common operating system to ensure end–to–end service activation and integration of network components ensures that all network elements are working together to deliver the required services as efficiently as possible.
Unified service and transport to guarantee service application, service creation, and service–level agreements ensures all network elements are working at their peak performance so that services meet required customer agreements.
By deploying these capabilities, service providers can focus on leveraging their networks to quickly adapt to changing business and consumer requirements, in large part driven by cloud computing and Web–based applications, and grow top–line revenue while generating even greater efficiencies in the network.
Dave Parks is director of product marketing at Ciena Corp. (www.ciena.com).
"Guide to Cloud Computing," Information Week
http://www.informationweek.com/news/services/hosted_apps/showArticle.jhtml?articleID=208700713
"Amazon Elastic Compute Cloud (EC2)"
http://aws.amazon.com/ec2/
"What is cloud–based storage?" Infostor
http://www.infostor.com/article_display/what–is_cloud–based/4979101322/s–articles/s–infostor/s–top–news/s–1.html
Cloud computing and the use of virtualized resources will change the way end users consume communications services. These changes will in turn affect the architectural strategies service providers must employ.
---
As cloud computing continues to proliferate, few argue that it will have an increasingly positive impact on the end users of the applications it supports. However, to ensure that progression continues, service providers—whose networks end users rely upon to access their cloud–based information and tools—need to re–examine their business models and adopt new architectural strategies to effectively meet and capitalize on these new network demands.