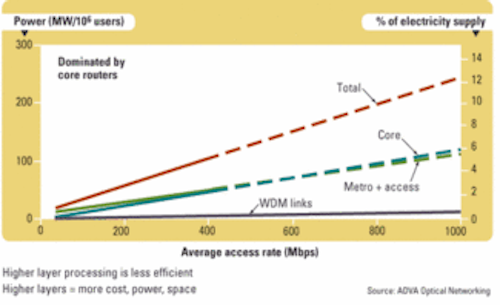 by Meghan Fuller Hanna
For carriers like Verizon and Qwest, lowering their overall network power consumption achieves two objectives: It helps make them more environmentally sustainable and it is more economical in the long run. Therefore, both carriers now include a set of energy efficiency metrics in their requests for proposals (RFPs).
---
In lieu of an industry–wide standard for energy efficiency, carriers like Verizon and Qwest are now developing their own set of requirements and test metrics to ensure any new equipment they deploy lowers their overall network power consumption. While it is certainly their goal to be environmentally sustainable, they must also be fiscally responsible. An increased reliance on optical technology helps them meet both of these objectives.
Taking the lead in this field is Verizon (www.verizon.com), which claims to have the only document in effect today for energy–efficient telecommunications. As of January 1 of this month, Verizon requires that the equipment purchased for its network consume 20% less power than a benchmark standard—and it has developed this energy consumption standard and associated test and measurement process to ensure consistency across its supplier base. Dubbed "VZ.TPR.9205" with the "TPR" short for "Technical Purchasing Requirements," the document was issued in September 2008, and specifies an energy efficiency benchmark for certain broadband, video, data center, network, and customer premises equipment.
The benchmark is known as a Telecommunication Equipment Energy Efficiency Rating (TEEER). Using industry–average power consumption values based on third–party test data, Verizon has developed a minimum TEEER for each category of equipment identified in the TPR document, explains Chuck Graff, director of NEBS compliance and quality assurance within Verizon's Corporate Network and Technology Division.
"It's not a perfect science," he admits. "It's the kind of thing that we're all trying to develop together, but we need to have a starting point."
According to the document, the TEEER for optical transport equipment would be calculated using the following formula:
–log(PTOTAL/throughput)
where PTOTAL is the total power consumption for the equipment under test (EUT), and throughput is the number of bits passing through the system expressed in bits per second. PTOTAL is a weighted variable derived from the test process and is represented as:
PTOTAL = (0.35 x PMAX) + (0.4 x P50) + (0.25 x PSLEEP).
To determine adherence to Verizon's TPR, all equipment must be tested under three conditions: PMAX is the average power measured during Utilization Condition 1 (100% duty cycle), P50 is the average power measured during Utilization Condition 2 (50% duty cycle), and PSLEEP is the average power measured during Utilization Condition 3 (idle/sleep mode).
The TEEER formula yields a number that represents an energy efficiency rating on a scale of 1 to 10, with 1 representing the lowest energy efficiency rating and 10 representing the highest. In an example given in the TPR, optical transport equipment with a total throughput of 40 Gbps and a PTOTAL of 955 W yields a TEEER of 7.62. The minimum TEEER allowable to meet Verizon's pass/fail requirements is 7.54 for transport equipment, including optical. By contrast, the minimum TEEER allowable for access equipment, which includes the optical line terminals used in the carrier's fiber–to–the–premises network, is 2.50. Again, the pass/fail criteria are based on averages of typical equipment located in the Verizon network, plus an additional 20% improvement.
Graff reports that some of Verizon's vendors claim they can meet these specifications today, while others say they have some work to do to get there. But he reiterates that Verizon is serious about this initiative. "This is very real to Verizon. As of January 1, vendors are going to have to meet this document or show a clear intent to meet this document, depending on the purchasing scenario we're involved in. But it's very real to us because we see a significant amount of value from the standpoint of improving the quality of the air and improving the environment that we live in, as well as improving the cost for the company," he maintains.
And if Verizon needed more incentive to "go green," there it is; lowering its energy consumption also lowers its operating expenditures. It's a win–win for Verizon, and others are following suit.
When asked whether his company weighs environmental factors when making purchasing decisions, Qwest CTO Pieter Poll also answers with a resounding, "Yes." He confirms that Qwest has active RFPs that include a metric the carrier has adapted specifically for measuring the energy efficiency of a network element. Borrowed from the IT industry, the Space, Wattage, and Performance (SWaP) metric measures the performance of a network element divided by space multiplied by power.
In the optical domain, for example, the SWaP metric may yield a gigabit per rack–unit kilowatt–type of measurement, says Poll. "It's about trying to maximize performance for the space and power that you are using, treating space and power considerations somewhat equally," he explains.
Poll is quick to note that the benefits of this metric "have come to the forefront more quickly in the optical arena because as we deploy rails of ultra–long–haul technology, we face the constraint of very finite space in huts that typically sit on our right–of–way. And we have finite power that we can get out into spots that are, in all honesty, sometimes out in the middle of nowhere, in the middle of the wide open spaces in the western part of the country."
The vendor community has also picked up on this trend, with ADVA Optical Networking (www.advaoptical.com) just one of many touting the energy efficiency of optical technology. "We advocate trying to centralize the bigger, kind of heavy–iron routers in fewer places and using optical switching and transport as much as you can," explains Fred Ellefson, president of Ethernet applications and solutions management at the company. "Because on a per–bit basis, that's a much more efficient way to manage bandwidth than if you had to go through a router, look at every bit and byte, figure out where the IP header is, and do all the processing that is required. Anything you can do in the optical domain is going to use a lot less power," he maintains.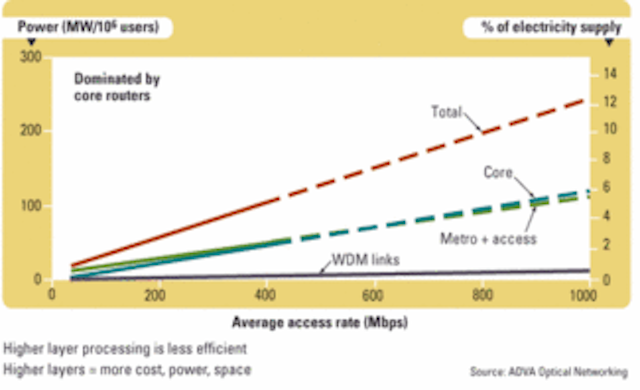 Because OEO conversions consume more power, the longer a signal stays in the optical domain, the more energy efficient the network. Leveraging optical long–haul technologies and ROADM reduces the need for intermediate OEO regeneration, says ADVA Optical Networking.
The more optical–to–electrical–to–optical (OEO) conversions in a network, the higher the power consumption, notes Ellefson. He says ADVA Optical Networking views a network design almost like the food pyramid used by nutritionists. At the top of the pyramid are the high–in–fat foods you eat sparingly—in this case, core routing. At the bottom of the pyramid are the healthy fruits, vegetables, and grains you can eat freely. "This is your optical transport and maybe your packet optical aggregation equipment," says Ellefson. "That's really, on a power–per–bit basis, the most efficient way to architect a network" (see the Figure).
And again, because of the synergies between "being green" environmentally and "saving green," there are also cost benefits to deploying optical systems, particularly the emerging 40G and 100G systems where overall system throughput is greater than the power being consumed, adds Poll. "This is a happy example of where being financially sound and environmentally responsible are coming directly together," he reports. "They are pushing us toward the same conclusion and the same type of technology."
For his part, Verizon's Graff also believes his company's fiber–intensive FiOS initiative has resulted in a more efficient network, though he too admits that this was not the company's original goal. "The FiOS strategy itself is really a response to our customers' needs," he says, "but I think one of the byproducts is fiber has tremendously improved our efficiency as far as power goes. It has also resulted in fewer truck rolls because there are fewer maintenance problems with it. So there are a lot of benefits from the fiber perspective on the green side that maybe were not necessarily planned at the time we sat down and rolled it out," he notes.
While Verizon and Qwest are just two examples of a growing number of carriers that are putting forth their own energy efficiency initiatives—AT&T, BT, and Deutsche Telekom have also been vocal in this area—ADVA's Ellefson believes this trend is still in its earliest stages. "It's just the nature of telecom; we put equipment in that has 10–year lifetimes," he says, "so inherently, you can't go from a high–power architecture to a low–power one overnight. It's going to take time. But I think the last year or so has been a real eye–opener for [the carriers], and I think they recognize that they need to start heading in this direction, although it's going to be in a crawl–walk–run scenario," he maintains.
"Verizon NEBS Compliance: Energy Efficiency Requirements for Telecommunications Equipment, Verizon Technical Purchasing Requirements, VZ.TPR.9205"
"Does fiber enable 'greener' data centers?"
http://lw.pennnet.com/display_article/329366/13/ARTCL/none/none/1/Does–fiber–enable–%E2%80%98greener%E2%80%99–data–centers?/
"New study shows FTTH is a green technology"
http://lw.pennnet.com/display_article/340363/13/ARCHI/none/XMARK/1/New–study–shows–FTTH–is–a–green–technology/