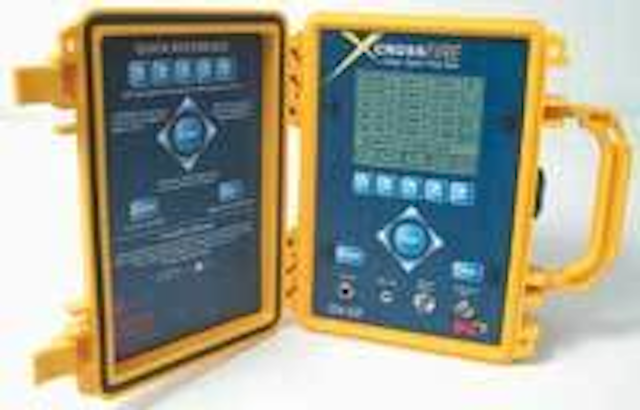 Bidirectional tester
The CrossFire is an automated dual-wavelength, bidirectional tester that measures insertion loss and optical return loss to -70 dB. It tests multiple wavelengths via a single port, eliminating the need to reconnect cables and zero-reference the equipment for each test. This rugged tester features power meter accuracy of ±0.3 dB and ORL accuracy of ±0.05 dB at 55 dB. It tests fiber from both ends when two units are used and is equipped with storage for 1,000 tests.
Fiber Instrument Sales,
www.fiberinstrumentsales.com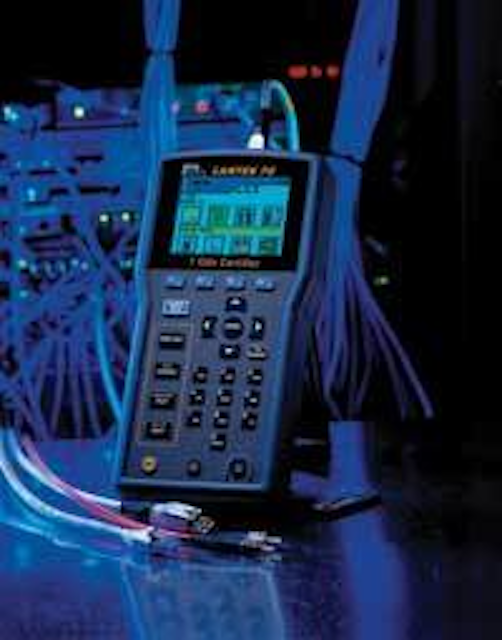 The enhanced LANTEK 7G can sweep up to 1 GHz of bandwidth, enabling it to test ISO F, Category 6A, 10-Gbit Ethernet, and beyond. The handheld certifier performs singlemode and multimode loss measurement and distance-to-fault troubleshooting. A full-function PCMCIA slot for compact flash storage allows virtually unlimited test storage; included internal memory stores up to 6,000 tests. A remote unit can initiate auto-tests for improved productivity in single-person operations.
IDEAL Industries Inc.,
www.idealindustries.com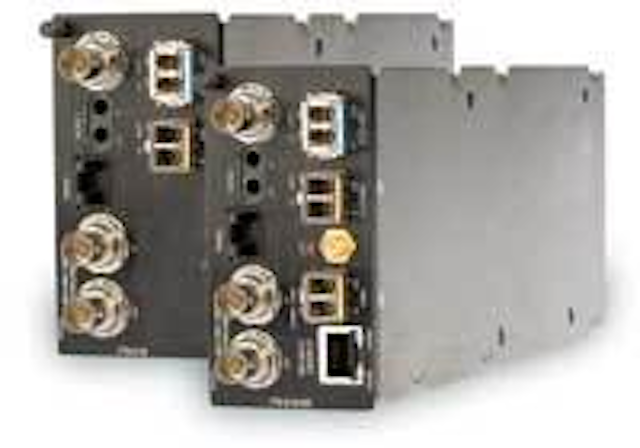 New optical transport network (OTN) test capabilities for the IQS/FTB-8120 and IQS/FTB-8130 Transport Blazer test modules run on the IQS-500 Intelligent Test System for manufacturing and R&D test applications. The software can also be used with the FTB-200 Compact Platform and the advanced FTB-400 Universal Test System to ensure coverage of test and measurement applications ranging from R&D verification to field turn-up and troubleshooting. The test software includes forward error correction generation and analysis, as well as support for all OTN layer alarms and errors. This OTN test tool is designed to support both OTU1 (2.7-Gbit/sec) and OTU2 (10.7-Gbit/sec) test rates.
EXFO Electro-Optical Engineering, www.exfo.com
The BOSA optical subassembly (OSA) includes a Macro Editor Tool to allow the user to automate measurements and applications for real-time data acquisition. Proprietary all-optical technology avoids electrical conversion and filtering. Using the BOSA as controller, the user may set up experiments with other external devices that are controlled by the BOSA through its GPIB interface. With resolution of 0.08 pm (10 MHz) and extended dynamic range of 80 dB, the BOSA-C (which covers the C-band) can measure large spans up to the complete band. The device allows optical source designers and manufacturers to find the real noise floor of the signal under test, usually hidden by the dynamic range of measurement systems based on heterodyne methods.
Aragón Photonics Labs S.L., www.aragonphotonics.com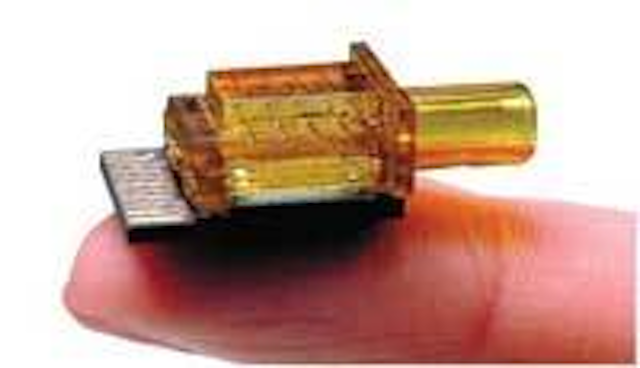 ROSA with integrated TIA
The P1RX-LX4TL receiver optical subassembly (ROSA) with integrated transimpedance amplifier (TIA) and limiter measures 10.8×15.6×6.8 mm for applications where space is limited, such as X2 form-factor LX4 transceiver modules. It can receive four channels from one singlemode or multimode fiber, with each channel capable of receiving between 155 Mbits/sec and 3.125 Gbits/sec per channel (run length of 80 bits). The ROSA is designed to meet the LX4 standard, including transmission greater than 300 m over multimode fiber and greater than 10 km over singlemode fiber (IEEE 802.3ae 10G standard), and Telcordia GR468 criteria.
Omron Electronic Components,
www.components.omron.com
The 400-mW integrated Gigabit Ethernet (GbE) PHY lowers power consumption up to 50% compared to previous devices. This power reduction in a highly integrated chip helps optimize board space and simplify board design to lower component count, improve reliability and performance, and reduce circuit and system risk. Tested over full 100-m cable lengths with continuous traffic, the prototype GbE PHY will become the foundation for future products in the SimpliPHY and SparX families.
Vitesse Semiconductor,
www.vitesse.com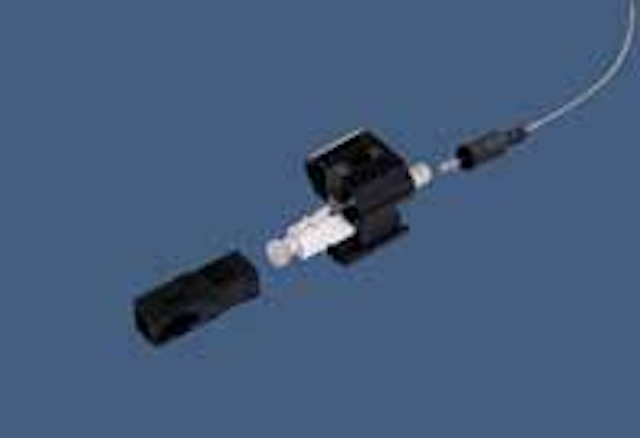 2Click prepolished fiber-optic connector products eliminate the need for polishing and adhesives in singlemode and multimode LAN and backbone wiring applications. The products include SC- and ST-style connectors that incorporate a factory-installed prepolished fiber "stub" inside. Connectors are available with singlemode and 62.5- or 50-µm core multimode optical fiber stubs. To assemble the connector, the installer simply strips and cleaves the fiber cable, inserts the prepared fiber into the connector, and squeezes an integral wedge assembly to complete the job. This is all done quickly without special tools or expendables. The 2Click connector system is fully field tested and meets all the requirements of the TIA/EIA-568-B.3 industry specifications for performance and durability.
Hubbell Premise Wiring,
www.hubbell-premise.com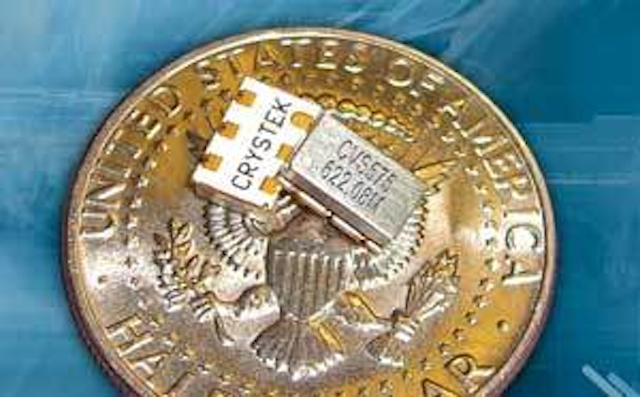 The Model CVS575, a 622.08-MHz voltage-controlled SAW oscillator (VCSO), is designed for high-performance phase-locked loops (PLLs), suitable for telecommunications applications that require low jitter generation. The lead-free, RoHS-compliant VCSO is offered in a 5×7.5×2.5-mm SMD package. Phase noise measures -130 dBc/Hz at 10-kHz offset, which translates to 150 fsec (rms) max. jitter for SONET OC-192 (50 kHz to 80 MHz). Applications for the CVS575 VCSO include frequency translation, clock smoothing (de-jittering), SONET/SDH/ATM networks, OC-192, and test and measurement.
Crystek Corp., www.crystek.com
A new design for SC and LC connectors allows them to be non-pull-proof to address the specific needs of tight-jacketed cable construction. The SC and LC connectors were originally designed for pull-proof applications and required the buffer to move independently of the fiber jacket. When used with tight-jacketed cable, standard SC and LC connectors could induce a microbend, which causes increased insertion loss or fiber breakage. With the new design, termination allows the jacket and buffer to move together. Products are now available for both singlemode and multimode LC and SC connectors in 1.6- to 2.4-mm-diameter cable.
Tyco Electronics,
www.tycoelectronics.com
The TR1C1-A 7G clock recovery unit, with a wideband 13G option, recovers a full-rate clock from a continually variable electrical serial NRZ input stream with data rates from 622 Mbits/sec to 7 Gbits/sec. The wide-bandwidth option, TR1C1-A-OPT001, operates from 622 Mbits/sec to 13.5 Gbits/sec. The compact unit (1.5×4.5×7 inches), offers good input sensitivity (75 mVpp) and low residual jitter (300 fsec). The CRU also includes differential input connectors and is GPIB programmable for automated use. The unit is designed for signal integrity lab applications requiring multirate clock recovery. It can be used for SFP, fiber, and other photonic applications where polarization-mode dispersion affects the data period, as well as for data recovery and resam­pling applications.
Centellax, www.centellax.com
WSS-based multiplexer
Based on wavelength-selective switch (WSS) technology, a new reconfigurable optical add/drop multiplexer (ROADM) will deliver all-optical mesh networking capabilities to telco and cable customers. The WSS model is expected to enable 40G network evolution without equipment swap-outs. The WSS-based ROADM can be "mixed-and-matched" with the static OADM and blocker-based ROADM offerings to allow flexible configuration options at critical network points such as video distribution or other multidegree hub sites, drop sites, and edge node locations.
Tropic Networks,
www.tropicnetworks.com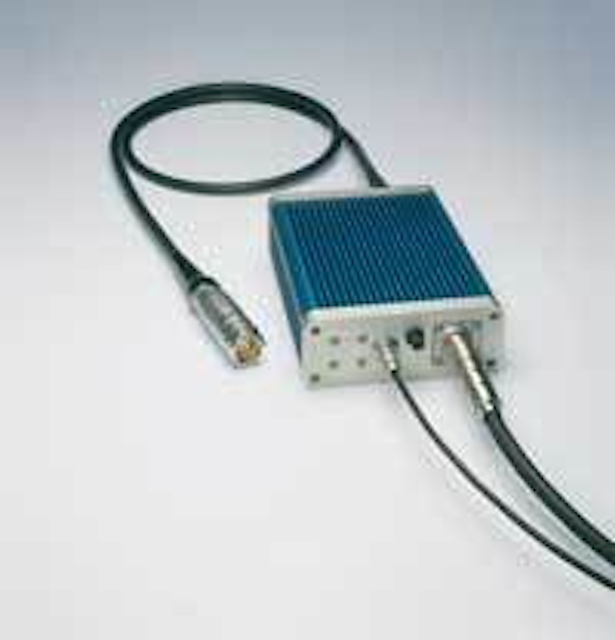 Coupled with the LEMO 3K.93C connection system, the MEERKAT converter allows television transmission over longer distances and higher levels of definition over fiber-optic cable. The lightweight and portable system is specially adapted to prefibered venues or to studios with fiber-optic installations and can be mounted directly on the tripod at the camera side. The hybrid connector has a compact design with two singlemode fiber contacts, two power contacts, and two signal contacts for HD camera interconnection systems. The connector system is fully AINSI/SMPTE (US), ARIB (Japan), and EBU (Europe) compliant.
LEMO S.A., www.lemo.com

The PM 1001 10-Gbit LAN PHY to WAN PHY protocol converter connects 10-Gbit LAN switches to 10-Gbit SONET/SDH and DWDM networks. The PM Series is a multiservice platform that allows carriers to aggregate and transport high-speed services onto a single wavelength at wire speed over 10- or 2.5-Gbit signals. This TDM-based aggregation reduces the number of wavelengths on the network, lowering the cost of deploying DWDM or CWDM networks. The PM1001 is also a DWDM transponder for any 10-Gbit protocol ranging from 9.95 to 10.709 Gbits/sec. Embedded forward error correction allows it to transport 10-Gbit data over longer distances without repeaters.
Ekinops, www.ekinops.net
The SmartAX OFA5920 GPON system provides up to 1-Tbit switching capacity. It complies with ITU-T G984.1/2/3/4 standards and is the industry's first GPON access platform with terabit nonblocking switching capability and full redundancy design. The system provides users with reliable voice, data, and video services at downlink and uplink rates up to 2.5 Gbits/sec and 1.25 Gbits/sec, respectively.
Huawei Technologies Co. Ltd, www.huawei.com
"Industrial Ethernet" grade, SNMP-manageable optical Ethernet demarcation units are available in a sturdy, standalone format, based on the FiberLinX line of FTTX products. The IE-MiniFiberLinX-II functions as a network interface device, provisioning point-to-point fiber-optic connections and providing a management tool to monitor the entire link between two locations. The unit can be configured remotely and provides vital alerts to network administrators. As a copper-to-fiber media converter, it allows operators to use lower-cost copper switches to connect to the fiber network. The IE-MiniFiberLinX-II comes equipped with one 100-Mbit/sec fiber port for data and management, one 10/100 twisted-pair port for customer data, and an RS-232 craft port for local configuration during installation. The device supports multimode, singlemode, and single-strand fiber.
IMC Networks,
www.imcnetworks.com
The CM-104 is a compact, fully redundant, and modular packet transport switch (PTS). It supports 10- or 2.5-Gbit/sec network-side interfaces and is based on MPLS, RPR, and SONET/SDH for carrier-class packet transport. The CM-21 PTS provides Ethernet access for residential and business customers. The CM-21 provides 24 Gbits/sec of nonblocking switching capacity, making it suitable for bandwidth-intensive and interactive applications such as IPTV, voice over IP, and video-on-demand. The CM-21 product line comes in four different configurations, all in a single rack unit, supporting optical or electrical Fast Ethernet and Gigabit Ethernet interfaces, including redundant AC and DC power options.
Corrigent Systems,
www.corrigent.com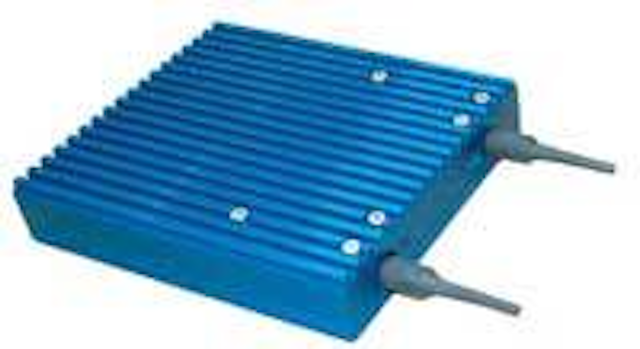 Dispersion compensation moduleThe Free-Path Manageable Dispersion Compensation Module (M-DCM), a manageable dispersion-compensating fiber (DCF) replacement, is designed for metro-regional DWDM networks across the entire C-band. The etalon-based M-DCM is used to compensate for chromatic dispersion values ranging from -1,700 psec/nm to +1,700 psec/nm, using in-house intellectual properties. The multichannel module reduces in-line amplification requirements and allows remote management of dispersion while using a single part number as a substitute to multiple DCF part numbers.
Civcom, www.civcom.com
A new 40-channel reconfigurable optical add/drop multiplexer (ROADM) module with per-channel variable optical attenuators and power monitoring allows any wavelength to be dropped or added at any node in a DWDM network. PLC integration increases performance at a competitive cost. The low-power, high-isolation broadband PLC Switch-VOA-Tap (SVT) design enables a higher level of single-chip integration, significantly reducing power consumption, size, and cost of the module.
NeoPhotonics,
www.neophotonics.com
The Sentior 27000 East/West VG erbium-doped fiber amplifier (EDFA) comprises two independent variable gain stages, which allow the deployment of the amplifier in systems supporting East/West separation. This configuration avoids a single point of failure that could affect both the normal and protection data paths, resulting in a critical system failure. The 27000 can also be configured to work as two completely independent single-stage VG amplifiers, so that two single-stage VG amplifiers can be packaged into one module, decreasing cost and space consumed.
RED-C Optical Networks Ltd., www.red-c.com
A line of optical protection switch (OPS) plug-in modules for the PowerNode platform is used for fiber link, equipment, or client side protection. The modules have switching speeds of 10 msec, which allows sub-SONET/SDH optical protection. The OPS product line is designed for both system OEM and carrier customers. An OPS module monitors the optical power on incoming fibers. Upon detection of faults, the module toggles the bypass switch to activate the protection path within 10 msec. Using standard SNMP or TL1 interfaces, the plug-and-play OPS can be directly deployed and managed as a standalone network element within an optical network node.
Avanex Corp., www.avanex.com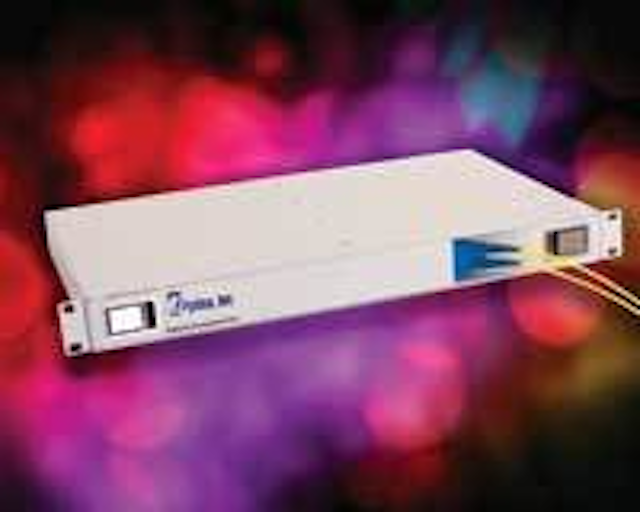 The M2 Fiber Lab Model DCF is a 1-U high, 19-inch rack-mountable device that can be customized to compensate for the dispersion and dispersion slope of SMF-28e, LEAF, AllWave, and TrueWave fibers in the C-band to improve analog and digital (bit-error rate; BER) performance. Capable of enhancing BER performance in digital systems and reducing second-order effects in analog systems, it can be supplied with SCUPC, SCAPC, FCUPC, or FCAPC connectors. The module can be loaded with dispersion-compensating fiber to correct for the dispersion effects created by fibers over a long distance. The DCF device is suitable for use in field deployments, development labs, manufacturing test areas, telecom and cable TV systems, and simulation networks.
M2 Optics, www.m2optics.com
An eight-port tributary adapter module (TAM) for the DTN platform offers greater capacity and density for Gigabit Ethernet (GbE) and supports full performance monitoring capability. The DTN can now deliver up to 320 GbE ports, along with all supporting WDM line-side equipment, in a single bay, resulting in a high-density core DWDM transport system. A multirate capability for the 2.5-Gbit TAM module gives customers the flexibility to configure the software for each optical port interface on the module to support transparent OC-3/STM-1, OC-12/STM-4, or OC-48/STM-16 service. The multirate capability provides a cost-effective option for carriers offering both low- and high-speed services.
Infinera, www.infinera.com