The market for fiber-optic transmission equipment, cable, and apparatus in Europe's broadband access networks will increase with a compound annual growth rate (CAGR) of 49% from $950 million in 2005 to $7.05 billion in 2010, say KMI Research analysts.
According to the firm's new report, "Fiberoptics in Europe's Broadband Access Networks: Market Analyses and Forecasts," fiber-to-the-premises (FTTP) systems will be the major contributor, representing 65% of the market value in 2010. Other broadband access network architectures, such as fiber-to-the-node (FTTN) and fiber-to-the-building or -basement (FTTB) will comprise the remaining 35%.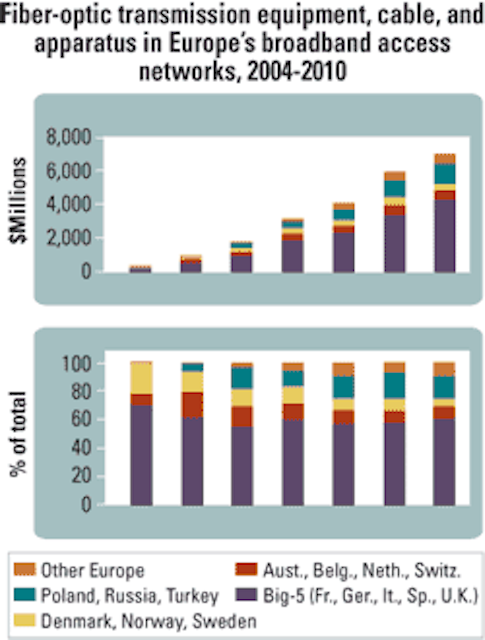 The next five years will be marked by slower growth of ADSL but faster growth of VDSL and fiber-based architectures, say KMI analysts, who cite several reasons for this trend. First, new service providers are entering the market to overlay or compete with the incumbent telephone company-particularly in Denmark, Italy, the Netherlands, Norway, and Sweden-and KMI expects additional build-outs of competitive networks in larger cities and in more European markets over the forecast period.
Second, the incumbent operators will use fiber to extend or upgrade previously installed ADSL networks. In some markets, these upgrades are in response to competitive threats. But in other cases, the incumbents are pursuing opportunities to increase revenues by offering new services, such as faster Internet, digital television, or bundled packages of services.
The combined result of these trends will be a 25% CAGR from 2005 to 2010 in Europe's total number of broadband subscribers. This growth will be less rapid than the 62% CAGR achieved from 2000 to 2005, but fiber-optic technology will capture more of the future growth, driving the 49% CAGR in fiber-optic market value.
For more information, visit www.kmiresearch.com.