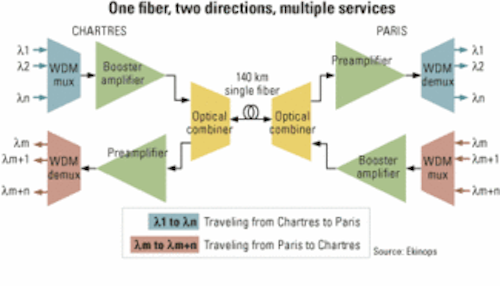 By Claude Le Bouette and Nina Sener
Known for its rich history dating back to medieval times, the French city of Chartres refers to itself as "The Capital of Light and Perfume." While the perfume is abundant, the city's 42,000 inhabitants were left in the dark in terms of communications with the rest of the world. To satisfy increasing customer demand, the local utility company, la Regie Intercommunale d'Energies et de Services (REG.I.E.S; www.regies.fr), opted to build an optical network to connect its customers with other carriers in the international Paris data center.
REG.I.E.S needed to transport multiple Gigabit Ethernet (GbE) and 10-GbE services across two leased fibers between Chartres and Paris, but the utility company faced several challenges along the way. First, REG.I.E.S required a redundant link that would not only support a variety of services but transport those services across distances exceeding 140 km without a repeater. Finding a cost-effective method for transporting multiple protocols bidirectionally on a single fiber proved an even greater challenge. As with any network deployment, the primary goal was to build an extremely flexible, high-speed network and concurrently minimize both initial expenses and ongoing operational costs.
REG.I.E.S selected a GbE solution from Ekinops, an optical transport vendor with offices in France and the United States. The programmable hardware platform provided REG.I.E.S with the means to drive faster return-on-investment by enabling the utility to offer new broadband services and advanced data connectivity over approximately 8 Gbits/sec of Ethernet capacity. REG.I.E.S required a smooth migration path to transport additional GbE and 10-GbE over the same fiber as demand increased.
Ekinops' technology multiplexes bidirectional traffic using several wavelengths that accommodate both transmit and receive signals on a single fiber. As shown in the figure, multiple wavelengths transport multiprotocol traffic from Chartres to Paris. Additional wavelengths carry traffic from Paris to Chartres-all over a single 140-km fiber strand between the cities.
Innovative technologies enable the transport and management of multiple protocols across long-distance networks over one fiber. First, TDM technology supports the aggregation of any mix of GbE, 10-GbE, Gigabit Fibre Channel, and other protocols on a single fiber. Optical amplification combined with forward error correction (FEC) enables the transport of different services over longer distances without repeaters.
The element management interface consists of a standard SNMP that integrates easily with other commonly deployed network management systems. Additionally, an embedded graphical user interface enables protocol management through a standard web interface. A native in-band communication channel manages remote units without the need for a separate data communication network.
These elements are based on common hardware platforms onto which different software packs, each addressing different services and applications, can be downloaded remotely.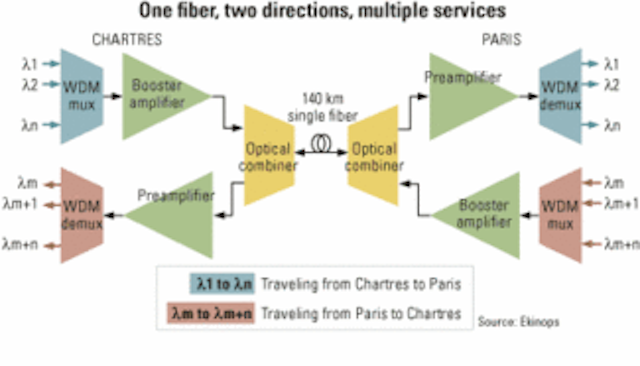 The Ekinops solution enables REG.I.E.S to leverage individual wavelengths on a single leased fiber to transport bidirectional, multiprotocol traffic between the cities of Chartres and Paris, approximately 140 km, without regeneration.
All of these technologies help reduce initial installation costs by reducing the hardware required in the network. The ability to change services quickly on existing hardware through software downloads reduces operational costs.
REG.I.E.S considered alternative solutions during the planning phase, but each required the deployment or leasing of additional fiber to transmit and receive the GbE services required. That said, the two leased fibers presented issues of their own. For example, because the fiber cable is leased from several providers, it was imperative to ensure a high-quality fiber path between the two cities. During initial measurements on the fibers leased by REG.I.E.S, some optical backreflection was indicated on the path. But this issue was resolved by changing out the optical patch cords at the fiber operator's interconnection points.
By leasing just two fibers (for the main bidirectional transport and redundancy), REG.I.E.S saved about 50% of the costs assumed with approaches that require fiber pairs for transmitting in two directions. The system's small footprint required only one-half the rack space available in the Paris data center, thus saving additional operational costs in collocation rental. Thanks to the systems' plug-and-play modularity, REG.I.E.S' network was installed, commissioned, and turned up in less than two days.
The network provides ample bandwidth for the future as well as long-awaited connectivity to Paris, enabling access to all the center's major data players. Although REG.I.E.S currently transports 16-GbE services over 10-Gbit/sec wavelengths, the network can scale as high as 40-GbE with any combination of GbE and 10-GbE services.
The region of Chartres has become a full-featured local loop between its 42,000 residents and the Paris host provider, providing connectivity to every main operator in France. Chartres has emerged from the "dark ages" of communications to enjoy all the competitive advantages and opportunities offered by today's digital economy.
Claude Le Bouëtté is the director of product design at Ekinops (www.ekinops.net), headquartered in Lannion, France. He can be reached at clebouette@ekinops.net. Nina Sener is the company's marketing manager and can be reached at nsener@ekinops.net.