Comcast (Philadelphia, PA) recently unveiled aggressive plans to build a nationwide 30,000-fiber-km backbone interconnecting more than 100 sites across 35 states and the District of Columbia. With an expected price tag of approximately $100 million, the new network will deliver high-bandwidth voice, video, and data services to Comcast's 21 million customers, but the sheer size and scope of the network is only half of the story.
Comcast's nationwide IP/optical network will deliver high-bandwidth, revenue-generating services to its 9.4 million digital video customers, 8.1 million high-speed data customers, and 1.2 million digital voice customers.
The real story is the technology, a convergence of Internet Protocol (IP) and optical networking designed to deliver the most dynamic, flexible network possible. Comcast's backbone is, as Infonetics Research (San Jose, CA) principal analyst Michael Howard notes, "as modern a long-haul system as you can build today. This is the model that carriers are looking at-essentially, IP and/or Ethernet over glass."
Comcast's regional networks already are operating in a converged IP/optical environment, and the multiple systems operator (MSO) now is extending that technology to its new, national infrastructure. Its Washington, DC, to Boston leg, for example, began transporting production traffic over early last year. In December, Comcast inked a 20-year dark-fiber indefeasible rights of use (IRU) agreement with Level3 Communications and others for 19,000 route-mi. The MSO is now on the second phase of its build-out, reports John Leddy, vice president of network and transport engineering in Comcast's Advanced Engineering Division, and he expects the full network deployment to be completed within this calendar year.
For the optical portion of the network, Comcast tapped Nortel (Ottawa, ON, Canada) to deliver its next-generation DWDM transport platform, the Common Photonic Layer (CPL), as well as its Optical Multiservice Edge (OME) 6500 platform. For Nortel, the Comcast win represented its 20th and largest cable contract in 2005.
"Working with Comcast is a natural extension of our adaptive, all-optical, intelligent network vision," notes Philippe Morin, general manager of Nortel's Optical Solutions Division. The vendor's CPL platform includes a wavelength-selective switch module, dubbed the enhanced reconfigurable optical add/drop multiplexer (eROADM), that enables dynamic "on the fly" optical branching of up to five optical paths while supporting local add/drop of individual wavelengths.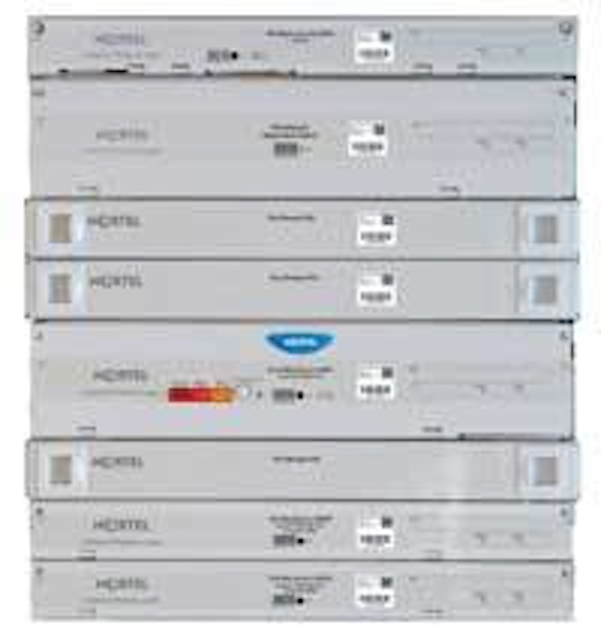 With its enhanced ROADM capabilities, Nortel's Common Photonic Layer platform provides Comcast the flexibility it needs to dynamically provision additional capacity and services on the fly.
A key benefit of the eROADM is its ability to dynamically provision additional wavelengths as capacity demands increase, explains Vik Saxena, director of optical transport architecture in Comcast's Advanced Engineering Division. "We selected the next-generation, all-optical switching platform because it does not require you to do OEO [optical/electrical/optical] conversions and also doesn't require manual patch-paneling of the cables," he says.
Nortel's OME 6500s aggregate the traffic from Cisco's (San Jose, CA) Carrier Routing System (CRS-1) and then hand it off to the CPL equipment.
Comcast selected Cisco's CRS-1 to deliver the IP functionality. Specialized DWDM transponders integrated on the router enable the transmission of 40-Gbit/sec traffic over 10-Gbit/sec wavelengths, thereby increasing network capacity by 400% without increasing network complexity.
The integration of 10- and 40-Gbit/sec DWDM interfaces was a key reason why Comcast selected the CRS-1, says Saxena, who reports that Comcast has been pursuing the concept of embedded optics for several years. The MSO had been using fixed DWDM optics and pluggables in its regional networks, but the integration of 40-Gbit/sec capabilities affords its network more flexibility.
"This allows us to take advantage of the cost and management [benefits] of integrating the DWDM optics into the IP platform where appropriate," adds Leddy. "And where we may need something else, either ultralong-haul or other technologies, we can choose transponders when we need that technology."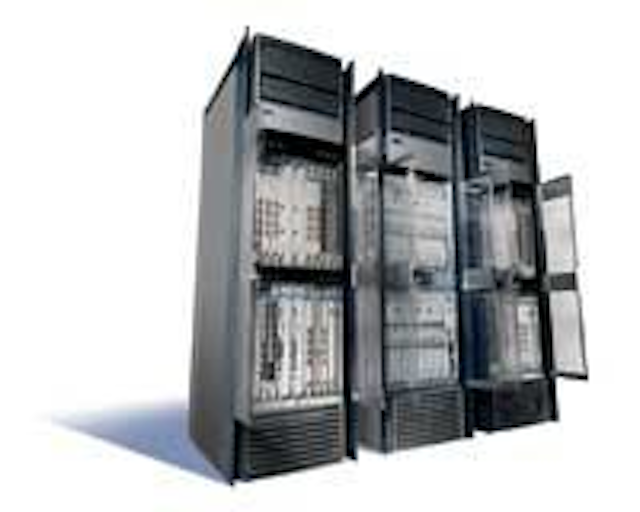 Using proprietary modulation schemes, Cisco's CRS-1 enables Comcast to transport 40-Gbit/sec traffic over 10-Gbit/sec wavelengths, affording Comcast 400% more capacity without a 400% increase in cost.
"We've all heard about where the carriers are headed: IP over glass. And here it is," adds Howard. "You can actually build a regional network of just routers connected with DWDM. Even though it's IP over DWDM at 40 gig, it's still riding on a 10-gig wavelength, and that 10-gig wavelength is just light and a bunch of photons going down whoever's equipment from one end to the other," he says.
Deploying the most advanced optical and IP technology is only part of Comcast's strategy, however. The MSO is also concerned with the integration and unified management of these layers and has established the Open Transport Initiative (OTI) to promote interoperability between optical and IP vendors' equipment. Currently nine members strong, the OTI counts Comcast, Cisco, and Nortel as charter members.
"One of the things that we've come to realize when we're talking about converged services-especially video-we need large amounts of bandwidth to be able to cost-effectively provision capacity in the infrastructure," explains Leddy. "And we need to be able to manage that infrastructure capacity from an IP level with a unified management platform. We want to be able to take advantage of the dynamics and close integration between the IP and the optical level."
Historically, separate control planes exist for both the optical or transport layer and the IP or service-provisioning layer. The problem, says Saxena, is that the service-provisioning layer often is not aware of the available transport capacity in the network. A unified management layer would support the processes of alarm management and the provisioning of new capacity and services on the same platform for both the IP and optical layers.
"If I am taking wavelengths for thousands of kilometers, I might need a transponder," muses Saxena. "But if I need relatively short-reach circuits, then I can build them directly out of the router without the high-end optics from Nortel. It really makes the two systems work well if you have the alarm management, the provisioning, all of those pieces-the OAM&P [operations, administration, maintenance, and provisioning] functions-figured out between the two layers," he says.
The OTI will work to establish a distributed optical control plane to enable discovery, photonic routing, performance management, monitoring, and the adding and dropping of channels. Also on the docket is an extension of the IETF's GMPLS signaling and routing standard for the photonic domain to address service activation, restoration, path viability, and wavelength selection, among other functions.
According to Howard, Comcast's announcement is also part of a greater optical industry trend: the return of the long-haul WDM market. Last year marked the first year since 2000 that the industry saw increased revenue for long-haul WDM equipment. "2005 is the first year we'll have an up year," reports Howard, "and I believe it will be up 15% from 2004."
The long-haul segment seems to be riding the wave of IPTV or, in this case, video on demand (VOD). Today, Comcast provides streaming VOD as well as linear video over multicast on the same platform, along with its Comcast Digital Voice (CDV) service and high-speed data. These services currently are running over converged regional platforms, and Comcast intends to offer the same services, on a national basis, over its nationwide, next-generation IP/optical network.
For his part, Leddy scoffs at the idea that Comcast set out to build the most modern network possible. "There were certain things we believed we needed in building a national platform, which were 10-Gigabit Ethernet capability, long-haul optics, flexibility, and cost per bit, as well as manageability of the infrastructure and scalability of the infrastructure. And we weren't going to build the infrastructure until all of those criteria were met," he contends.