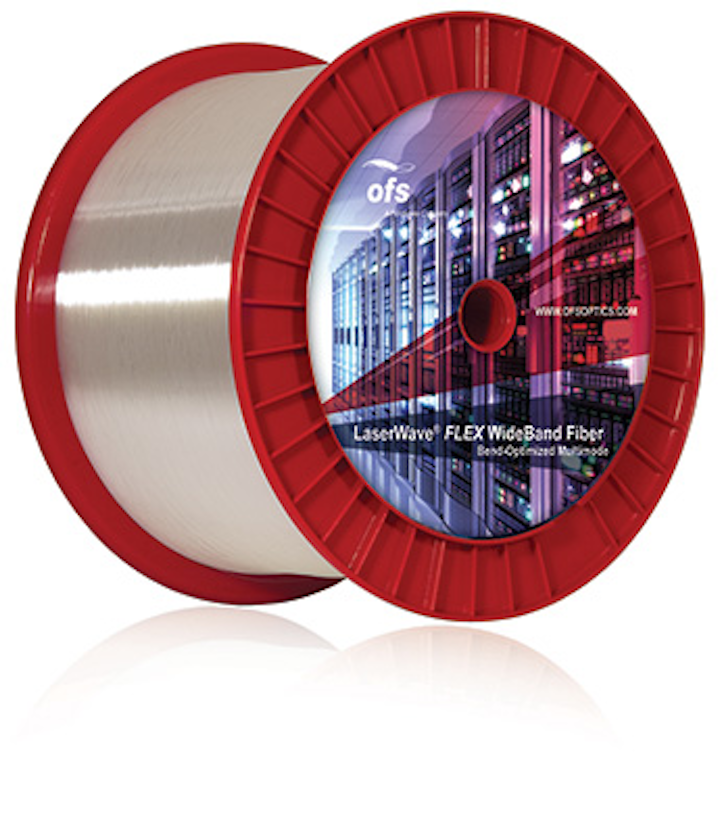 Fiber and fiber-optic cable provider OFS is using this week's BICSI conference to jump into the multiwavelength multimode fiber market. The company says its LaserWave FLEX WideBand multimode fiber is now commercially available.

The TIA is currently working on a standard for the new class of fiber, which will support transmission of four wavelengths for CWDM applications (see "Multi-wavelength multimode fiber subject of TIA standards query"). Such a fiber would make multimode 400 Gigabit Ethernet links more fiber efficient; as currently envisioned in the 400 Gigabit Ethernet specification process, a multimode link would require 32 fibers, 16 each for transmit and receive.

Nearer term, such fiber also could be used to support 4x25-Gbps transmission for 100 Gigabit Ethernet. Transceivers and fiber for such short wavelength division multiplexing (SWDM) use were demonstrated at OFC this past March (see "OFC 2015 Reporter's Notebook: Day 2").

OFS says its LaserWave FLEX Wideband multimode fiber will support both SWDM as well as standard OM4 applications. For SWDM, it will support optical transmission over a range of wavelengths from 850 nm to 950 nm at up to 300 m or more.

"We have been working to offer data center end-users a solution for 400-Gbps transmission, and SWDM provides the possibility of duplex 100-Gbps links while allowing a graceful 400G solution using only eight fibers," explained Andrew Oliviero, senior director, product line management/research and development for OFS. "WDM technology is well known for its use in single-mode transmission, but has only recently been adapted for use with vertical cavity surface-emitting lasers (VCSELs), used in short-wave multimode applications. The use of SWDM in these applications enables multimode fiber to maintain the cost advantage of multimode fiber systems over single-mode fiber in short links and greatly increases the total link capacity."

For more information on fiber-optic cable and suppliers, visit the Lightwave Buyer's Guide.