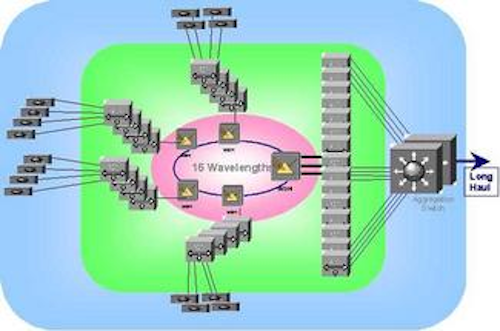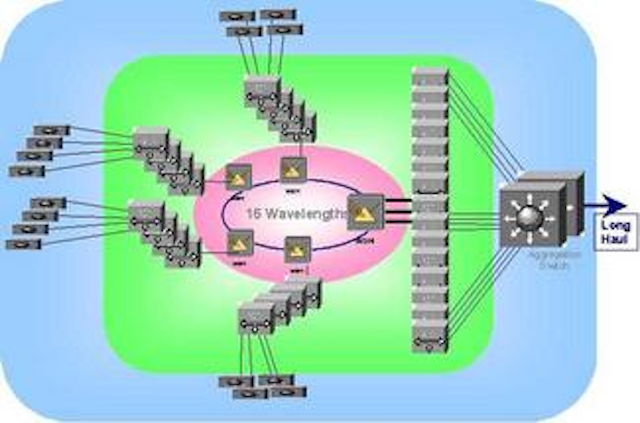 Next-generation SONET solutions require Ethernet switches in each PoP and WDM transport equipment on the backbone network, as well as next-generation SONET ADMs, resulting in high capex and opex.
The market for delivering communications over metro area networks (MANs) is rapidly expanding as today's service providers introduce low cost transport solutions for businesses and organizations. These services utilize packet-based networks, allowing enterprises to connect to multiple sites, partner locations, and the Internet. In addition, new data networks make it possible to deploy enhanced voice and data services, enabling companies to take advantage of such applications as multimedia conferencing and video on demand.
As providers add these new voice and data services to their infrastructure, the demand on network resources continues to rise exponentially. While transport services including T1/E1, DS-3, OC-3/STM-1, OC12/STM-4, Frame Relay, and ATM have proven adequate for delivery of enterprise applications, they are not designed for transporting new and increasingly complex data applications and services. As a result, providers attempting to deliver these new offerings over their existing Time Division Multiplex (TDM) infrastructure have encountered a variety of challenges marked by long service delivery cycles, inflexible bandwidth provisioning, and limited scalability.
To address these challenges, service providers are actively exploring alternative architectures for delivering high bandwidth Ethernet services. One such architecture leverages traditional, enterprise Ethernet technology. While enterprise Ethernet-based solutions enable service providers to quickly offer Ethernet services to existing customers, they lack the scalability for mass deployment as well as 50 millisecond protection, TDM support, guaranteed service level agreements (SLAs), and the carrier- class service provisioning and management systems necessary for offering Ethernet services on a very large scale.
Another alternative is for service providers to utilize their established SONET/SDH networks to deliver Ethernet services. While this approach can be cost effective for introduction of limited point-to-point Ethernet services, the resulting architecture does not scale well for mass deployment of bandwidth-intensive applications. In addition, Ethernet services deployed using this method cannot be managed to the high degree of control necessary to achieve profitability. This strategy results in a marginal business case, largely due to limited revenue generation potential, in addition to high capital and operating expenses.
A third approach involves deployment of Ethernet services using a SONET/SDH architecture coupled with Layer 2 aggregation switches. However, this method cannot provide iron-clad, end-to-end service level guarantees and adds multiple elements and complexity to the network. A combined SONET/Ethernet system is expensive not only in terms of the capital expenditure, but also in terms of the operational costs for deploying, provisioning, and managing Ethernet services across multiple platforms. In addition, this solution lacks carrier-class reliability and protection, and a scalable Layer 2 Ethernet switching infrastructure necessary to provide Ethernet services profitably.
Optical Ethernet has emerged to meet all of these carrier requirements. While many terms have been used to describe the deployment of Ethernet technology in a Metro network infrastructure, Optical Ethernet is clearly defined as the following:
• Based on standard 10/100, Gigabit Ethernet, and 10-Gigabit Ethernet (GbE) technology
• Includes key carrier-class traffic management features to support service requirements
• Seamlessly integrates optical networking technologies to dramatically simplify core architectures and scale core capacity.
As more native Ethernet-based services become prevalent in the market, the demands on Metro core architectures will rise significantly. An Optical Ethernet solution that truly integrates optical networking is the most economical and efficient way to scale Metro cores. The following key requirements can be met by an Optical Ethernet solution:
Flexibility to Support Multiple Physical Topologies
Optical Ethernet solutions enable service providers to support subscribers in any physical topology, including point-to-point links, dual-home, point-to-point links, 1-Gbit or 10-Gbit access rings, or dual-homed access rings.
High Density
True Optical Ethernet solutions, by definition, provide 1-Gbit, 10-Gbit and DWDM interfaces to serve areas of very high density.
Ability to Support Multiple Core Network Topologies
An Optical Ethernet architecture can work with the numerous network topologies that today's service provider networks must support, including mesh, partial mesh, or ring networks. In addition, a single core node can support multiple rings, meshes, or partial meshes, enabling scalable growth.
Simplified Architecture
An Optical Ethernet solution utilizes a minimum number of high-density devices, each optimized for a specific role within the carrier's network, thus reducing operational expenses. This is in stark contrast to standard SONET/DWDM solutions, which require a far greater number of nodes and equipment, and much more complicated and lengthy configuration.
Integrated Optical Functionality for Increased Scalability
Optical Ethernet's integrated optical switching enables providers to add 10-Gbit/sec DWDM segments as required. Additional integrated 1310-nm/1550-nm multiplexing enables integration of SONET/SDH networks with N x 10-GbE transport infrastructure.
Self-learning Capabilities
DWDM technology integrated in an Optical Ethernet solution can, ideally, include self-learning capabilities that allow the network to adapt to node and wavelength, and span budget modifications without human intervention, eliminating the maintenance and resource costs associated with most DWDM implementations.
The economic benefit of a true Optical Ethernet solution for Metro Area Network applications becomes dramatically clear when comparing architectures and key capital and operational expenses required to support each. Figure 1 illustrates a next-generation SONET solution that uses Ethernet switches in each Point-of-Presence (PoP) to statistically multiplex the Ethernet traffic and WDM transport equipment on the backbone network, in addition to next-generation SONET ADMs.
The complexity and high expense of this architecture are readily apparent from the diagram. The use of three separate systems--an Ethernet Switch, next-generation SONET ADM and WDM transport--results in a very complex and costly design. Furthermore, Ethernet switching is located only in the PoPs, leading to inefficient use of Metro access fiber.
With an Optical Ethernet solution, as illustrated in Figure 2, the Metro architecture is dramatically simplified, while matching or even exceeding network capacity and scalability. Carrier-class Optical Ethernet core switches provide all 10-GbE, DWDM, and ADM functionality in a single platform, eliminating a tremendous amount of network elements and their associated expenses.
Optical Ethernet's economic advantage is primarily derived from its Ethernet switching and optical transport system integration. For example, the cost to build-out a PoP in the first year with Optical Ethernet is about $4 million as compared to $6 million with next-generation SONET (based on recent industry pricing and discounting data). The next-generation SONET solution operates at a disadvantage because it uses separate switching and transport systems and lacks 10-Gbit/sec ports.
Higher initial capital costs tend to drive higher operating expenses due to the need to house, operate, and maintain more equipment. Operating complexity imposes further operating expense penalties on the competing solutions. These costs include network operations, equipment maintenance/spares, environmental, support contracts, and fiber leasing/purchasing.
In today's economic environment, it is imperative for carriers to adopt solutions that enable the rapid provisioning of new, higher bandwidth services for their business customers, while at the same time sharply reducing their capital and operational expenses. Optical Ethernet, with its integration of standard Ethernet, optical networking, and carrier-class features, represents a compelling architecture to meet these requirements.
Nan Chen is director of product marketing for Atrica, where he is responsible for defining and managing the marketing requirements for Atrica's Optical Ethernet System. For more information, visit Atrica on the Web at www.atrica.com.
An Optical Ethernet solution can dramatically simplify the network, eliminating a tremendous number of network elements and their associated capital and operational expenses.