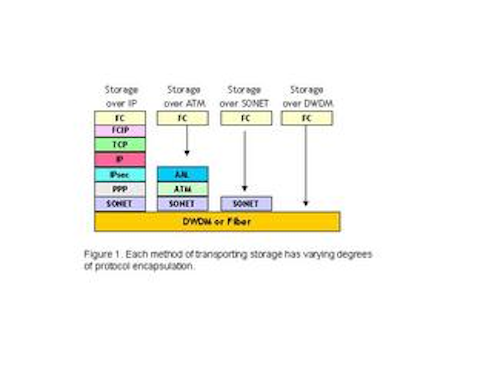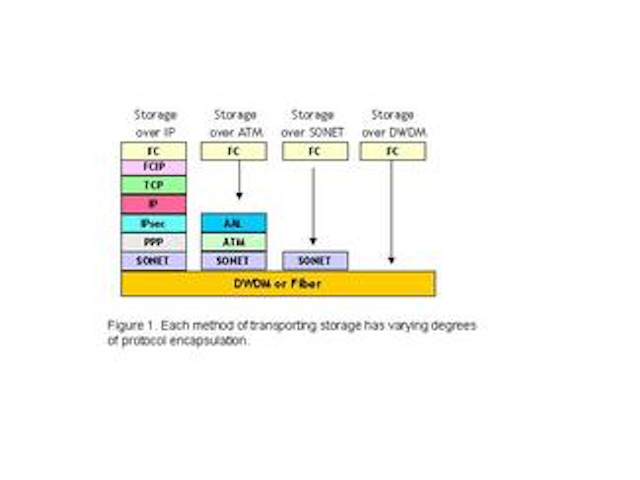 Leveraging existing SONET infrastructure and operations enables new storage transport services.
By ELAINE BIRD
Akara
As LAN and storage traffic continue to double every year, enterprises are faced with unprecedented storage bandwidth requirements. At the same time, the escalating costs of network downtime due to natural or man-made disasters are prompting most business leaders to rethink their contingency planning around disaster recovery.
A robust, redundant storage-network infrastructure with geographically dispersed data centers is considered vital for ensuring the ongoing operation of the enterprise. Especially for enterprises such as financial, healthcare, and government institutions, the need for high-availability processing demands the deployment of redundant processing capabilities.
Because of the geographical requirements of today's storage networks, there is an escalating demand for storage transport services that meet the needs of business continuance applications such as disk mirroring, tape/disk backup, and server geo-clustering. Whether interconnecting data centers for storage and retrieval or ultra-high availability processing, enterprises must ensure that the needs of the application are appropriately met to ensure cost-effective performance.
Storage over existing SONET networks is a business strategy that enables carriers to leverage their current network to quickly launch new storage transport services for enterprises. At the same time, enterprises requiring network solutions that support their most advanced business continuance applications can connect their storage networks to carriers' ubiquitous SONET services for high-performance, cost-effective storage networking. SONET is the lowest-cost-per-megabyte solution when compared to alternatives such as ATM, DWDM, and Ethernet.
Key to deployment of business continuance solutions is the use of well-established connectivity technologies such as Fibre Channel (FC) and ESCON for storage and processing connectivity, IP and Ethernet for LAN connectivity, and SONET for MAN and WAN connectivity. Through the exploitation of the existing well-understood technology base, solutions become more robust. By leveraging existing technology, enterprises can achieve greater cost-efficiencies due to fewer equipment purchases and a lower operational cost base. Deployment scenarios have proven that on first costs alone, savings of greater than 40% can be realized through the expanded use of the established connectivity technology base.
Storage transport services must be able to support a variety of protocols from the enterprise, individually and concurrently. For example, a typical enterprise may have the need to transport FC and Gigabit Ethernet (GbE) for a geographically dispersed clustering application. In a typical remote tape application, only ESCON or FC may need to be supported. By utilizing service rates such as DS3, OC-312/48 that support multiple protocols over a single network connection, enterprises can gain more efficient use of bandwidth and greater manageability.
Carrier opportunity
Carriers are well positioned to offer storage transport services, given their tradition of delivering quality transport services. The advent of SONET has been instrumental in simplifying the delivery of these services while enhancing service quality. The deployment of SONET digital and optical cross-connects has enabled highly flexible and efficient service delivery.
Today's interoffice and long-haul SONET networks can support storage transport services now. With the addition of a SONET storage extension device at the enterprise customer premises, today's access networks can deliver storage transport services.
For carriers, a significant hurdle in launching a new service is the operational impact. A major expense in delivering a service is in recurring cost--and that is a significant factor in the business case for new service offerings. The operational impact to the carrier can be minimal when a storage extension device such as a data-center multiplexer is located on the enterprise premise and operationally similar to deploying a T1 (1.554-Mbits/sec) multiplexer. That is enhanced further if the data-center multiplexer uses SONET performance monitoring and signal conditioning, enabling the carrier to leverage its existing network operations workforce with minimal training.
For carriers that have deployed DWDM technology to offer storage transport services, combining storage over SONET capabilities can further enhance the performance and efficiency of the base of DWDM. Through the data-center multiplexer, features such as storage performance monitoring would significantly enhance the quality of the storage transport service offering.
Also, the majority of applications for storage transport services do not require an entire wavelength. The addition of rate-adaptive capabilities significantly enhances the efficiency of delivering the service. By adding storage over SONET capabilities to the deployed DWDM base, carriers can gain significant competitive advantages.
Alternative transport technologies
Several alternatives exist for the transport of storage traffic. Figure 1 illustrates the protocol encapsulation options for transporting FC. Each method of transporting storage has varying degrees of protocol encapsulation. The storage over IP and storage over ATM methods for transporting storage introduce multiple intermediary protocol layers that increase complexity and, in turn, management costs.
By contrast, the thin protocol stack of the storage over SONET solution simplifies management tasks and keeps operating costs down. On the other hand, storage over DWDM does not provide sufficient visibility of the enterprise protocol, making this operation difficult and costly. Storage over SONET balances the benefits of efficiency with performance and manageability and can benefit other methods such as storage over DWDM by enhancing the performance, visibility, and efficiency of standalone DWDM solutions. Each method for transporting storage has its merits in its target application, but for the carrier application of delivering storage transport solutions, storage over SONET has the most favorable performance and cost-effectiveness.
Fibre Channel over IP
Fiber Channel over IP (FCIP) is a protocol that provides a method for the encapsulating of FC frames over an IP network. There are five protocol layers between FC and SONET. Each layer in the stack must be managed separately--a complex task that introduces significant operational overhead.
Another drawback to FCIP is that its gateways become an integral part of FC fabrics. Without clear demarcation, it becomes difficult for enterprises and SONET carriers or service providers to pinpoint the source of a service or network disruption. That in turn makes service-level agreements hard to negotiate, monitor, and enforce.
Even when implemented over well-managed packet over SONET private lines, FCIP still depends on TCP/IP for data delivery and recovery. An FCIP solution, therefore, cannot offer the ironclad guarantees of high throughput and low latency needed for business continuance applications like synchronous disk mirroring.
FC over ATM
Another option for implementing FC extensions over SONET is FC over ATM. This implementation, like the FCIP approach, relies on a multilayer protocol stack, introducing complexity and cost to network operation and management. Costs are also increased by the processing overhead associated with encapsulating FC into ATM.
Approximately 15% of network bandwidth is typically lost to this encapsulation process. ATM services are also difficult to manage and not commonly available at the data rates required by business continuance applications.
FC over DWDM
Over short spans, FC over DWDM networks satisfy quality of service (QoS) requirements of most business continuance applications. However, DWDM networks are not a viable option for long-span FC SAN extensions, because they do not compensate for "Fibre Channel droop" FC--a distance constraint that stems from the protocol's buffer credit system.
This system relies on messaging between end stations to confirm data transfer. The greater the distance between end stations, the longer it takes for confirmation messages to travel back and forth. That affects throughput because the originating station cannot send off new data until it receives confirmation from the receiving station that the previously sent data has arrived safely.
There are mechanisms to compensate for FC droop, but WDM networks are not equipped with them. Thus in WDM networks, FC droop restricts the ability of most installed FC systems to deliver high throughput over distances of greater than 70 km.
Storage over existing SONET
This strategy provides carriers and enterprises the option of running FC directly over SONET to gain robust, reliable, and cost-effective extension networks. A data-center multiplexer can plug into FC switches and connect to private and public SONET networks via DS3/OC-3/-12/-48 (45-Mbits/sec, 155-Mbits/sec, 622-Mbits/sec, and 2.5-Gbits/sec) interfaces. Once connected to a SONET service, the multiplexer can transport FC traffic in its native format over private and secure SONET lines.
Storage over existing SONET networks is a business strategy that exploits ubiquitous SONET networks to launch storage transport services quickly and cost-effectively. Independent studies estimate that storage transport services could generate service revenues in the multibillion-dollar range over the next three to five years. By leveraging existing SONET-network capacity and network operations methods and procedures, carriers can establish a strong front into this market with modest startup costs.
Storage over existing SONET networks leverages the industry-accepted target architecture of maintaining service intelligence at the edge of the network and simplifying the core of the network to achieve service flexibility and robustness. To leverage the existing SONET network, a data-center multiplexer is required at the very edge of the network at the customer premises (see Figure 2).

The multiplexer provides the necessary intelligence features such as demarcation, performance monitoring, bandwidth assignment, and enterprise protocol encapsulation into SONET. By performing these functions at the customer premises where the enterprise protocol is initiated, the core of the network is simplified to transport connectivity.
As the enterprise protocol is encapsulated into SONET at the customer premises, highly secure services can be offered to meet the demands of business continuance. Several techniques can be used to manage the risk in launching storage transport services using a storage over existing SONET-network strategy. Techniques can vary from a managed service offering to a private line offering.
With minimal investment and rapid return on investment, carriers can rapidly generate new revenue streams by providing enterprises with cost-effective, high-QoS storage extensions that leverage existing SONET infrastructure and operating procedure. With the vast amounts of unused capacity sitting on their SONET/DWDM infrastructures, carriers can deliver storage connectivity services that do just that.
Carrier, enterprise benefits
Carriers can offer new differentiated services that enterprises require for storage extension and high-performance business continuity, such as private line Ethernet or FC services. Using FC over SONET, these services can reduce the enterprise's cost per megabyte for remote transport of storage data by up to 80%.
Enterprises can gain a reliable storage extension that leverages existing network investments on the proven technology of SONET, while strengthening their business continuity capabilities. They also gain a storage extension solution they can afford by more efficient use of their existing network of either DWDM, dark fiber, or leased SONET services, instead of building new infrastructure or subscribing to new services.
Enterprises will realize up to 60% improvement in capital-cost savings and up to 40% in recurring cost through visibility, control, security, and flexibility. They can improve business continuance capabilities and gain guaranteed performance of these applications. With improved visibility, security, and control of their data at all times, enterprises can recover quickly from an unplanned power outage. Deployment analysis indicates that multiplexer solutions can increase the use of fiber assets by 90%, enabling enterprises to gain up to 90% more efficient use of WAN bandwidth.
Elaine Bird is director of marketing at Akara Corp., headquartered in Ottawa, Ontario.