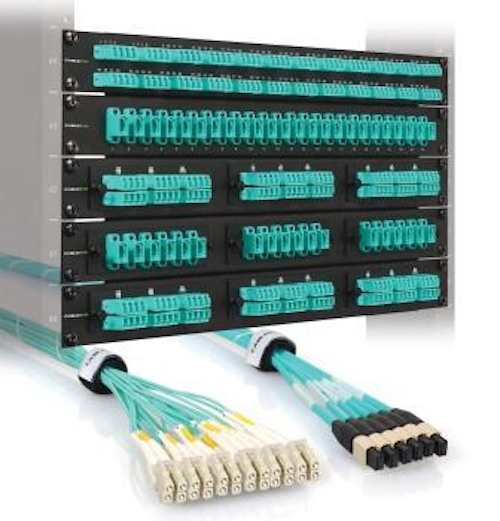 CableSys has unveiled a line of products for high-density (HD) applications. The line includes patch panels, adapter panels, and MPO cassettes.

The company has targeted the HD fiber patch panels for enterprise network backbone cabling, consolidation points, and data center applications where port density, pathways congestion relief, and space are crucial. The patch panels are designed to mount onto standard 19-inch racks and support up to 288 fibers on one MPO patch panel and up to 96 fibers on one LC patch panel. The fiber patch panels are constructed of 16 gauge steel and incorporate numeric silk screening for easy port identification.

Meanwhile, the Cablesys HD fiber adapter panels are designed for applications that require flexibility. The panels feature push pins that enable easy installation and removal from blank panels for quick moves, adds, and changes. The adapter panels can support up to 216 fibers on one MPO adapter panel and up to 72 fibers on three LC adapter panels in one rack mount space.

Finally, the MPO cassettes are designed to meet HD plug-and-play requirements. The MPO cassettes feature 24 LC fiber connectors on the front with an internal cable assembly that converts to two female 12-fiber MPO connectors on the rear. Cablesys envisions use of the cassette with MPO trunk cables within the backbone infrastructure for faster deployment. The cassettes are designed with push pins to enable easy interchange. They come pre-tested to be ready for immediate use.