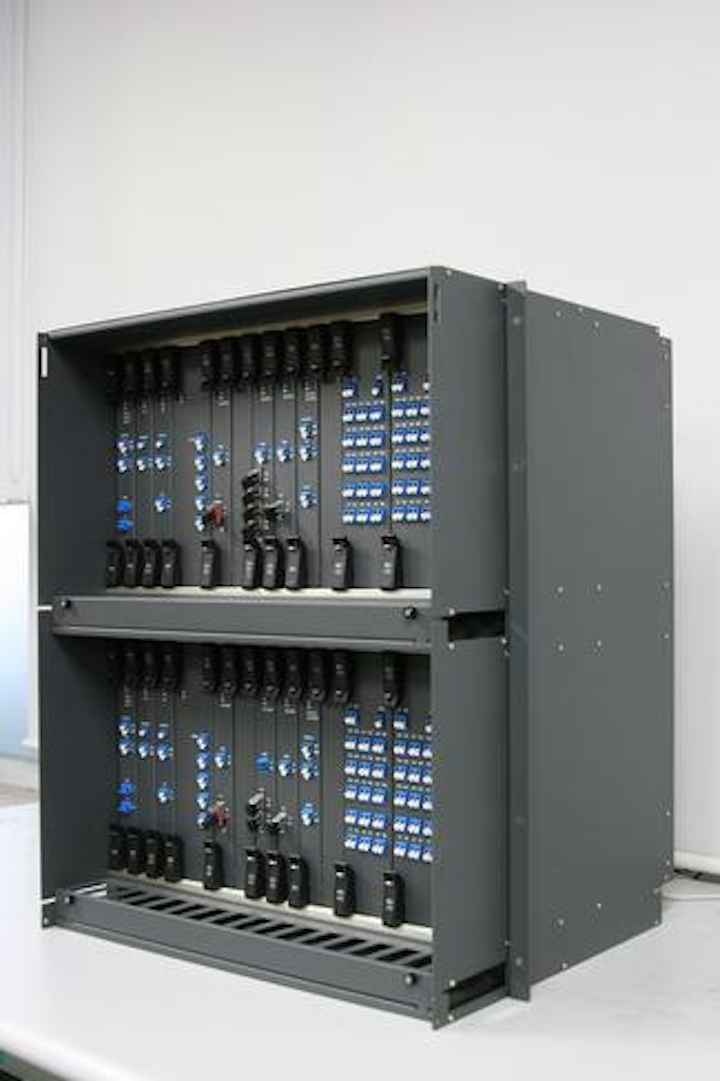 NOVEMBER 19, 2008 -- Optiblue Inc. recently announced the introduction of a new reconfigurable optical add/drop multiplexer (ROADM) platform, the CoreBridge3200.
Telecom operators worldwide are deploying ROADM products in their networks because ROADM has been known to be better in terms of capex and opex savings than the legacy optical add/drop multiplexer (OADM) with fixed wavelength allocation, explain Optiblue representatives. Once OADM is rolled out in the field, it is very difficult to change the network configuration or traffic patterns because the legacy OADM comprises fixed filters for demultiplexing and add/dropping. In most cases, therefore, the reconfiguration of an OADM network requires the time and efforts of experienced technicians.
A ROADM network, by contrast, solves these issues because it can be configured repeatedly without any manual intervention or dispatching of technicians to ROADM equipment sites. As such, ROADM networks lead to both capex and opex savings, says Optiblue representatives.
However, Optiblue believes the original purpose of ROADM has not been accomplished because the key optical devices, including wavelength selective switches (WSS) and wavelength blockers (WB), are still too expensive to lead to capex savings. In other words, even though a WSS-based ROADM helps save opex, there is no more capex savings than the conventional OADM, claims the company.
Optiblue says it has designed the CoreBridge 3200 as the first ROADM platform to provide both capex and opex savings at the same time. The CoreBridge 3200 can be deployed at the same price of the legacy OADM because it does not use WSS technology, but provides all the functionality that operators have come to expected from a ROADM.
"We are using just AWGs [arrayed waveguide grating] instead of WSS," explains Kee-Woon Na, CEO of Optiblue. "By allocating two wavelengths per one point-to-point connection and using the conventional AWG and coupler combination, we could do all things of ROADM. That's our patented technology."
In addition to the full set of ROADM features such as non-blocking switching, remote re-configuring, and automatic one-click path searching, the CoreBridge3200 provides interfaces from 100 Mbits/sec to 40 Gbits/sec, enabling a range of services from Fast Ethernet, Gigabit Ethernet, 10-Gigabit Ethernet, SONET, etc. The maximum capacity of transport is 1.28 Tbits/sec (32 wavelengths x 40 Gbits/sec), and the maximum reach without 3R is up to 560 km over the conventional fiber.
"We are very pleased to announce the true ROADM platform to meet all the requirements from operators," asserts Na. "We know there are already a lot of ROADM products worldwide so far, but we think it is the CoreBridge3200 that is truly competitive with the legacy OADM in terms of capex," he adds.
The company confirms that deployment of its CoreBridge3200 has already begun in a Tier-1 operator's networks in Korea.

Visit Optiblue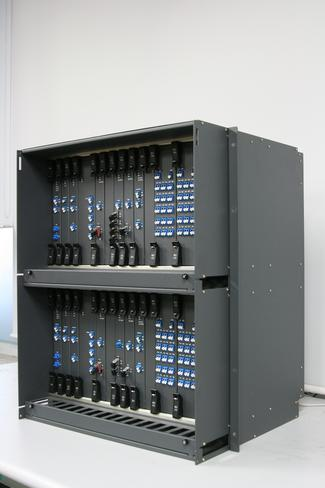 Optiblue's ROADM, CoreBridge3200, uses AWG technology.