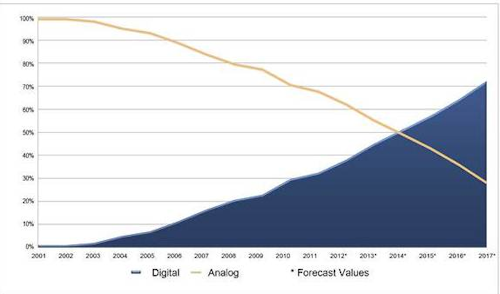 Consumers' demand for high-speed data rates has pressured cable operators to increase performance and deliver higher-quality services. Consequently, cable operators continuously look for new technologies that will help them address today's upstream demands and future-proof their networks for tomorrow's needs. One such technology that has become widely adopted as the optimum approach is digital return.

But what about cable networks that still rely on analog return? As we shall see, analog return may meet current upstream requirements, but it is not a technology that will address cable operators' future needs.

Let us count the ways
Analog return limits cable operators' options in several ways. For example, effective DOCSIS 3.0 implementation to achieve higher speeds requires channel-bonding in the upstream, together with 64-QAM modulation. These factors lead to significantly higher reverse-link performance requirements.

Cable modem termination system (CMTS) cost is a related consideration. Cable operators naturally want to limit the deployment cost of DOCSIS 3.0 systems to just the replacement cost of a DOCSIS 2.0 system, deferring the service enhancement cost until it is needed to offset competitive threats or meet higher capacity demand (which hopefully would bring an associated revenue increase).

Many existing analog optical links will not be able to support these increased performance requirements. The links will have to be upgraded (or replaced) with analog links of much higher performance (and typically much higher cost). And such replacements still won't guarantee support for future services and certainly won't provide significant benefits to network operating practices.

Moreover, if expansion is needed from 42 MHz to 85 MHz, with 1024-QAM loading in the future, an analog return approach certainly won't scale to accommodate the required distances. Indeed, it is very questionable today whether analog has sufficient dynamic range at just 256-QAM loading with adequate ingress protection over even the shortest distances.

For these reasons, analog return approaches are only sufficient to address the here and now. So why would a cable operator spend more money on a limiting technology?

Quadruple or what?
One reason might be the industry's current discussions about the possibility of a 200-MHz return split versus today's 42 MHz. While this initially may seem attractive – after all, there are lots of analog return path receivers deployed today that already support 200 MHz – is this really the case?

Definitely, there is the ever-growing need for more return path capacity. However, to be practical and worthwhile, the entire 200-MHz spectrum would need to be usable – and obviously with 1024-QAM loading, if not higher. Unfortunately, as we've just highlighted, today's analog return-path transmitters are performance-limited. Higher-order QAM modulation, full spectrum load, and reasonable reach cannot all be supported.

Moreover, the operator would have the added challenge of freeing downstream broadcast spectrum from 54–200 MHz to assign to the upstream. In addition, deployed set-tops have control frequencies below 200 MHz; expanding the return split to 200 MHz would require a complete redeployment of new set-tops.

When all of this is added to the operational cost of having to rework the coaxial part of the plant to support the increased split and to address any ingress issues associated with the FM radio spectrum at 88–108 MHz, any savings associated with reuse of the return path receivers will seem very insignificant.

The choice is digital
Digital return technology was developed to provide a solid foundation for cable operators' upstream plan to support future service demands. By deploying digital return, operators have been able to capitalize on the many features of DOCSIS 3.0 technology with no further upstream network investment. In addition, upstream channel bonding can be achieved quickly and easily to address subscriber demand for higher upstream speeds.

Cable operators can easily segment their digital return to accommodate subscriber consumption of high-speed data services. In fact, they can put twice as much upstream data on the same fiber without being taxed for increases to upstream capacity. Inherently, digital return systems have always supported the full return load.

Digital return also has the advantage of supporting today's 64-QAM upstream channels as well as future rollouts of 256-QAM or even 1024-QAM, over the full spectrum and at extended reaches. This performance far exceeds the capabilities of analog transmitters. Digital return is the only true future-proof approach. It supports increased return, with 5 to 85 MHz (and even higher) commercially available and viable today. Via 1024-QAM, digital return can achieve throughput up to 600 Mbps per node segment, or 2.4 Gbps with a four segment node.

For these reasons, operators are now adopting digital return technology to address the shortcomings of analog return transmission and to provide a future-proof network. It is fast becoming the predominant upstream technology to address operator needs while also saving them money.

Show me the money
In fact, the perception that digital is more expensive than analog is not correct today! When designing a future-proof network, operators must complement the need for future growth with minimizing costly investments. And recent generations of digital return have driven down the cost of the link. With the cost of a single return "1-fer" digital link (one segment per transmitter) now on par with an analog link, and a dual "2-fer" return (two segments per transmitter for a segmented node) much cheaper than analog, digital return is now a very cost-effective approach. It's also a "set-it and forget-it" platform, which lowers ongoing operating costs. Choosing to deploy digital return is now an even easier decision.

Moreover, some digital return platforms leverage a modular design and use a common platform for all band-splits and functionality. A simple "set-it and forget-it" software upgrade establishes the required band-split as well as other parameters such as "1-fer" versus "2-fer" versus "dual," data transmission speed, and operational modes. As a result, cable operators can implement a cost-effective digital return platform tailored to their specific network requirements.

Should a cable operator's return path requirements change, the digital return path modules can be further upgraded. This approach results in capex savings and helps cable operators evolve their networks to meet changing requirements.

Numbers don't lie
Recent research by Aurora Networks clearly shows how digital return technology is becoming cable operators' approach of choice to meet the increasing upstream demands. Based on industry data, the annual deployment of digital return technology will surpass analog by 2014 (see graph below).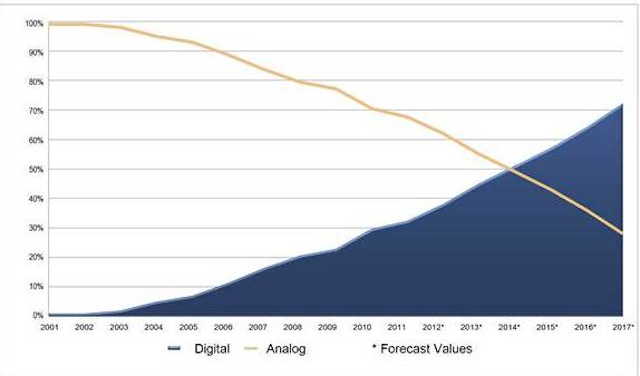 Aurora Networks' research predicts that the annual deployment of digital return technology will surpass analog by 2014


In summary, as demands placed on the upstream continue to grow, operators will need to provide more and more upstream bandwidth. Critical to success will be the ability to fully use the upstream, with 64-QAM, 256-QAM and, eventually, 1024-QAM loading.

Combining performance and operational savings with the scalability from return concatenation to full segmentation, digital return is a compelling fiber-efficient approach that is ideal to meet cable operators' needs today and tomorrow. And now it's cheaper to deploy than an analog return system.

John Dahlquist is vice president, marketing, and Dawn Emms is director, marketing, at Aurora Networks.