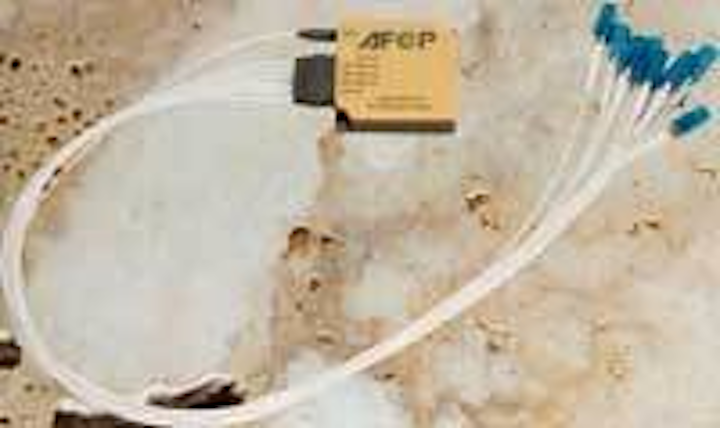 Compiled by Suretta Williams
SYSTEMS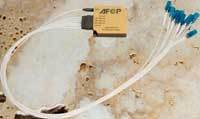 Optical add/drop multiplexer
The company's patented v-collimator thin-film-filter technology has enabled the release of an all-passive, filter-based, high-isolation, 50-GHz optical add/drop multiplexer. This series of add/drop modules achieves -1-dB passband bandwidth minimum of lc ±0.06 nm over operating conditions from -5°C to +55°C. This patent-pending high-isolation technology delivers residual isolation at dropped channel better than -35 dB. In addition, the product offers low insertion loss, high directivity, an epoxy-free optical path, and low polarization-dependent loss. The product is available in standard ITU wavelengths with package dimensions of 126x9x15 mm.
Alliance Fiber Optic Products Inc., Sunnyvale, CA
Optical Ethernet system
This optical Ethernet system is composed of the A-2100 optical Ethernet edge switch, the a-5100 optical Ethernet aggregation switch, the A-8100 optical Ethernet core switch, and the Ethernet service and network-management system. The product delivers 10-Gbit/sec Ethernet technology. Other features include cast-iron service-level guarantees, subsecond failure protection, and integration with circuit-switched networks.
Atrica Inc., San Jose, CA

Optical service system
The Radiance optical service system is a new breed of optical access and connectivity that provides a secure Ethernet demarcation point between the service provider and business user. The system consists of the R5000 central service platform, the R1000 premises service platform, a variety of singlemode and multimode service line cards, and NetBeacon element and provisioning management system. The R5000 and R1000 provide end-to-end connectivity, which is remotely managed by the management software. NetBeacon provides real-time remote event management and troubleshooting with full loopback capabilities, gathers QoL statistics, and provisions bandwidth dynamically.
Aura Networks, Merrimack, NH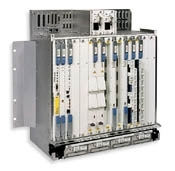 Multifunction node
The U-Node is a next-generation multifunction node that allows networks to aggregate, groom, and transport both SONET/SDH and IP traffic. The compact size and deployment flexibility make it a suitable solution for access, edge, and core applications. The U-Node operates in next-generation mesh networks, as well as in traditional OC-12/OC-48/OC-192 SONET/SDH topologies. When used in a multiple ring network, a single system can serve as a fully functional node in two or more shared rings. In this application, U-Node performs crossconnection and path grooming for both intra- and inter-ring traffic, thus eliminating the need for collocated ADMs.
NEC America Inc., Irving, TX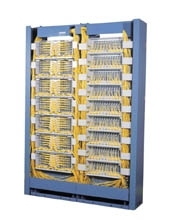 Fiber-routing-control system
This fiber-routing-control system features maximum flexibility, ease of installation, and time and cost savings, according to the company. This assembly utilizes peelable ribbon fiber and conventional and high-density preterminated shelves in a broad range of sizes to meet customer-specified fiber-management and high-density requirements. The installation can be completed with fusion splicers and accessories that address customer-specific fiber-optic network and bandwidth requirements.
Sumitomo Electric Lightwave, Research Triangle Park, NC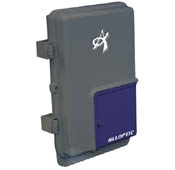 Gigabit Ethernet access router
G.E.A.R. (Gigabit Ethernet access router) is part of the GigaForce product family. The product homeGEAR allows carriers to offer a bundled suite of toll-quality voice, high-speed data, digital cable, and interactive video services. High-speed data services can be provisioned in 64-kbit/sec increments up to 400 Mbytes. By supporting legacy RF cable and POTS, as well as the next-generation IP video and telephony services, homeGEAR enables a wide range of new revenue-generating opportunities. In the central office, edgeGEAR is capable of feeding up to 1,280 homeGEAR optical-network units with 1.25 Gbits/sec of downstream bandwidth to each ONU.
Alloptic, Livermore, CA
Access router
The Dynarc 1124 access router delivers guaranteed QoS, management of IP-based services, and instant provisioning capabilities to the edge of the optical IP network. Located close to the customer site to service businesses and residential users, it features an Ethernet backplane, 24 ports, and two high-speed interface cards in a single, scalable box. The product will provide the functionality of IP routing, dynamic switching, add/drop multiplexing, and VLAN support. The 1124 assists metropolitan service providers to deliver IP-based services, high-speed Internet access, legacy voice, and streaming audio and video capabilities.
Dynarc, Sunnyvale, CA
Total access system
The Total Access system is a distributed access solution that includes carrier class, broadband and narrowband access platforms, outside-plant access terminals, multiplexers, IADs, and concentrators, along with system management and professional services. Designed with "grow-as-you-go" modularity, Total Access promotes strategic network planning that breaks down barriers to profitability, overcomes logistical deployment issues, and expands customer reach with copper-saving technologies. It offers carriers and enterprises a comprehensive feature set, optimized for local-loop applications.
ADTRAN, Huntsville, AL

DSL digital-TV transport
CopperTV enables telecommunication service providers to transport digital television programming over ATM networks to DSLAMs for distribution of broadcast programming to subscribers. CopperTV combines advanced MPEG switching technology with the ability to transport high-quality compressed digital video over ATM-based WANs. The MPEG-aware switching engine is designed to handle VBR/CBR traffic for video-on-demand servers, statistical multiplexers, and MPEG encoders. Transport stream remultiplexing allows deconstruction/reconstruction of incoming and outgoing single- and multiprogram transport streams. Subprogram-level switching enables add/drop remultiplexing functionality to transport streams down to the program and PID level. ATM network interface ports are standards compliant for media/interface/protocol conversion.
Artel Video Systems, Marlborough, MA,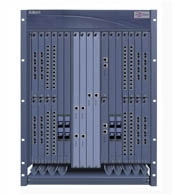 Optical transport node
The ON 7000 is a SONET-based platform that efficiently grooms STS-1/VT1.5 broadband traffic between multiple access rings and the optical metro backbone network, incorporating features traditionally found in SONET add/drop multiplexers, digital crossconnect systems, and DWDM terminals. The ON 7000 supports interface ranging from DS-3 to OC-192 and Gigabit Ethernet, with plans to support up to OC-768 and 10-Gbit/sec Ethernet through future upgrades. For interoperability with existing networks, the ON 7000 supports standard SONET UPSR and BLSR ring protection.
Astral Point Communications Inc. Chelmsford, MA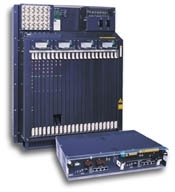 Optical application router
The company's optical application router, OAR 30, delivers a single IP and TDM optimized optical-switching solution that enables rapid and converged provisioning of routed IP services, legacy TDM bandwidth services, and tunable DWDM wavelength services. Carriers can now benefit from legacy TDM bandwidth services while providing a seamless migration path to margin-rich IP-based services as well as next-generation dynamic wavelength services, according to the company. Key differentiators include use of tunable lasers for optical scaling, cut-through provisioning for increased service velocity, multilevel protection for carrier-class stability and performance, and a simple and efficient quality-of-service architecture for maximum use of network assets.
Atoga Systems, Fremont, CA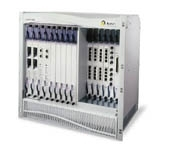 Optical services activation platform
The optical services activation platform (OSAP) 4800 leverages cost, performance, and flexibility of Ethernet to enable scalable, soft-tunable packet services over existing optical-network infrastructures. The OSAP 4800 brings packet-switching efficiency and intelligence to SONET/SDH transport networks, allowing providers to readily deploy highly resilient, high-revenue optical Ethernet services with time-to-service, global coverage, and cost of ownership. Current voice and private-line revenues are protected with OSAP's integrated TDM support, and the protocol-mediation capabilities further reduce service costs by replacing multiple WAN access technologies with a simple, service-aware, Ethernet "plug in the wall."
Appian Communications, Boxborough, MA
PON system
FiberSLAM is a passive optical network (PON) system composed of an optical line terminal (OLT) located at the CO, which drives a single fiber connection. The OLT can host up to eight PON interfaces. A total of 19 slots are available to accommodate a combination of PON, triple DS-3, and OC-3c interfaces. The OLT can optically split the fiber to connect to up to 32 optical network terminals per PON interface. These terminals provide a new architecture for delivering high-bandwidth voice, data, and video services. FiberSLAM is compliant with recently adopted ITU-FSAN standards, ensuring vendor standardization for O&M.
NEC Eluminant Technologies Inc. Chantilly, VA
Optical management system
OMSTM 2200 is an optical switching system that includes crossconnect functionality, ITU-grid long-range lasers for DWDM environments, and a network-management system (OMS Softsuite) for efficient light-path provisioning and restoration. The OMSTM 2200 is a 640-Gbit/sec capacity switch in a compact half rack, which is scalable (with OC-768 optics) up to 2.56 Tbits/sec-in the same half-rack footprint. The product has a bit-rate and protocol-independent switch fabric and enables network operators to leverage existing fiber infrastructure through efficient wavelength switching-with the benefits of 3R regeneration and SONET performance monitoring.
Teraburst Networks Inc., Sunnyvale, CA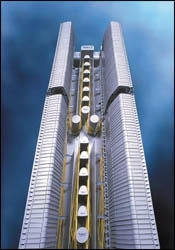 Fiber-optic distribution system
The company's advanced distribution frame (ADF) is a fiber-optic distribution system for high-fiber-count central offices, gateways, and cable-TV headends. The ADF offers 3,072 terminations in a 26-inch-wide frame using small-form-factor connectors or 1,536 terminations using SC connectors-greatly increasing the utilization of floor space. It features 30 mm or greater bend-radius protection in every curve and transition, making it ready for L-band wavelengths and "future-proofing" it for the next generation of technology. Other benefits include: total front access, scalable design, laser light protection, reduced weight, and circuit protection.
Telect Inc., Liberty Lake, WA
SUBSYSTEMS
DWDM filter and module
The DWDM filter and module is designed for DWDM systems in communications backbones and networks. It allows signals with different transmission bit rates, different formats, and different wavelengths to be carried in the same fiber. Features include low IL, high channel isolation, small channel space, and an epoxy-free optical path.
O-NET Communications Ltd., Shenzhen, China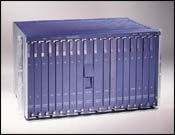 OC-48c uplink card
The OC-48c uplink card connects the company's multifunction, multiservice access platform, the MainSail 8000, to ATM switches or a WAN via a SONET ATM infrastructure. The card features a fiber-optic port operating at 2.4 Gbits/sec for switched and/or concentrated data transmission. It also supports private virtual circuits, quality of service, and switched virtual circuits in accordance with ATM Forum requirements. ATM direct cell mapping is also supported, along with cell scrambling/descrambling, cell filtering and rate decoupling, and cell header error detection and correction. The OC-48c uplink card has built-in diagnostic test capabilities for its WAN link, including SONET and ATM cell loopbacks for link testing, and performance monitoring for link integrity evaluation. The card also supports ATM-layer UPSR automatic protection switching on a fiber ring network.
Terayon Communications Systems, Santa Clara, CA
Wavelength processor
POP1000, a programmable wavelength processor, is the first in a series of programmable optical processing products that combines several utility functions required in an optical system onto one card. It provides real-time monitoring, reporting, and channel power compensation capability, allowing the system companies to build intelligent and complex carrier-grade WDM metro and long-haul optical systems, which in turn allows service providers to manage their networks dynamically.
DowsLake Microsystems, Santa Clara, CA
COMPONENTS
Fiber couplers
The SUWTECH singlemode fiber coupler series works with 1,550 nm or 1,310 nm. The products can split the light power of the input fiber into several outputs with the random power customers specify. They also can be designed to have the ability of combining two input beams with different wavelengths into one output fiber. Having low excess loss that is less than 0.1 dB per split and ultra-low PDL, the SUWTECH couplers have been widely used in fiber communication systems and cable-TV systems.
Shanghai Uniwave Technology Co. Ltd., Shanghai, China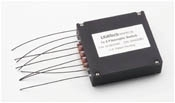 Optical switch
The LT-800 optical-switch module is available in 1x3 to 1x16 configurations, delivering high switching speed with minimal insertion loss. Designed to meet Telcordia 1073 and 1221 performance and reliability standards, the LT-800 combines high repeatability with loss crosstalk and features innovative packaging. All fibers and control connections are positioned on the same end of the module, allowing greater flexibility in board placement. The LT-800 is offered latching or non-latching to satisfy the requirements for telecom and datacom applications.
LightTech Fiberoptics Inc., San Leandro, CA, Circle No. 339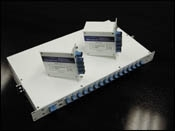 Programmable OADM
The programmable optical add/drop multiplexer (OADM) combines thin-film DWDM and optomechanical switch technologies with a user-friendly electronically controlled interface. It can dynamically add or drop any/all operating channels remotely or on the board, using built-in software. A series of programmable OADMs with 50-GHz, 10-GHz, and 200-GHz ITU grid spacing-for both C- and L-bands-can be provided. Since the product has an all-optical path configuration, SONET/SDH, Gigabit Ethernet, video signal, etc., can pass through, or drop, without optical-electrical or electrical-optical conversion.
Global Opticom, Sunnyvale, CA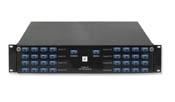 DWDM modules
The 200-GHz 16-channel and 100-GHz 32-channel rackmount DWDM modules are packaged in compact industry-standard 1U and 2U rackmounts. Products can be applied into telecommunications and WDM networks, as well as into EDFA optical amplifiers. These modules, manufactured based on thin-film-filter technology and microscopic fusion technique craftsmanship, have 4-dB and 6.5-dB insertion loss. They also consist of high center-wavelength accuracy and high adjacent-band isolation characteristics. Each DWDM module has been evaluated by Bellcore tests.
HD Systems Inc., Santa Clara, CA,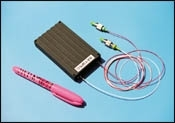 Erbium-doped fiber amplifier
The Metro-AE (all-electronics) EDFAs are compact modules designed for OEM integration, where applications require high gain and low noise figure. The driving and controlling electronics are fully integrated into a 4x2.2x0.5-inch package. Customers need 5-V DC to operate this amplifier. All modules are manufactured to meet Bellcore GR-1312-CORE requirements. The products have a typical noise figure of 5 dB across the entire wavelength range of 1,530-1,565 nm.
Bayspec Inc., Fremont, CA, Circle No. 342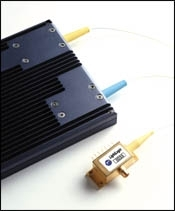 10-Gbit/sec transponder
DragonFly transponders are second-generation 10-Gbit/sec optical-electrical subsystems that simplify the design of high-speed network equipment. The products incorporate low-cost optics manufactured with the company's proprietary, automated packaging and alignment process, and advanced electrical features including: SONET-compliant jitter performance, onboard power-supply sequencing, line-timing mode, clock monitor outputs, and receiver loss of signal alarm. This second-generation transponder family is compatible with the 300-pin multisource agreement and includes products targeted at several different link applications, including short- and intermediate-reach OC-192, optical crossconnects, and 10-Gbit/sec Ethernet applications. WDM transponders are also in development.
Lightlogic, Newark, CA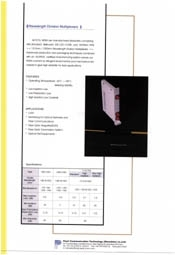 Couplers
The company's couplers and WDM comply with Bellcore's GR-1221-CORE standard. The production and packing techniques combined with an ISO 9002-certified manufacturing system ensure the products conform to stringent environmental and mechanical standards to give high reliability for field applications.
Pearl Communication Technology, (Shenzhen) Co. Ltd., Shenzhen, China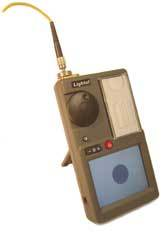 Connector cleaner
The Ultra SCC-3000 is a connector cleaner that incorporates ultrasonic technology to clean connectors automatically-in the adapter, without disconnecting from behind. When the product's switch is pressed, the connector is prewashed, washed, and then dried-all automatically within 5 sec. Environmentally safe, the Ultra SCC-3000 can clean more than 500 connectors without a refill.
Lightel Technologies Inc., Kent, WA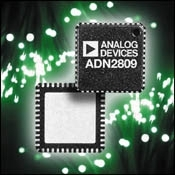 Clock and data recovery IC
The ADN2809 is a low-power, multirate clock and data recovery IC with a fully integrated limiting amplifier with adjustable slice capability. This flexible user-friendly IC is suitable for fiber-optic receiver applications. Exceeding all SONET/SDH specifications for jitter transfer, jitter generation, and jitter tolerance, the ADN2809 provides multirate capability with "wrapper" support (155/166 Mbits/sec, 622/66 Mbits/sec, 1.25/1.34 Gbits/sec, 2.49/2.67 Gbits/sec). Additional features include squelch, bypass, loss-of-lock and loss-of-signal indicators, a single reference clock frequency for all rates, and low power dissipation (<600 mW typical), all housed in a small-footprint (48-lead LFCSP) package.
Analog Devices Inc., Wilmington, MA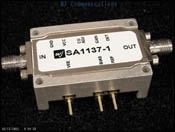 Modulator driver
The SA1137 supports clock rates from 9.9 to 12.4 Gbits/sec. With 25 psec rise and fall times, 5% crossover distortion, 10% over/undershoot, and a 3- to 8-Vpk-pk output, this amplifier is suitable for driving LiNbO3 modulators. Operating features include integral optical-modulator DC bias, output control voltage detector, reference voltage, output level control (gain), and crossover adjustment. Operating over the temperature range of -5 to +75°C, the unit requires +11 V at 300 mA and -5 V at 25 mA with input level of 600 to 900 mVpk-pk.
WJ Communications, San Jose, CA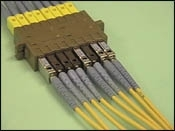 MU attenuator
This attenuator is covered with a plug housing. The product is the same size as a standard MU plug, allowing it to be installed into any port at a multiple ganged adapter. The plug housing is detachable, so the attenuation dB level can be changed at the field (attenuation level: 0, 1, 2, 3, 4, 5, 6, 10, 15, 20 dB).
Hirose Electric Co. Ltd., Simi Valley, CA
External modulator
This 10.7-Gbits/sec capable dual-drive Mach-Zender external modulator is manufactured using TI diffused waveguide, Z-cut LiNbO3 technology. The dual-drive Z-cut design offers lower drive voltage and chirp adjustment compared to X-cut single-drive alternatives. The product includes an integrated PD monitor and coupler for use in an external automatic bias control loop. This device is designed for use in long-haul OC-48/192 (STM-16/64), long-haul/metro DWDM, and optical test equipment applications.
Fujitsu Compound Semiconductor Inc., San Jose
Optical-fiber distribution frame
The optical-fiber distribution frame comes in a 19-inch or 23-inch standard frame, 2.6 m high, with a fully equipped capacity of 576 ports. The product is suitable for FC-, SC-, ST, or LC-type adapters. Patch cords and pigtails are manufactured according to customer specifications. An ISO9002 certificate was issued by BSI. OEM or ODM is accepted.
Sun & Sea Communication Equipment Co. Ltd., Shenzhen, China
INSTALLATION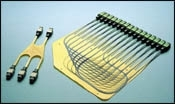 Optical flex circuits
The Concours optical circuit provides an innovative and flexible solution to many optical-fiber-management challenges. The Concours circuit provides a cost-effective means to custom-route individual fibers with transition into legs that are compatible with standard ribbon connectors. The unique material system offers maximum flexibility and fiber protection without the concern for substrate delamination. With all components UL 94-V0 rated, Concours can be used for storage on cards, on the backplane, or between shelves and racks. The products are available unterminated or preterminated with MT ferrules and MTP and MT-RJ connectors. The circuits are constructed with standard singlemode or multimode fiber without generating excess loss. The product can be produced in sizes up to 1.8x0.9m without splices.
U.S. Conec Ltd., Hickory, NC
MANUFACTURING EQUIPMENT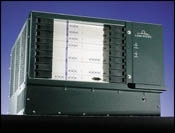 Optical Ethernet platform
The PacketWave C-Series is the first carrier-class optical Ethernet platform for MANs in a compact solution, delivering carrier-class voice and data services to the customer premise. PacketWave C-Series provides carriers a multiservice platform for metro access, combining on one compact platform full support for legacy voice and circuit services, with packet-based differentiated data services. Packetwave is based on resilient packet transport, incorporating the resiliency of the emerging RPR protocol. To manufacture the C-Series, routing, Ethernet interfaces, and TDM support on a single packet-switched midplane are combined. Comprehensive network management makes the PacketWave C-Series a suitable solution for metro carriers.
Luminous Networks, Cupertino, CA
TEST EQUIPMENT
Remote testing unit
The Network Guardian G2 is a universal remote testing unit for DWDM, SONET/SDH, telecom, and datacom network infrastructures. This universal and flexible platform is capable of 24/7 remote monitoring and data collection. Dynamic testing features enable tangible operating efficiencies for any service operator network. The Network Guardian G2 provides seamless OSS network integration through standard interfaces, such as CORBA, TL1, and SNMP. When combined with the Visual Guardian element management systems, service operators can provide network quality-service assurance to their customers, according to the company.
Avantas Networks, St. Laurent, Quebec
Optical-channel drop unit
The MN9320A optical-channel drop unit extracts individual optical channels from a DWDM signal and feeds them to a data analyzer for complex analysis. In addition to allowing users to analyze each DWDM channel's power and wavelength, the MN9320A prevents potentially damaging "hot" signals from being inadvertently transmitted to the analyzer.
Anritsu Company, Richardson, TX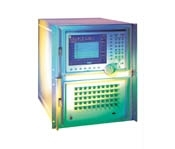 High-density source bank
The SSB-9200 high-density source bank was designed for the demands of WDM component, amplifier, and system testing. The 9200 can accommodate up to 100 individual DFB laser modules. The DFB modules offer customer-specified center wavelengths between 1,480 nm and 1,625 nm with ±0.85-nm tuning, and are available in powers of 10 mW or 29 mW. The mainframe has a GPIB/IEEE488.2 communication platform with a digital design that ensures robust operation. The interface uses an LCD TFT-VGA active-matrix color display. The SSB-9200 features control electronics; a redesigned user interface; and integrated options, such as a multiplexer and VOA.
ILX Lightwave Corp., Bozeman, MT
Chromatic-dispersion analyzer
The CHROMUS11 is a portable chromatic-dispersion analyzer that can characterize ultra-long-haul optical networks incorporating embedded optical amplifiers. This test set is designed to provide accuracy for the in-system chromatic-dispersion measurement. CHROMUS11 allows transmission system suppliers and operators to measure the total end-to-end dispersion of both repeaterless and line-amplified systems with minimum disruption. Providing accuracy in wavelength and dispersion, compatibility with amplified fiber links, and direct dispersion measurement over C- and/or L-bands, the CHROMUS11 enables the performance of 10- and 40-Gbit/sec WDM systems to be predicted and optimized.
Perkinelmer Optoelectronics, San Jose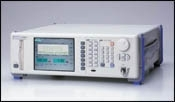 Multiwavelength meter
The AQ6141 multiwavelength meter provides wavelength accuracy of 0.3 pm, and has a minimum resolvable separation of 5 GHz. The wavelength meter suits system testing for DWDM systems and corresponds to 25-GHz spacing. Features include WDM analysis, an ITU-T grid-check function, and drift measurement.
Ando Electric Co. Ltd., Kanagawa, Japan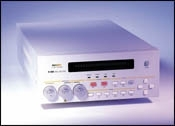 PDL measuring instrument
FiberPro's PDL measuring instrument, PL 2000, provides a measurement speed of 0.01 sec minimum and 0.1 sec typical. This instrument can measure PDL and IL simultaneously and can also be used as an optical power meter. PL 2000 is suitable for measuring the PDL and IL of DWDM components in a short time. It can reduce average production time of fiber-optic components by shortening that of final qualification, according to the company.
Letek Communications Inc., Kyonggi-Do, Korea