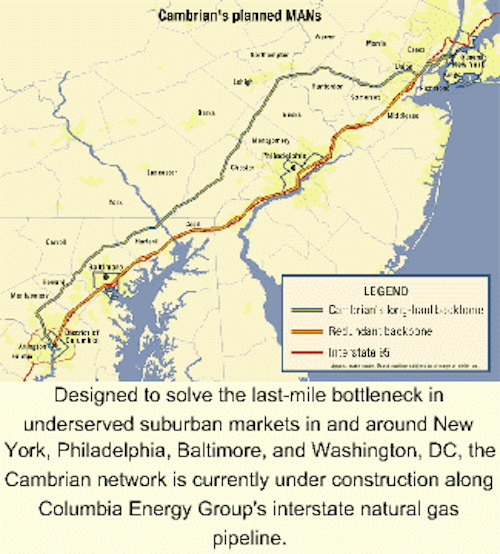 NETWORKS
By MEGHAN FULLER
Unlike many other broadband infrastructure providers, Cambrian Communications LLC (Fairfax, VA) is not looking to provide long-haul bandwidth between major metropolitan centers. Instead, the company is committed to bringing broadband solutions to unserved or underserved markets in suburban areas in and around New York City, Philadelphia, Baltimore, and Washington, DC.
"These suburban markets are markets that are currently only served by Verizon," explains chief operating officer Joe Cecin, "and there have been all kinds of issues with trying to get service. One of the issues has been a backlog; you can't even get service from them for 10, 11, sometimes 12 months."
To satiate the demand for services in suburban areas, Cambrian will build, one by one, metropolitan-area networks (MANs) and connect them to its fully redundant, long-haul backbone between New York and Washington, DC. The first MAN, in Baltimore County, MD, broke ground in February and is slated for completion later this year. Initial MANs are planned for other counties in Maryland as well as in Virginia, Pennsylvania, and northern New Jersey.
An indefeasible right-of-use (IRU) agreement with Columbia Transmission Communications Corp. (Transcom-Fairfax, VA) will provide Cambrian with its core backbone fiber and exclusive rights to build its local MANs along Columbia Energy Group's interstate natural gas pipeline.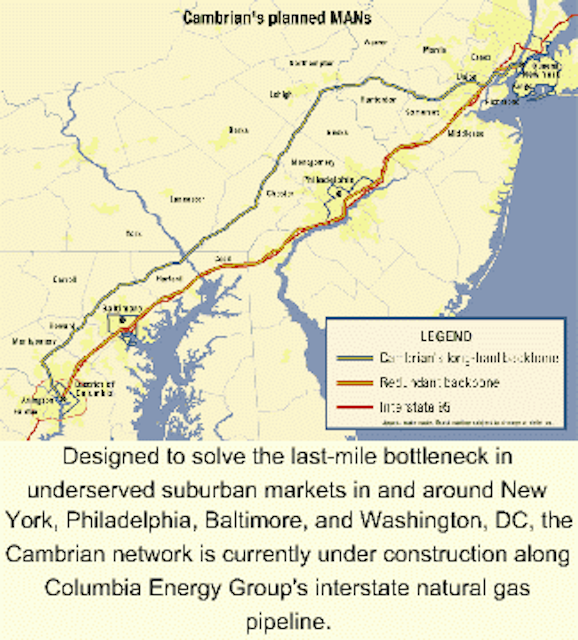 Designed to solve the last-mile bottleneck in underserved suburban markets in and around New York, Philadelphia, Baltimore, and Washington, DC, the Cambrian network is currently under construction along Columbia Energy Group's interstate natural gas pipeline.
Per the IRU, Cambrian will have access to 96 strands of fiber over the initial 254-mi corridor and immediate points of presence in Washington, DC, and New York. Cambrian will also receive exclusive egress rights from the network at any of the 87 splice points and exclusive rights to use Transcom's 250 wireless towers for data transmission. The IRU also includes an option to purchase additional fiber on future routes built by Transcom, which could result in a 288,000-mi expansion of Cambrian's initial footprint.
Transcom's network-which, at press time, was nearing completion-will compose the western portion or long-haul side of Cambrian's network. Cambrian will close the ring on the east side by swapping some of the fiber it acquired from Transcom with an undisclosed third party. The fiber swap also includes metro fiber in each of the four major markets, not to be confused with the local MANs, which will be built by Cambrian's in-house construction group.
Cambrian's network will target the addressable suburban population of more than nine million within 15 mi of Columbia's gas line right-of-way-this number excludes the Tier 1 markets of New York, Philadelphia, Baltimore, and Washington, DC. There are also more than 300,000 addressable small-to-medium-sized enterprises within the corridor, 7.8 million access lines (which are served by 215 central offices), and about 3.3 million business lines. Cambrian representatives estimate the wholesale market in its initial footprint will exceed $5 billion by 2004.
Cambrian may be going after a market niche, but its potential customer base represents a variety of players. Target customers include interexchange carriers, local-exchange carriers, re sellers, Internet service providers, Ethernet and Gigabit Ethernet providers, competitive local-exchange carriers, building local-exchange carriers, and Fortune 500 companies-"Basically, anyone who needs scalable bandwidth solutions into those suburban markets or between the major markets and those suburban markets," says Cecin.
The company hopes to differentiate itself from the competition by providing a full spectrum of services from day one. For carriers and emerging service providers who don't want to put in their own fiber or buy it from a third party, Cambrian will provide access to raw transport capacity through its optical wavelength services. The carrier will provide the electronics that will give the service its functionality; Cambrian will only provide optical channels, which it will sell in increments of bit rates like 2.5 Gbits/sec (OC-48) or 10 Gbits/sec (OC-192).
Cambrian will also offer a virtual wavelength or private-line type of solution to deliver a higher level of functionality to the customer. Cambrian will offer protection switching, for example, to provide SONET services like OC-3 (155 Mbits/sec), OC-12 (622 Mbits/sec), and OC-48 (2.5 Gbits/sec).
The flexibility of the network and its equipment allows Cambrian to deliver services based on individual customer needs. "If it's a large carrier and they have their own protection schemes in a large network," explains Cecin, "they may be more interested in an optical wavelength service, because they will do the multiplexing and protection switching themselves. Whereas some large carriers and some of the smaller carriers may want a virtual wavelength service, which is essentially like a private line that we provide for them."
One of the most pervasive networking standards worldwide, Ethernet has been adopted by a number of emerging carriers, including Yipes, Telseon, and Cogent, and Cambrian is quick to follow suit. Ethernet signals can be transported directly from the enterprise or the customer premises to a distant location without doing all the costly and inefficient protocol translation between an Ethernet service to a time-division multiplexing service like T1 or DS-3.
"What that enables you to do is do things like a virtual local-area-network type of service," explains Cecin. "You can carry the traffic in native protocol to a distant location and hand it off very efficiently and cost effectively."
The Cambrian network is also unique because it is the first to deploy the full suite of Cisco Systems' (San Jose, CA) Internet Protocol and optics products-many of which Cisco acquired through acquisitions. Cambrian will deploy the ONS 15454 optical transport platform, which was acquired from Cerent, the ONS 15800 Series (long-haul) DWDM systems, which came from Pirelli, and the ONS 15900 Series wavelength routers, which were originally developed by Monterey Networks.
John Adler, director of marketing for Cisco's wavelength-routing business unit, is enthusiastic about the project, since it allows Cisco to build a network end-to-end. He is particularly excited about leveraging the new network with Cisco equipment already in place. "If an end customer, a bank in Baltimore, is already using Cisco products and routers and switches, their opportunity to interconnect that to a Cisco-powered network is an opportunity for us to let some unique service differentiation happen," explains Adler. "That's part of the fun of working with Cambrian. We get to explore that now-to say, 'Okay, if we have a end-to-end solution, what unique things can we do with the end customer to bring them into the value chain better?'"
Cambrian plans to expand its footprint along the Northeast corridor and into larger southern markets, including Houston. Cisco is tentatively signed on to provide the necessary equipment.