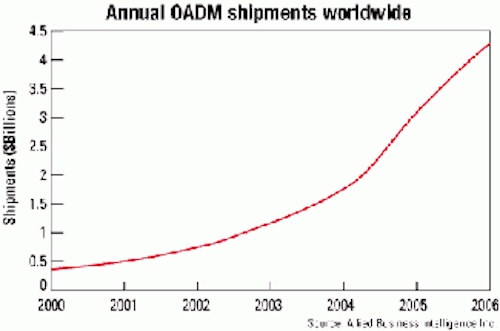 The market for optical add-drop multiplexers (OADMs) will experience a compound annual growth rate of 53% over the next five years, says a new report from Allied Business Intelligence Inc. (Oyster Bay, NY). The growth of DWDM systems and an in creased deployment of expensive reconfigurable OADMs will drive the overall market from $338 million in 2000 to more than $4 billion by 2006 (see Figure).
OADMs for the metro network will experience rapid growth over the forecast period, beginning in North America and Europe. Fixed OADMS have been used in terrestrial long-haul applications for a number of years. Today, however, remotely reconfigurable OADMs offer a variety of advantages, particularly in metro networks.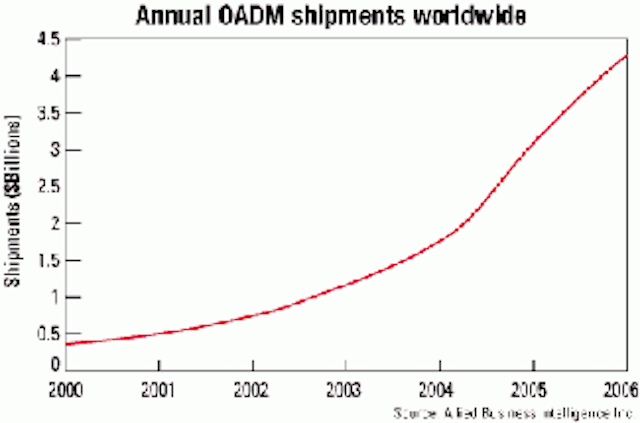 "As metro networks get more and more customers and more and more wavelengths, it is going to become impossible to provision by sticky note, manually figuring out what in the system needs to be changed and scheduling an engineer to go out in a truck to do it," explains Marc Liggio, vice president of Broadband Research and principal author of the report.
The report, "Optical Add-Drop Multiplexers: World Markets and Opportunities for the Fixed and Reconfigurable OADMs in Long Haul and Metro Networks," provides an overview of both the fixed and reconfigurable OADM markets. Forecasts of shipments to the submarine, long-distance terrestrial, and metro segments to Asia-Pacific, Europe, North America, and the rest of the world are also included. For more information, call 516-624-3113 or visit www.alliedworld.com.