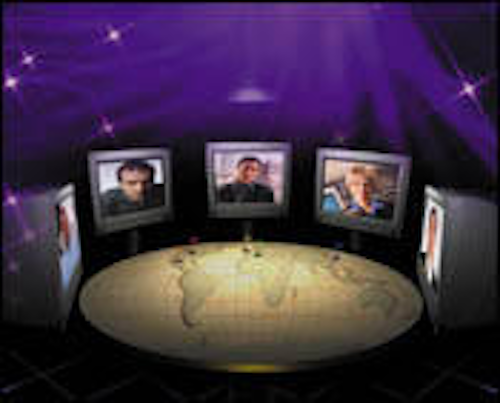 User control of bandwith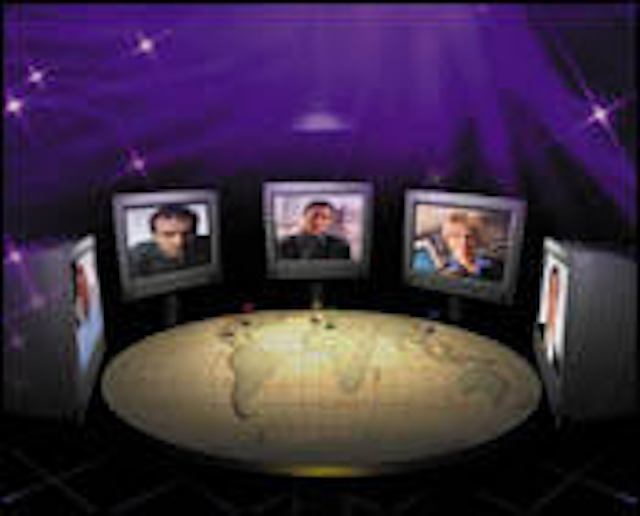 Broadband management has evolved a long way from when a high-speed WAN link meant connecting two remote sites with a fractional T1 (1.55-Mbit/sec) line.

JOHN PETERS, Sigma Networks

The industry's breakneck race to build capacity for customers' ever-increasing bandwidth demands has driven the more re cent challenges for bandwidth management. Carriers and ser vice providers have become accustomed to several points of pain that complicate management and hinder growth. Major delays have been caused by routine waiting periods of up to six months or more for delivery and turn-up of high-speed circuits. And now, changes in the financial markets have introduced the added heavy burden of de termining how to manage growth under current capital constraints.
New networks using optical technologies are helping to alleviate many of these pain points in major metro areas, where there is still the highest concentration of Internet traffic bottlenecks (see Figure 1). These new networks bring with them advances in bandwidth management for their service provider and carrier customers. Direct capabilities to rapidly turn up massive quantities of bandwidth are empowering carriers and service providers to manage bandwidth growth on time and on budget while accommodating their unique and varied protocol requirements.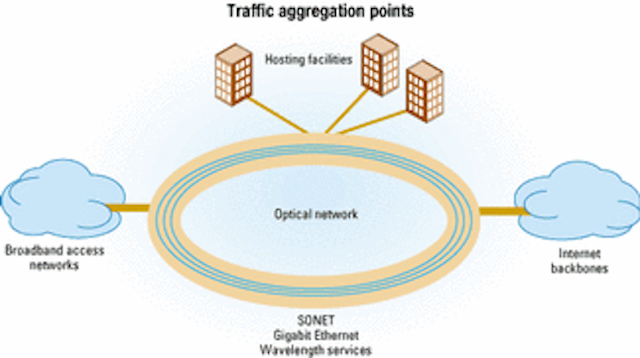 Figure 1. New metro-optical networks are connecting major data traffic aggregation points, including broadband access networks, Internet backbone providers, and hosting facilities, through a streamlined, neutral fabric using efficiencies only optical technology can deliver. Multiple transport services, including SONET, Gigabit Ethernet, and wavelength services, can be supported by the same network architecture.
Much of the optical buzz has revolved around getting more bandwidth on a single strand of fiber. However, in the real world of operating networks, managing the costs and intervals for provisioning often prove to be more significant financial drivers than just fiber efficiency. Greenfield optical networks are speeding up the delivery of un precedented amounts of bandwidth in highly data-trafficked metro areas with new, lower price structures. New im plementations of optical technologies combine the advantages of the intelligence and flexibility of IP networking with the scale and economic efficiencies of optical transport.
These networks support unprecedented scalability and reliability, as well as flexibility to offer services based on a broad range of protocols from a single network architecture, and customer provisioning and service upgrades through new online operational support systems (OSSs). New optical networks can deliver protocol-agnostic MANs and offer provisioned-on-the-fly connectivity while charging customers only for the amount of bandwidth they use. Carriers and service providers now have a new ef fective solution for managing their metro bandwidth quantity, time, and cost needs.
The latest optical-networking systems are giving providers and carriers fast access to large amounts of bandwidth while bringing down cost and increasing manageability. The emerging MANs connect major sources of bandwidth together in days rather than months. At the same time, new capabilities in real-time OSSs are empowering carriers and providers by giving them direct control over the provisioning process.
These real-time, Web-based OSSs are ushering in a new era in customer-con trolled bandwidth management, al lowing carriers and service providers to "right-size" their metro bandwidth. OSSs have traditionally been used to manage the day-to-day operations of a transmission network and supporting back office functions, but they can now be used to self-provision outsourced metro bandwidth.
As a result of the fast build-outs and rapid technology evolution of the past several years, many carriers and new service providers now rely on more disparate support systems than ever before. As a result, they often have operational and product-development limitations because of all the different systems for provisioning, order management, inventory control, billing, trouble management, and network monitoring.
The evolution of standards-based com munications, open application programming interfaces (APIs), and optical networks that are capable of "hands-off" provisioning have made it possible to build overarching OSSs that are common across all the services riding on a network. The new integrated and automated OSSs speed up, streamline, and improve the provisioning of service delivery and service management.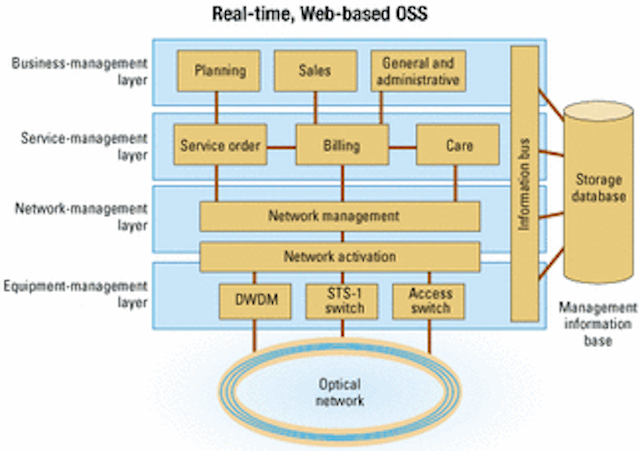 Figure 2. Real-time, Web-based operational support systems are integrating previously independent and disparate business-, service-, network-, and equipment-management functions. Customers can directly provision bandwidth through a single online interface where they can manage order placement and tracking, provisioning of circuits, billing, inventory management, trouble ticketing, and overall communications with service providers.
New-generation OSSs provide carrier and service provider customers with a single, up-to-date system to place orders, track and monitor service delivery, and receive reports. Carriers and providers are given direct online access to reserved ports that enable them to turn up circuits based on their own time frames. Customers no longer have to wait for externally set delivery dates based on manual provisioning processes (see Figure 2).
These new interactive OSSs provide for not only better bandwidth management, but also more effective cost management. Increased control helps service providers decrease their time to revenue, eliminate the need for long planning cycles, cut down on overhead, and deliver services faster. The real-time and scalable ordering features make it easy to order only the bandwidth they require without needing to carry excess capacity for unknown futures. The tracking and reporting features mean customers can more effectively manage and forecast their costs.
Bandwidth management is moving from a several month-long planning process to near real-time management. Customers can save time and money while better managing their bandwidth requirements and meeting their business objectives.
Carriers and service providers devote their ingenuity and resources to designing networks and systems that are optimized for their specific needs. Applications and legacy investment drive protocol decisions. Depending on their goals and application specifications, service providers make use of the range of protocols that are available, including SONET, Gigabit Ethernet, and wavelength services.
New multiprotocol optical networks can provide nearly instant connectivity that is compatible with the carriers' and service providers' existing protocol re quirements. Providers can take advantage of the unprecedented efficiencies of optical networks without having to spend additional dollars and human resources to support additional protocols.
SONET, Gigabit Ethernet, and wavelength services provide different strengths and benefits-all widely used in the marketplace. Providers do not have to forgo the benefits of new optical networks because of their selection of one protocol over others for their core networking architecture. New multiprotocol optical metro networks let carriers and providers choose connections that are consistent and complementary to their existing networks and business concerns.
Many carriers and service providers with existing TDM infrastructures and stringent quality-of-service (QoS) re quirements find SONET particularly at tractive. These companies offer mission-critical services and cannot afford any downtime in their delivery. SONET provides high levels of security with un matched fail-over protection and monitoring that makes fault detection simple. The dedicated bandwidth, low latency, and quick recovery provided by SONET means providers can offer customers as surances that their data and voice re quirements will be met. Many Internet service providers (ISPs) and other carriers appreciate the complete control over quality and the standardization that SONET offers.
As an inexpensive, simple, and ubiquitous LAN protocol, Ethernet provides an appealing option for transport. It is great for handling burstable data communications between corporate LANs and data-center-based service providers. As a recent innovation, optical Ethernet has demonstrated the advantage of eliminating the complexity and cost often encountered by traditional TDM transport. Hosted service providers and access service providers are using Gigabit Ether net for offsite storage systems, for transit or peering connections, and to link hosted services to subscribers.
Wavelength services provide companies wanting to own and manage their own networks with an alternative to burying or buying and lighting dark fiber. Options that help avoid the large capital outlays associated with building and deploying fiber are valuable in the current capital-constrained economic climate.
Wavelength services offer advantages in speed of provisioning and the ability to avoid dealing with optical structure characteristics of fiber plants, such as power loss budgets and dispersion man agement. Wavelength services often provide transport protocol independence, freeing customers to select Fibre Channel, Escon, ATM, and other alternatives, as dictated by their applications.
Recently, many data critics have characterized SONET as having limited flexibility without really exploring its potential. SONET has had and will continue to have a major presence in the marketplace. Innovations in SONET technologies continue and SONET's greater flexibilities for delivering bandwidth growth and aggregating many sites into a single interface are now being more widely implemented. An example of recent SONET innovation is the new generation of channelized optical products. Vendors are beginning to offer a variety of channelized SONET data equipment interfaces that help make bandwidth management easier.
Channelized SONET services deliver advantages by simplifying provisioning, reducing provisioning time, reducing network complexity, reducing the rack space needed that would have been necessary for additional circuits, and scaling services faster. For instance, channelized SONET allows the efficient use of bandwidth by combining multiple smaller circuits, such as DS-3 (45 Mbits/sec), to streamline bandwidth delivery and con nection points.
These new channelized SONET cards also provide the flexibility to provision multiple DS-3s, subrate DS-3s, OC-3cs (155 Mbits/sec), and OC-12cs (599.04 Mbits/sec) concurrently. That provides the ability to deliver end-to-end data rates that are multiples of STS-1 (52 Mbits/sec), allowing for speeds that are not typically associated with SONET. It creates flexibilities for delivering speeds between OC-3s and OC-12s (622 Mbits/sec), for example, which gives customers without large multiplexing needs the option of ordering according to their demand level instead of having to order up to four times what they need. They are able to avoid the cost of buying unused bandwidth, which has been the case in OC-3 to OC-12 upgrades.
SONET, Gigabit Ethernet, and wavelength services have unique strengths and benefits and are going to coexist in the market for a long time. For service providers offering underlying bandwidth services to the range of Internet backbone providers, Internet access providers, broadband access network providers, and hosted application providers, it is necessary to support all of these protocols. Multiprotocol optical networks give carriers and providers access to timely delivery of large amounts of bandwidth, regardless of their protocol limitations.
Especially in the current economic climate, bandwidth management needs to be addressed within the context of business management as well as capacity management. Economic dictates are requiring providers to continue to meet the challenge of expanding their businesses while conserving capital and human resources.
More than ever, success in today's marketplace is defined by how successfully service providers can retain customers and profitably deliver services. The "build at any cost" and "build it and they will come" mindsets have been replaced by pragmatism and a sensitivity to return on investment. To manage bandwidth build-out needs while managing business concerns, it is important for companies to stop and examine: What is this company really good at? What is strategic? Then they must outsource or partner for what is not core to the business, limit non-performing product lines, cut capital expenditures that are not or cannot return on cost, and trim expenses.
Despite the recent economic downturn, bandwidth demand is still growing. With new capital constraints on all network planners and network managers, carefully managing bandwidth is more important and challenging than ever. New optical technologies and newly deployed, integrated OSS management systems are now emerging that enable cost-effective, customer-controlled, business-savvy bandwidth management when it is most needed.
---
John Peters is CEO at Sigma Networks (San Jose, CA). He can be reached via the company's Website, www.sigmanetworks.com.