Global wavelength services market to reach $6.2 billion in '06
Jun 1st, 2002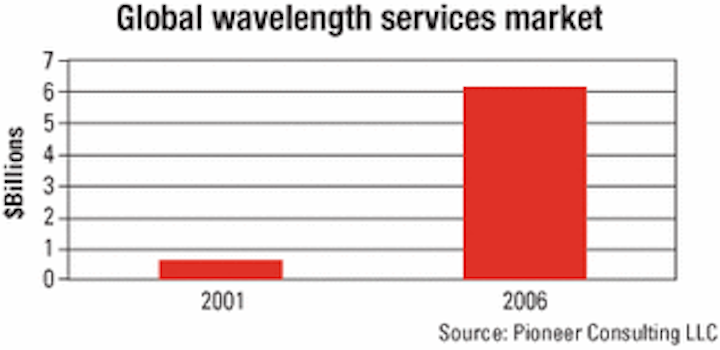 Advancements in DWDM and optical-switching technologies and an ever-growing need for cost-effective bandwidth transmission are fueling interest in the wavelength services market, claims a new market and technology assessment report from Pioneer Consulting LLC (Boston). Worldwide wavelength services revenue is expected to jump from its $622 million mark last year to $6.2 billion by 2006.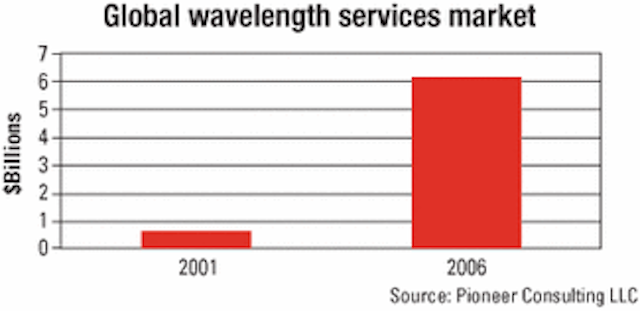 "Wavelength services offer tremendous revenue potential to carriers in not only North America but in Europe and Asia-Pacific as well," contends Jason Marcheck, senior market analyst, optical networking. DWDM equipment and intelligent optical switches will enable new wavelength services in long-haul (LH) and metro networks over the forecast period, say Pioneer analysts. Global LH wavelength services revenues are predicted to increase from $439 million in 2001 to more than $3.3 billion by 2006.
Short term, wavelength services will remain primarily a long-haul service offering, says the report. But as DWDM further penetrates the metro segment, the opportunity for wavelength services will increase. Metro wavelength services revenues are seen jumping from $183 million last year to over $2.9 billion by the end of the forecast period.
For more on "Global Wavelength Services: Optical Signaling Development, Business Case Justification, and New Revenue Opportunities," visit www.pioneerconsulting.com.