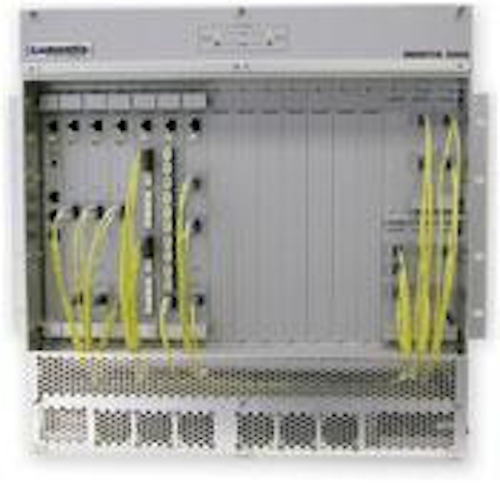 systems
By MEGHAN FULLER
Stockholm-based Lumentis AB recently unveiled its Mentis DWDM system featuring a unique nodal architecture that increases its tolerance to optical loss, rendering amplification "a moot point," contends CEO Anders Lundberg. The company is not yet ready to discuss the specifics of the architecture, but Lundberg insists there is no magic involved. In fact, he says, "The engineers will be disappointed. We use ordinary components."
Not disappointing, however, were the results of recent third-party tests on the system. In the past, WDM systems could run 40 km without amplification-Lumentis has upped that distance to 100 km to cover what it claims is the "sweet spot" for city carriers. But will carriers embrace the idea of an "un-amplified" system?
Independently field-tested
Lumentis turned to Validation AB (Gothenburg, Sweden), an independent test and verification company for telecommunications equipment, to test the Mentis system for transmission performance, interoperability, and protection-switching time. Last January, Validation ran the Mentis system over a 98-km standard-fiber ring looped between two sites in Gothenburg.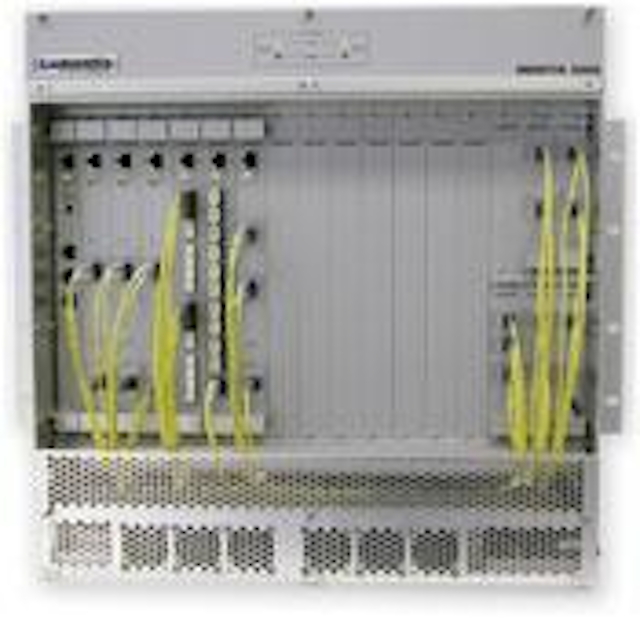 Each Mentis 3000 supports 14 wavelengths, but the boxes are stackable to support up to 56 wavelengths in a 7-ft bay.
The results exceeded the initial claims presented last October by Lumentis. The system supported 20 satellite nodes with two lambda add/drops (i.e., 40 wavelengths) on a 98-km ring without the help of optical line amplifiers. Traffic ran for 24 hours without incurring any bit errors or crosstalk penalties. Validation also verified the Mentis system's interoperability with network equipment from Ciena, Lucent Technologies, Alcatel, and Marconi.

Data communications between nodes and/or the hub was carried on an embedded data channel via a digital wrapper on each traffic channel. The Validation tests proved that each node can be remotely managed by the Mentis Management System or the Command Line Interface using only the embedded channel.
Protection can be selected on a per-channel basis. According to Validation's test results, traffic was restored within 25 msec in the case of a transponder or filter failure or a fiber break.
The Mentis system is available in two stackable configurations: the Mentis 300 supports one to two wavelengths, while the Mentis 3000 supports 14 wavelengths. Both are stackable.
Easing carrier concerns
A primary concern for city carriers is initial cost. However, Lundberg suggests, "if carriers can avoid that initial cost or investment and instead add cost as they add each wavelength later on, that's a huge difference for their cash flow and financing."
The Mentis system requires an initial investment that is 50% less than traditional metro WDM systems, claims Lumentis, which the company believes will play very well in the carrier community. "It's all a matter of the operators being able to grow their networks, from a cost perspective, in harmony with their revenue," surmises marketing and sales director Pär Johanson.
System flexibility is another metro carrier requirement, and the folks at Lumentis believe they've handled that, too. Their system design lends itself to flexibility while providing high granularity on the wavelengths, says Lundberg. The absence of amplifiers makes it easier for operators to commission and deploy a varying type of network.
Typical metro carriers are also looking to optimize their legacy equipment while ensuring some kind of migration path for new services in the future. WDM lends itself to mixed traffic on different wavelengths, says Lundberg, and his company has designed several additional devices to enable the migration from legacy to IP-based services. The SONET/SDH Muxponder, Dual Gigabit Ethernet Transponder, and all-optical crossconnect are single-board devices that occupy one slot in the Mentis subrack.
The Muxponder, released last December, supports 10 SONET/SDH client signals on one wavelength by multiplexing and demultiplexing two STM-4/OC-12 and eight STM-1/OC-3 signals, eliminating the need for an expensive SONET switch to aggregate capacity.
Unveiled at CeBit in March, the Dual Gigabit Ethernet Transponder aggregates two Gigabit Ethernet channels onto a single wavelength, which, according to Johanson, "lowers the transportation cost by 50% for Gigabit Ethernet."
Network flexibility and dynamic wavelength management is achieved via the Mentis Optical Crossconnect, a two-dimensional micro-electromechanical systems (MEMS) plug-in device that directs excess capacity where needed. It is available in eight- and 16-port configurations and is bit-rate- and protocol-transparent.
Finally, the folks at Lumentis have futureproofed their system by ensuring a smooth transition to 10-Gbit/sec traffic. The same network design will support 40 wavelengths up to 100 km at both 2.5- and 10-Gbit/sec speeds, asserts Lundberg.
"On any given wavelength in the future between any given two nodes or PoPs [points of presence] in that ring, you can plug in 10-Gbit wavelengths without hurting the network design or the existing traffic," he says. "And that wavelength will carry its own cost when it comes to introducing it. It's another example of how to keep your network design unaffected while allocating the cost of the network to that particular wavelength."
But will they buy it?
While an un-amplified metro DWDM systems sounds like a great idea on paper, just how likely are carriers to deploy such a system? According to David Gross, senior analyst at Communications Industry Researchers Inc. (Charlottesville, VA), many of the competitive local-exchange carriers are already running without amplification; they use short spans between adjacent data centers and are very selective about where they implement WDM technology. The incumbent local-exchange carriers, on the other hand, are "very big on amplification," says Gross. "They've basically come out and made it a requirement in their RFPs [requests for proposal]."
Gross sites Verizon's recent selection of Tellabs instead of Ciena as a prime example. "One of the reasons why Tellabs won that contract over Ciena is the fact that Tellabs had better amplification support," he contends.
While he doesn't doubt Lumentis's ability to deliver an un-amplified system, Gross thinks the company may face a critical challenge in the future. "It will require a significant amount of convincing to show carriers that they don't need amplification," he says.
For its part, Lumentis has decided to pursue an OEM strategy and hopes to partner with companies that are well known in the RBOC sector, as well as companies outside of it, including cable operators and Internet service providers. "We realize that for the U.S. market, it's a matter of cooperation and partnerships, so that's what we're targeting," concludes Johanson.
---