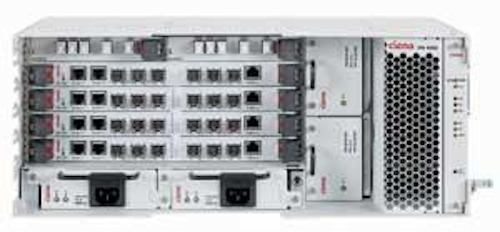 Aimed at telco, cable, enterprise, and government network operators, Ciena's (Linthicum, MD) CN 4200 FlexSelect advanced services platform is a multiservice transport and service aggregation system that the company says supports voice, data, and video services on "any port of any line card at any network location" via remote service provisioning and management.
"One of the biggest issues that the service providers are facing today is trying to balance their SONET and Ethernet network requirements," observes Vinay Rathore, Ciena's senior manager for segment marketing. "Everybody wants to go Ethernet; they've got this huge SONET infrastructure that's already there, though, and there's always this balancing act in how much SONET do you continue to deploy versus how much Ethernet do you continue to deploy, and when do you stop deploying one or the other, and how do you manage that whole conundrum. And that's kind of the genesis of the FlexSelect architecture."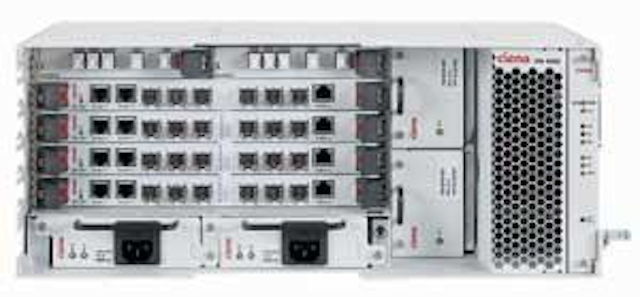 Ciena's CN 4200 platform features the company's FlexiPort line card, which can be remotely programmed to support transport services, including SONET/SDH, Gigabit Ethernet, Fibre Channel, Escon, and digital video.
As a key element in the architecture's packet service migration scheme, the company says the 4200 platform eliminates the cost and complexity of deploying service-specific line cards. Supporting up to 24 channels, the platform's remotely programmable Flexiport line modules employ FPGAs to enable "on demand" support of virtually any transport service, including SONET/SDH, Escon, Fibre Channel, Gigabit Ethernet, and digital video, as well as optical-transport-unit (OTU) services at speeds up to 10 Gbits/sec. Additionally, each port can be programmed to function as a transponder, "muxponder," add/drop multiplexer, or crossconnect.
"This product can be used in multiple types of scenarios," says Rathore. "You can start off with a single six-port line card, and you can grow it into 400 Gbits of capacity, which is essentially 40 10-gig lambdas. You can stack them; they interconnect using a backplane interconnection scheme. We support all 46 colors of the IT wavelengths; we also support DWDM and CWDM optics, and we also support tunable optics for 10-gig wavelengths."
Rathore says the platform's architecture is essentially composed of software-programmable hardware, an operating system based on the company's CoreDirector optical control plane technology, and the company's OnCenter management system, which can assign customer-specific service-level agreements. Ciena says the FlexSelect format, with its software-defined line cards and "point and click" service provisioning, represents the evolution of the company's LightWorks architecture.
"The interfaces on this are digital wrapper-based," adds Rathore. "Digital wrapper actually runs 2.7-Gbit/sec, which means you can actually put an OC-48 or four OC-12s onto a single digital wrapper link. You couldn't do that with the computing technology [alone]. So we've actually licked a lot of problems all at once with this platform."
"I think that the story for the product certainly plays well with service providers," comments Dana Cooperson of RHK research. "If you look at the history of the metro WDM market, it started out as, 'let's take some long-haul point-to-point stuff, and throw it in on some difficult routes where we need to multiply our fiber.' We've gone from that to something that needs to be a lot more flexible, that needs to mimic the kinds of manageability and adaptability service providers are used to in the SONET and SDH market. The 4200 certainly goes to that service-provider need for increased manageability.
"Ciena also has a lot of experience in the control plane," continues Cooperson. "In service provisioning, I think they're headed in a direction that gives them perhaps a bit of an edge over some of their competition. Where they've been a little slow is on the reconfigurable OADM piece. They've added some subwavelength grooming, which I think is important and valued by service providers. Now the next step for them, which they've already announced, is the ROADM capabilities, so that they can be more flexible in managing traffic at the wavelength level."
Ciena's FlexSelect platform has been deployed by Swisscom and was selected in April as part of the BT Group's 21st Century Network transformation plan.