These are the latest products being featured by Lightwave's partners. For more information, click on the link at the end of each description.
For advertising information, contact Trey Higgens.
Test and Measurement
FiberWatch™
NTest, Inc.

Remote Fiber Monitoring System (RFMS) utilizing OTDR technology can quickly pinpoint fiber failures on a map, detect network intrusions, and track fiber degradation for core fibers and PON fiber deployments. www.ntestinc.com
FTTX
IP-ONE hybrid connector
Senko

Senko's IP-ONE is a cost effective hybrid connector designed for harsh environmental applications, providing power and optical connectivity together to any remote equipment. Senko IP-ONE reduces material cost, simplifies installation and has found applications in Front-haul, Backhaul, DAS and FTTX deployments. It's the connector of choice anywhere that requires both power and fiber remotely. www.senko.com
Test and Measurement
Optical Wavelength Meters
Bristol Instruments

Absolute wavelength of WDM lasers are measured to ± 0.3 pm, guaranteed by continuous calibration with a built-in wavelength standard. Reliable accuracy, a rugged design, and affordability satisfy the needs of the R&D scientist and the manufacturing engineer. www.bristol-inst.com
Cable/MSO
ADS-NEXT™ - New Final Polishing Film for Optical Connector
NTT Advanced Technology Corporation

ADS-NEXT™ is a new generation final polishing film that keeps all the benefits of the world-renowned ADS™ final polishing film and achieves extended life-span by preventing excessive fiber undercut after repeated use. www.ntt-at.com/product/ads/
Equipment Design
USB To Fiber Optic Bit-Driver
S.I. Tech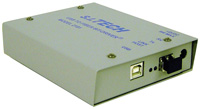 Supports USB 1.1 and 2.0 plug and play, multimode or singlemode for secure communication, remote security cameras, instruments, or other USB devices, extended-distance. EMI/RFI immunity. Order: 1.KIT #26 for complete multimode system. 11.3181/3182 for tempest version. www.sitech-bitdriver.com
Equipment Design
Fiber Optics Detectors
Newport Corporation

Newport's new 818-xx-L-FC/DB Photodiode Fiber Optic Detectors are based on the industry standard 818 Series detectors, but with a new 884-FC fiber optic adapter mounted on it, making it a low cost alternative. UV Silicon, Silicon, Germanium, and InGaAs versions are introduced. FC/APC and SMA connectors are easily accommodated by replacing the 884-FC with 884-FCA and 884-SMA, respectively. Unscrewing the fiber adapter makes it a free space detector. www.newport.com
FTTX
The OP940-FTTX is here
OptoTest Corporation

OptoTest launches the new OP940-FTTX Insertion Loss and Return Loss Tester, measuring cable assemblies and components for all FTTX wavelengths simultaneously. For detailed specifications visit optotest.com
Test and Measurement
FTE7000A OTDR
Terahertz Technologies Inc.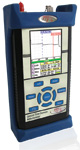 The affordable U.S. made FTE7000A touchscreen OTDR with 36dB range, IEC61300-3-35 video inspection system, CW laser light source, and broadband power meter is ideally suited for high density PON, Metro and Access networks. Contact us @ 888-U.S.-OTDRS (876-8377) or email sales@teratec.us for more on our full line of quality test equipment. www.teratec.us